Over the years, home monitoring tools have not only become popular, but they've also turned out to be quite affordable. Wyze and Ring are just two brands at the forefront of these budget-friendly devices. So if you're in the market for a budget doorbell, the Wyze Video Doorbell and Ring Video Doorbell are worth considering. Wyze is a great option if you're looking to really save on money. However, Ring's smart doorbell enjoys integration with Alexa-enabled devices. Is that enough reason to get the Ring Video Doorbell over Wyze's? Read our comparison below to find out.
Wyze Video Doorbell vs Ring Comparison Chart
| | | |
| --- | --- | --- |
| Model | Wyze Video Doorbell | Ring Video Doorbell (2020 Release) |
| | | |
| Price | Check Price at Amazon | Check Price at Amazon |
| Power Source | Hardwire | Hardwire, rechargeable battery |
| Video Resolution | 1080p | 1080p |
| Field of View | 120º vertical, 88º horizontal | 155° horizontal, 90° vertical |
| Night Vision | Yes | Yes |
| Motion Detection | Yes | Yes |
| Voice Assistant | N/A | Amazon Alexa |
| Connectivity | Wi-Fi | Wi-Fi |
| Operating Conditions | -4°F to 122°F | -5ºF to 120ºF |
| Dimensions (WxHxD) | 1.5 x 3.25 x 0.625 inches | 2.4 x 4.98 x 1.10 inches |
| Weight | 49g | — |
Design
While the Wyze doorbell is smaller, Ring's second-gen Video Doorbell looks sleeker.
Despite their low price tags, the Wyze and Ring doorbells are well-built. Both devices sport a rectangular form with a camera occupying the top half and the doorbell below. If you're opting for the Wyze Video Doorbell, you're getting the smaller device. Ring's doorbell, however, has a sleeker aesthetic, thanks to the colored faceplate and illuminating button.
Although budget-friendly, these doorbells are surprisingly durable. Both are weather-resistant, with the Wyze doorbell even boasting an IP65 rating. Ring shares its 2nd-gen video doorbell works in temperatures ranging from -5ºF to 120ºF. It's also water-resistant. Meanwhile, Wyze's product can operate in conditions from -4ºF to 122°F.
Click here to read more Wyze product reviews.
Installation and Ease of Use
Ring offers wireless and wired installation and works with existing AC chimes — something missing on the Wyze video doorbell.
If you want to start using a smart doorbell right away, Ring has the advantage. Its video doorbell comes with a built-in battery for wireless operation. Simply mount it on a wall, and you should be good to go. There's a hardwire option, too, compatible with standard doorbell systems. It should also work with your existing AC chime.
Ring shares you can install the 2nd-gen doorbell in about five minutes. If you don't want to DIY, professional installation services are available. For homes with brick, concrete, or stucco walls, however, drilling is required. Out of the box, you will get a new mounting bracket. Otherwise, you can opt for the no-drill mount for smooth walls.
The Wyze Video Doorbell installation process should be straightforward, too. While it's purely hardwired, you have clear guides for setting the camera up and running. It works on doorbell transformers with 16V-24V AC, ≥10VA. Wyze also supplies mounting plates for the doorbell, along with angled mounting brackets.
Unfortunately, the Wyze doorbell is not compatible with your existing mechanical chimes. You will need the Wyze Chime for this system to work. Don't worry about the cost. Wyze's Video Doorbell + Chime bundle still costs less than the Ring Video Doorbell.
Camera and Audio
The big difference between these doorbells is that Wyze uses a 3:4 aspect ratio (head to toe) compared to the standard 16:9 (wide) on the Ring.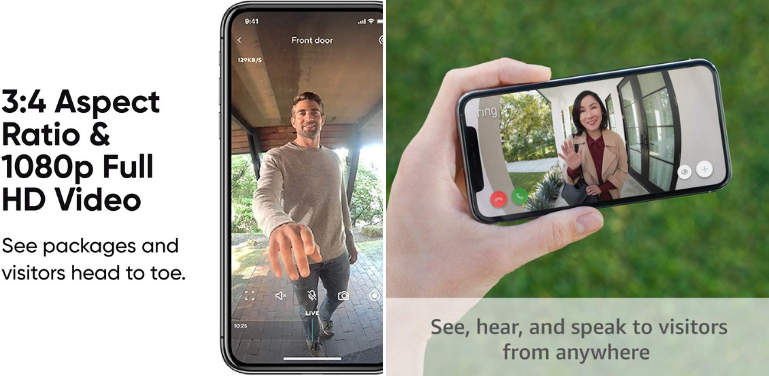 When buying a camera doorbell, video resolution is an important consideration. In this area, both Wyze and Ring deliver a solid performance. The Wyze Video Doorbell offers 1080p Full HD Video with future support for 2k. It also features 8x digital zoom and daytime video recording of up to 20fps. Ring's doorbell also offers 1080p HD video noted for vibrant colors in the daytime.
The main difference between the two is in their aspect ratio. On the second-gen Ring doorbell, you're getting the standard 16:9 aspect ratio, courtesy of a 155° horizontal and 90° vertical field of view. Wyze, on the other hand, follows a 3:4 aspect ratio. This means it streams videos vertically to "see people head to toe." Although it makes sense, you don't have a wide-angle to monitor your garage or front yard.
Other than the aspect ratio, most of the features on the Wyze and Ring doorbells are pretty standard. Both cameras have night vision courtesy of infrared LEDs. They also come with two-way audio equipped with noise cancellation.
Smart Features and Subscription
Wyze and Ring's video doorbells come with plenty of features, with most of the advanced behind a subscription.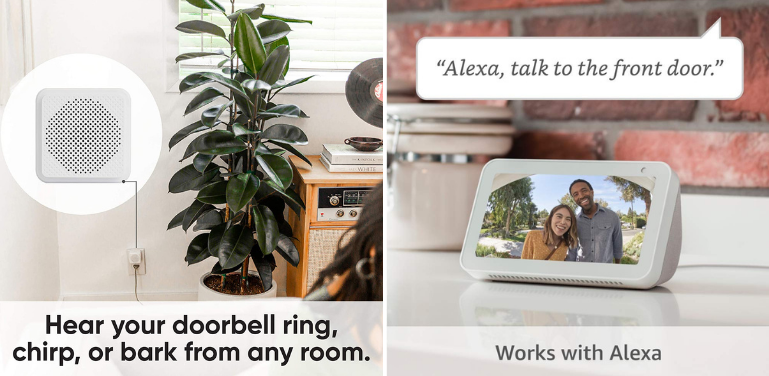 The Wyze and Ring video doorbells provide real-time notifications when visitors press your doorbell. Aside from the chime, you get push alerts delivered to the mobile app. Both devices offer motion-triggered alerts, with Ring going further through rich notifications. This allows homeowners to see the specific event that triggered the alert. Ring also works with Alexa, while Wyze is still working on support for voice assistants.
However, more advanced features are behind a paywall. For instance, you need the Wyze Cam Plus subscription to get person detection and package detection. Similar features are accessible only on Ring's doorbell through Ring Protect. If you want to customize alerts from Ring, you also have to pay for a plan.
Aside from advanced features, there are additional benefits when you sign up for either Wyze Cam Plus or Ring Protect. Both plans offer discounts on future purchases, with Ring even offering extended warranties for all devices.
Verdict
Ring's Video Doorbell, though costing a bit more, is still better than Wyze.
The Wyze Video Doorbell is an attractive purchase for those on a budget. It's a well-made home monitoring device that packs standard smart doorbell features. However, it only comes hardwired. If you want a wireless model, you'll have to opt for the Wyze Video Doorbell Pro. Wyze's doorbell also requires the Wyze Chime if you need regular alerts over mobile notifications. Its vertical streaming may not be everyone's cup of tea either.
Ring, on the other hand, has built a strong reputation as a leading smart doorbell provider. Its Ring Video Doorbell (2020 release) offers enough refinements in design and features from the 1st Gen. Unlike Wyze, you can choose between wireless and hardwire installation, too. While it does cost more than its competitor, the Ring Video Doorbell delivers the goods. It works with existing chimes, is easy to install, and can integrate with other Alexa-enabled smart devices.
FAQs
📌 What's the main difference between the Wyze and Ring Video Doorbells?
The Wyze Video Doorbell is a hardwired smart doorbell that costs less than the Ring. It also streams video using a 3:4 aspect ratio as opposed to Ring's 16:9 (wide) aspect ratio.
📌 Can the Ring Video Doorbell use your existing doorbell chime?
Yes, the Ring Video Doorbell can be hardwired so you can keep using your existing AC chime.
📌 Does Wyze Cam require a subscription?
The Wyze Cam, like the Wyze Video Doorbell, can work even without a subscription. However, you'll need to sign up for Wyze Cam Plus if you want to access advanced features and unlimited video recording.
📌 How many sounds do you get on the Wyze Chime?
Wyze's Chime comes with 19 tunes or alerts, including classic doorbell chimes and an intruder alarm.