Choosing non-stick cookware can be tricky with the number of brands available. If you don't know where to start, it's best to look at top-rated brands. Scanpan, for instance, is a brand of cookware made in Denmark with a reputation for timeless non-stick pans. Meanwhile, Hexclad is a fast-growing company offering an intriguing hybrid design of cookware. Caraway, on the other hand, is known for thoughtfully-crafted ceramic non-stick pots and pans. All three emphasize the eco-friendly construction and performance of their cookware. Which brand stands out?
Scanpan vs Hexclad vs Caraway Comparison Chart
Scanpan
Hexclad
Caraway
Top-Rated Product
Model Name
Scanpan Classic 11-Piece Cookware Set
Hexclad 7-Piece Hybrid Cookware Set
Caraway 12-Piece Cookware Set
Price
Construction
Cast aluminum with Stratanium coating
Hybrid 3-ply stainless steel and aluminum
Ceramic-coated aluminum core
Pieces
10.25″ fry pan, 2.75 Qt. covered saute pan, 1.25 Qt. covered saucepan, 2 Qt. covered saucepan, 3.25 Qt. covered saucepan, 6.5 Qt covered dutch oven
12″ pan with lid, 10″ pan with lid,
8″ pan with lid, 12" wok
10.5″ fry pan, 3 Qt. saucepan with lid, 4.5 Qt. saute pan with lid, 6.5 Qt. Dutch oven, pan and lid storage solution
Non-Stick
Yes
Yes
Yes
Induction-Compatible
No
Yes
Yes
PFOA-Free
Yes
Yes
Yes
PTFE-Free
No
No
Yes
Oven-Safe Temperature
500ºF
500ºF
550ºF
Warranty
Lifetime
Limited lifetime
Limited one-year warranty
Construction
Scanpan, Hexclad, and Caraway's cookware all use an aluminum core. Where they differ is in the coating.
Scanpan offers 10 collections of cookware. However, its Classic lineup is the most extensive and arguably most popular. The Classic range boasts a construction that has become emblematic of Scanpan. Here, pots and pans are crafted from recycled cast aluminum. Scanpan coats these cookware with five layers of its proprietary Stratanium. The company shares that the material consists of "hard particles and wave-like layers that interlock to reinforce the non-stick layer."
Hexclad's collection is known for its hexagonal lattice surface, from which it takes its name. The hybrid design combines stainless steel with non-stick ceramic for the interior and exterior layers. This creates tiny peaks of stainless steel that deliver the searing capabilities of the pan. Between these peaks is the non-stick coating that, while labeled ceramic, contains PTFE, otherwise known as Teflon. Because the stainless steel peaks are raised, they also protect the non-stick layer. As for the heating element, Hexclad uses an aluminum core.
Caraway only has one collection of non-stick cookware. However, the brand approaches non-stick cooking differently. While it also uses an aluminum core, it fully coats pots and pans in non-toxic ceramic. This is the unique selling point of the company. Caraway's cookware are not only PFOA-free, but they are PTFE-free as well. The result is 60% less CO2 emissions compared to traditional non-stick coatings. Lastly, its collection includes pan and lid storage solutions.
Design
Scanpan cookware has a traditional non-stick appearance. Meanwhile, the Hexclad set has the most striking design. On the other hand, Caraway has a homey, Dutch oven aesthetic.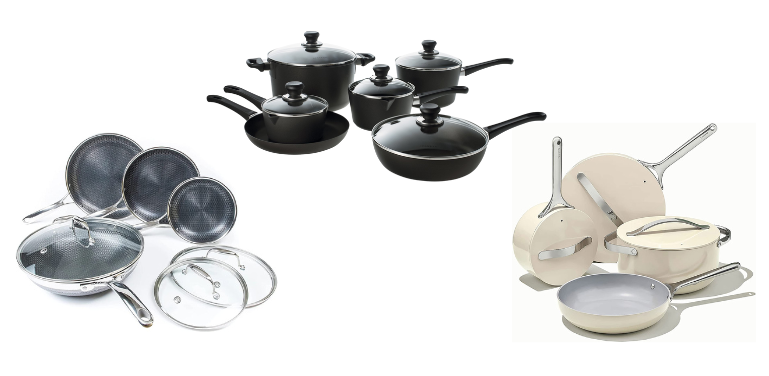 Scanpan
Living up to its name, Scanpan's Classic collection carries a timeless design. The pots and pans have a black finish that contrasts nicely with their metal base. Meanwhile, the Stratanium interior has a slightly grainy appearance and texture. As for the sides, they're sloped but with a straight rim to contain ingredients.
All Scanpan Classic cookware comes with black Bakelite handles connected to the pans via a patented rivetless system. The lids, on the other hand, are made from oven-safe glass with steel trimming. They are also interchangeable across pans of the same diameter across all collections.
Hexclad
Hexclad cookware is instantly recognizable, thanks to the striking hexagonal pattern of the pans. And like other cookware brands, Hexclad's collection features flared rims for easy draining of liquids and pouring of sauces. The lattice-like pattern of the cooking surface extends to the outside but shares space with a stainless steel layer.
One of the noticeable qualities of Hexclad is its weight. These are heavy cookware compared to your average non-stick pan. Despite their weight, the pans are comfortable to hold, courtesy of the thick and ergonomic handles. And while they're made from metal, they stay cool even in high heat.
Caraway
In terms of aesthetics, Caraway has arguably the homiest design. Its interior is coated in a mineral-based ceramic that's smooth to touch. The material also lends a Dutch oven-esque look to the straight-rimmed cookware. If you're one to color coordinate your home, Caraway is the way to go. Its collection comes in various core colors and limited edition black or white.
You'll find the same coating on the exterior of the pans except for the steel base. Meanwhile, the lids are made from cast aluminum. As for the handles, you get a mirrored stainless steel component with a hollow interior for heat dispersion. For the core-colored pans, the handle comes in silver. On the other hand, limited edition Caraway cookware has gold handles.
Cooking Performance
Caraway's cookware has the highest maximum oven-safe temperature. Scanpan, on the other hand, wins in non-stick performance. However, heat conduction goes the way of Hexclad.
When it comes to heat conduction, Hexaclad has the lead over Scanpan and Caraway. Stainless steel, combined with an aluminum core, really does wonders for its cookware. In terms of heat distribution, all three brands do an excellent job. There are hardly any hotspots in their pots and pans, so you're sure meals will be evenly cooked.
Although they're marketed as non-stick cookware, all three brands recommend putting a bit of oil when cooking. However, Scanpan's cookware is the slickest, with Caraway closely at second. Hexclad's hybrid coating, with the stainless steel peaks, gives a better sear but leaves room for food scraps to lodge into.
Made from ceramic, Caraway cookware are oven-safe up to 550ºF. In contrast, Scanpan and Hexclad's PTFE-coated surfaces limit the pans to 500ºF. Caraway is stovetop agnostic but are not broiler safe. Meanwhile, Hexclad cookware can be used on gas, electric, ceramic, and induction ranges. Only Scanpan's Classic collection is not induction-compatible.
Durability and Care
Scanpan and Hexclad win in durability, while Caraway takes the cake when it comes to ease of cleaning.
With its 5-layer non-stick coating, Scanpan cookware has excellent durability. In fact, the cooking surface is metal utensil friendly as well. Since Scanpan's steel base undergoes pressure casting, it's less prone to warping, too. However, the Stratanium coating does require more care. Thorough washing over warm water and soap is necessary to maintain your Scanpan cookware.
Caraway is the easiest to clean. Its ceramic coating only requires warm soapy water and a dishcloth to wipe away stains. But there is a downside to this. Caraway's colorful finish isn't the best. When food or oil spills on the side, cleaning them tends to pull off the paint. It's also best to avoid using metal utensils or abrasive sponges on Caraway cookware.
Hexclad cookware also boasts an excellent build quality. The hexagon's stainless steel peaks protect the non-stick layer, so you can use metal utensils when cooking. However, the same design translates to food particles getting lodged into the valleys. This means you'll have to periodically deep clean Hexclad pans. While abrasive sponges can do the trick, it's best to handwash the cookware.
Verdict
Opt for Scanpan if you prioritize non-stick performance. Choose Hexclad if you want durable non-stick cookware. Go for Caraway if you like eco-friendly and stylish pots and pans.
Choosing between Scanpan, Hexclad, and Caraway largely depends on what you're looking for in non-stick cookware. While all three are close in terms of performance, each has its strengths.
For instance, Scanpan is the slickest of the brands reviewed. Its pots and pans have a unique non-stick coating called Stratanium. The squeeze cast base also makes for durable cookware. If you're willing to trade searing capabilities for stickproof cooking and clean-up, then Scanpan is for you.
On the other hand, Hexclad's hybrid cooking surface means you get a good char on your food. It also protects the non-stick coating underneath. Moreover, it lends the cookware a sleek form. But while it's eye-catching and great for searing, it's not as slick as the other brands.
For those who want eco-friendly pans, Caraway has the most appeal. The all-ceramic coated cookware is free from PTFE and is easy to clean. Caraway's cookware set also brandishes a homey style that blends well in any kitchen. However, it isn't as durable as Scanpan or Hexclad and only comes with a one-year warranty.
FAQs
📌 Does Caraway sell products aside from cookware?
Yes. Apart from cookware, Caraway's catalog includes bakeware and linens.
📌 What stovetops are compatible with Scanpan's Classic Collection?
The Scanpan Classic Collection is compatible with ceramic, gas, halogen, solid plates, and radiant rings.
📌 Does Hexclad offer returns?
Yes. Hexclad offers a 30-day return policy.
📌 How long does it take Scanpan to ship orders?
Scanpan orders ship within one to three business days.