One of the biggest misconceptions about manscaping is that regular grooming tools will do. But given how sensitive skin is down there, your daily trimmer won't be up to the task. Manscaped is arguably the most popular brand for this niche. By its name itself, you know the company focuses on grooming below-the-waist. The Lawn Mower 4.0, for instance, is its latest groin and body trimmer that comes packed with features.
Meridian, on the other hand, is the newer kid on the block, having been established only in 2019. The Trimmer is the company's top offering, sporting a more contoured design compared to the Lawn Mower's boxy form. Like Manscaped's groomer, The Trimmer by Meridian is made for men's safe and hygienic trimming. Which of the two models is better? Read our comparison below to find out.
Manscaped vs Meridian Trimmer Comparison Chart
| | | |
| --- | --- | --- |
| Model | Manscaped The Lawn Mower 4.0 | The Trimmer by Meridian |
|   | Amazon product | Amazon product |
| Price | Amazon product | Amazon product |
| Type | Groin and body trimmer | Groin and body trimmer |
| Guard Combs | 2 (3-6mm, 10-13mm) | 2 (3-6mm, 9-12mm) |
| Power | 7,000 RPM | 6,000 RPM |
| Charging Dock | Yes | No |
| Subscription Plans | Yes | No |
| Bundles and Sets | Yes | Yes |
| Blade Material | Ceramic | Ceramic |
| Charging | Wireless, USB cable | USB cable |
| Battery Life | 90 minutes | 90 minutes |
| Weight | 8 ounces | 4.2 ounces |
Design and Attachments
The Manscaped trimmer sports angled forms and comes in a premium black finish. In contrast, the Meridian trimmer features curved contours and is available in black and light green colors.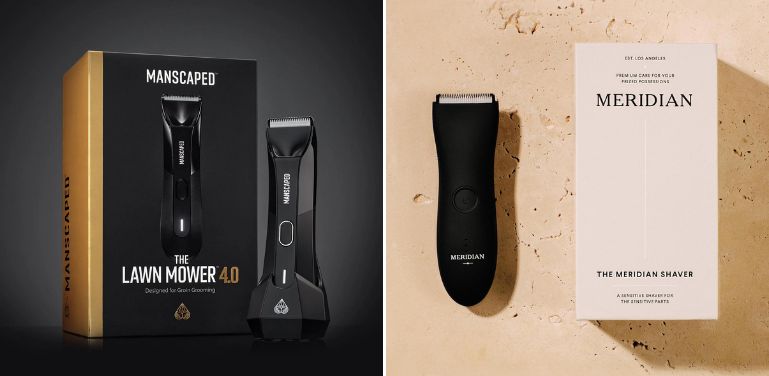 Unlike regular trimmers, Manscaped and Meridian's grooming tools are lightweight and smaller for easy maneuverability. The Lawn Mower 4.0, for instance, comes with a redesigned shell that improves its ergonomics. Compared to the Lawn Mower 3.0, the latest iteration of Manscaped's trimmer has a boxier, angled form. It's also a little weightier. That being said, the feel on the hands is better, and you can tell the premium craftsmanship in its sleek, two-toned black finish.
Meanwhile, The Trimmer by Meridian has more curved contours. It's also half the weight of the Manscaped trimmer and fits snugly in one hand. Plus, you can get the device in two colors — black or light green. Meridian shares that its Trimmer features a rust-resistant ceramic blade as well. You'll find the same material used by the Manscaped Lawn Mower 4.0, too.
Manscaped and Meridian trimmers are waterproof, so they're safe for wet and dry shaving. Manscaped, however, adds that its Lawn Mower 4.0 comes with an IPX7 rating. Both devices also come with LED indicators for battery life or charging status. Now in the box, you'll find your standard components. Manscaped and Meridian include a cleaning brush, charging cable, and two guard combs. With the Lawn Mower 4.0, you also get a charging dock for wireless charging.
Motor and Quietness
The Lawn Mower 4.0 from Manscaped has the edge over Meridian's trimmers when it comes to motor power and quiet performance.
Although diminutive in size, Manscaped and Meridian's trimmers are powerful tools. The Lawn Mower 4.0, for instance, boasts a 7,000 RPM motor. It's the same speed as the 3.0 model but Manscaped shares the newer trimmer doesn't heat up as easily. Meridian's trimmer, on the other hand, is rated for 6,000 strokes per minute. Despite this gap, both models perform comparably.
Where Manscaped's trimmer has the edge over Meridian's, however, is its quiet performance. The Lawn Mower 4.0's motor uses QuietStroke technology. This feature delivers an ultra-quiet and low-vibration operation. Users share that with the Manscaped trimmer, the low-hum buzzing is just enough to know the device is working.
Click here to read more shaver reviews.
Performance and Battery Life
While both trimmers are easy to use, Manscaped offers the convenience of wireless charging missing on the Meridian.
There's a reason these two trimmers are well-recommended, and that's because they work well. On the Lawn Mower 4.0, the ceramic blades are thinner and closer together, minimizing painful pulls, especially when working on your nether regions. The Manscaped trimmer also uses Skinsafe Technology, a trademarked approach where the blades have rounded corners. With this design feature, nicks and cuts are greatly minimized.
On the other hand, Meridian's trimmer prides itself with a blade module that features a Sensitive Shaver Technology. There's also an anti-nick shaving guard to prevent snags, no matter how thick or coarse the hair is. Keep in mind, however, that these ceramic blades are still sharp. Even with all the protective features, it's always great to be careful when grooming.
Of course, the performance also depends a lot on your device's runtime. Fortunately, both the Manscaped and the Meridian trimmers boast the same modest 90-minute battery life. With the Lawn Mower 4.0, however, you get the benefit of a charging dock for wireless charging. The dock also doubles as a stand. Meridian's trimmer, on the other hand, doesn't have wireless charging. Plus, the accompanying USB cable doesn't include a wall adaptor.
Bundles and Formulations
Both Manscaped and Meridian offer grooming kits and bundles.
If you're serious about self-grooming, consider getting an all-in-one grooming kit from these brands. Aside from body trimmers, these bundles will typically include other grooming essentials and freebies. The best Manscaped set, for instance, will pair the Lawn Mower 4.0 with an ear and nose hair trimmer. Manscaped also throws in a body toner and deodorant, along with anti-chafing boxers, shavings mats, and a travel bag.
Meridian's flagship bundle, on the other hand, packs more items than Mandscaped's. Its top-of-the-line The Works Package comes with The Trimmer and the Up-Here Trimmer. It also includes the brand's odor-busting The Spray formulation and exclusive anti-microbial Meridian Foot Spray. Apart from these formulations, The Works Package comes with a nail kit, replacement blades, a pair of briefs, and a waterproof bag.
Verdict
The Manscaped groin and body trimmer offer a few extras that make it a better purchase than The Trimmer by Meridian.
Amazon product
Is Manscaped worth it? Is the Meridian a good model for groin grooming? For both questions, the answer is a resounding yes, especially if you take grooming and hygiene seriously. While manscaping is still the topic of hushed conversation, anyone who wants to be better at male grooming is better off investing in these trimmers.
Between the two, however, it's hard to argue against the Manscaped Lawn Mower 4.0. After all, it's an improved version of one of the best-selling trimmers, the Lawn Mower 3.0. The Trimmer by Meridian is also a solid choice, if not a more affordable alternative. It's got comparable power, features, and performance ratings, too. But a few extras on Manscaped's trimmer — like wireless charging and an included charging adaptor — make it the more complete device. And for a few extra dollars, that sounds like a better deal.
FAQs
📌 Is Manscaped actually good?
The Manscaped Lawn Mower 4.0 is one of the best groin and body trimmers to get. It's a well-crafted device that features skin-safe blades and wireless charging support.
📌 Why does The Trimmer by Meridian use ceramic blades?
Meridian's below-the-belt trimmer uses ceramic blades because they generate less heat. The material is also non-porous, making it resistant to harboring bacteria.
📌 How long is the warranty on the Manscaped Lawn Mower 4.0 trimmer?
The Manscaped Lawn Mower 4.0 carries a 90-day warranty period. The trimmer also comes with a 30-day return policy.
📌 Does the Meridian trimmer come with a warranty?
Meridian's trimmer comes with a one-year warranty for manufacturer defects.