When it comes to large lawns, zero-turn mowers are the way to go. Thanks to their power and maneuverability, taming large swaths of green is not only easier but faster, too. Among the many companies producing zero-turns, Husqvarna and John Deree mowers are among those that stand-out.
Backed by years of experience, these two companies have been producing top riding mowers that deliver a professionally landscaped look. Here, we take a look at Husqvarna's Z246 and the John Deere Mower Z345R to see which zero-turn is worth the investment for your lawn.
Husqvarna Z246 vs John Deere Z345R Mower Comparison Chart
| | | |
| --- | --- | --- |
| Model | Husqvarna Z246  | John Deere Z345R |
|   | Amazon product | |
| Price | Amazon product | Check Price at Deere.com |
| Engine Brand | Briggs and Straton | John Deere Branded |
| Engine Power | 20 HP | 22 HP |
| Engine Cylinders | 2 | 2 |
| Cutting Options | Collect, side discharge; mulch (kit sold separately) | Side discharge; collect and mulch (optional attachments) |
| Cutting Height | 1.5 to 4 inches | 1 to 4 inches |
| Cutting Width | 46 inches | 42 inches |
| Forward Speed | 6.5 mph | 7 mph |
| Blades | 2 | 2 |
| Transmission | Hydrostatic | Dual Hydrostatic |
| Seat Type | 15″ high back | 18″ high back with arm rest |
| Engine Cooling Method | Air | Air |
| Fuel Tank Capacity | 3.5 gal (US) | 2.1 gal (US) |
| Warranty | 3 years | 2 years or 120-hour bumper-to-bumper warranty |
Engine and Power
The John Deere Z345R boasts a more powerful 22 HP V-Twin engine while the Husqvarna Z246 comes with a much larger 3.5 fuel tank capacity.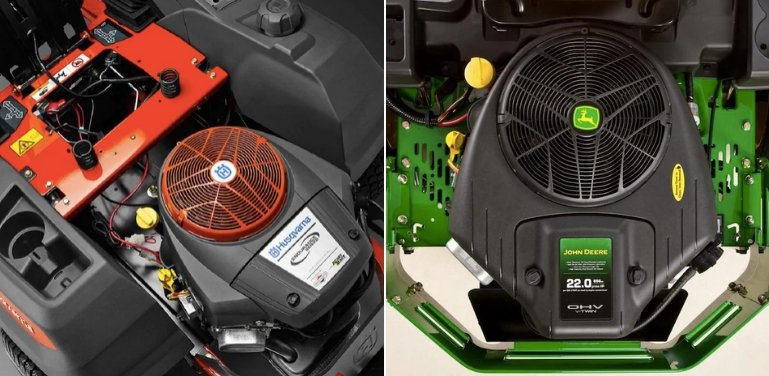 A quick look at their specifications would tell you that the John Deere Z345R is the more powerful mower. Its 724 CC self-branded V-Twin engine pumps out 22 horsepower from two cylinders, and delivers plenty of power to the 42-inch cutting deck for fast mowing, bagging, or mulching. Plus, it's also guaranteed to be choke-free.
On the other hand, the Husqvarna Z246 46-inch cutting deck is powered by a 20 horsepower Briggs and Straton Endurance Series V-Twin engine. Like the John Deree Mower, the engine also features full-pressure lubrication and a premium air filtration system.
With the Z246, however, you do get a larger fuel tank capacity of 3.5 US gal. compared to the John Deeree Z345R's 2.1 US gal. As such, Husqvarna claims that its zero-turn can cover up to 2.4 acres/hr compared to the John Deere Z345R's one acre.
Speed and Maneuverability
For a zero-turn mower, the John Deere can tackle slopes and uneven terrain thanks to its floating deck.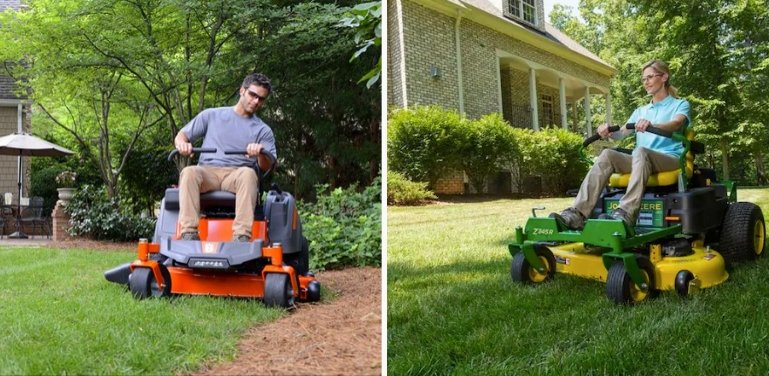 Because of its powerful engine, the John Deere Z345R can reach top speeds of 7 mph. Its heavy-duty dual hydrostatic transmission and cast iron front axle, on the other hand, lends durability and stability to the machine.
In contrast, the Husqvarna's max forward speed is 6.5 mph. But while it isn't as fast, the Z246 does feature some extra cutting inches compared to the John Deere. This should help balance out the speed advantage from the Z345R. Moreover, the larger fuel tank capacity of the Husqvarna means you'll stop less to refill, and have more time to spend actually mowing your lawns.
Nonetheless, the John Deere Z345R is more maneuverable. Whereas most zero-turns struggle with hilly landscapes, the Z345R brandishes a floating deck that makes it capable of handling slopes as well as flat terrain.
Cutting Efficiency
Both the Husqvarna Z246 and the John Deere Z345R are two-blade mowers which sport respective cutting-edge technology.

Both the Husqvarna and John Deere zero-turns are two-blade mowers. With the Husqvarna Z246, the blades are controlled by an electronic clutch to help adjust the cutting height and width. The use of air induction technology also ensures cut grass is easier to lift from underneath the mower, and that you get an even slice across the lawn.
With the John Deeree Z345R, the flat-top design of its deck allows for a more efficient dispersion of clippings. The deep mower deck also allows for a clean discharge of cut material, thereby reducing recutting, even when mulching.
Keep in mind, however, that the mulching capability on both mowers are sold as separate kits.
Safety, Ease of Use, and Comfort
The Husqvarna Z246 features a patented brake system while the John Deere Z345R boasts a high-back seat with adjustable arm rests.
While these machines sound like an intimidating purchase, both Husqvarna and John Deere take safety, comfort, and ease of use seriously. These areas of focus are especially important since, unlike most top riding mowers, zero-turns use lap bars instead of steering wheels. Because of this added learning curve, you'll find a number of safety features included in these mowers to assist new users.
The Husqvarna Z246, for instance, uses non-slip surfaces on the machine, and also features a rear guard engine for added protection. The control panels are also ergonomically designed and conveniently located within easy reach of the rider. Moreover, it features a patented automatic park brake system that's integrated with the control levers.
On the other hand, the John Deere Z345R Mower sports a large foot platform with rubber floor mats for added grip. Controls are also color coded, and the overall design of the zero-turn ensures excellent visibility. Unlike the Husqvarna, the Z345R's high-back seats also come with adjustable arm rests, as well as a few extra inches for additional lumbar support.
Verdict
The John Deere Z345R is better for uneven terrain although the Husqvarna Z246 can cover larger swaths of land.
Amazon product
Choosing between the Husqvarna Z246 and John Deere Z345R will largely depend on your needs. Both feature durable steel-stamped cutting decks, as well as reliable cutting and safety features which make them capable mowers. However, if your property features hilly terrain, we recommended the John Deere Z345R. Its suspended deck gives it the versatility to work on slopes and uneven landscapes.
On the other, you'll probably get more done with the Husqvarna Z246. Although the John Deere Z345R sports a more powerful engine, its smaller fuel tank means that speed advantage is lost against a mower with a larger capacity. With the Husqvarna Z246, its lower engine HP is more than made up by a wider cutting deck and voluminous fuel tank. This means you get to cover more, while also minimizing the need to refill.
FAQs
📌 How much area can be covered by a Husqvarna Z246?
According to Husqvarna, the Z246 zero-turn mower can cover up to 2.4 acres in an hour.
📌 Are the arm rests on the John Deere Z345R adjustable?
Yes, the arm rests on the John Deere Z345R Mower are adjustable for users of different heights. This zero-turn also comes with a cup holder for added convenience. 
📌 Is Husqvarna an American brand?
Husqvarna is a Swedish manufacturer of outdoor power products headquartered in Stockholm. On the other hand, John Deere is a household American brand equally popular for their construction, forestry, and agricultural machinery. 
📌 Does the John Deere Z345R have a larger fuel capacity than the Husqvarna Z246?
No, it does not. Between these two zero-turn mowers, the Husqvarna Z246 has a larger fuel capacity of 3.5 gallons compared to the John Deere Z345R's 2.1 gallons.