If you are looking for a leaf blower and you've narrowed down your search between a Husqvarna and a STIHL product, you should know that you are looking at two top tier brands in that category. Both of these brands are known for durable and quality power tools and their leaf blowers meet those standards.
There are three styles of leaf blowers: walk-behind, backpack and handheld. Power sources vary as well; some are gas-powered, others are battery operated and professional-grade ones use an electric motor. In this article, we're going to compare and take a look at these two handheld, gas-powered blowers: the Husqvarna 125b and the STIHL BG 56 C-E.
Husqvarna vs STIHL Leaf Blower Comparison Chart
| | | |
| --- | --- | --- |
| Model | Husqvarna 125b | STIHL BG 56 C-E |
| | | |
| Price | Check Price on Amazon | Check Price at STIHLusa.com |
| Engine | 28cc | 27.2cc |
| Power | Gas | Gas |
| Air Velocity | 170 MPH | 159 MPH |
| Air Volume | 425 CFM | 412 CFM |
| Weight | 9.4 lbs | 9.3 lbs |
| Noise Level | 94db | 70db |
| Anti Vibration | LowVib | Anti-vibration system |
| Fuel Capacity | 16.91 fl. oz. | 18.3 fl. oz. |
| Extra Features | Variable speed throttle with cruise control | Easy2Start™ System |
Performance
The Husqvarna 125b edges out the STIHL BG 56 C-E when it comes to performance.
How good a leaf blower can perform depends on the engine displacement, how much air comes out of the nozzle (air volume) and the speed of that air when it comes out (air velocity). The averages for other leaf blowers in the same class as the Husqvarna 125b and the STIHL BG 56 C-E are as follows:
Engine: 26-28cc
Air Volume: 430-440 CFM
Air Velocity: 175 MPH
The Husqvarna 125b's engine displacement of 28cc is slightly better than the STIHL's 27.2cc engine. The difference is not that big and both leaf blowers are well within the average of products at the same price point.
As for air volume and velocity, the Husqvarna leaf blower is rated at 425 CFM and 170 MPH while the STIHL is at 412 CFM and 159 MPH. The Husqvarna 125b is better than the STIHL BG 56 C-E in this area as well, and this time, by a reasonable margin. With all that information, the Husqvarna 125b has a bit of an advantage over the STIHL BG 56 C-E when it comes to performance.
Handling and Safety
Both are safe and easy to use.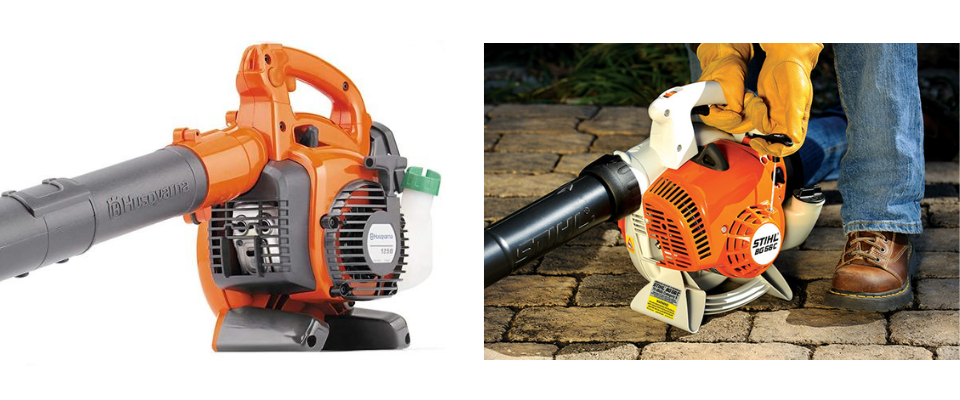 Both of these leaf blowers are lightweight and easy to handle. The Husqvarna weighs in at 9.4 lbs. while the STIHL weighs 9.3 lbs. Both of them are also ergonomically designed to reduce joint pain when used for longer periods of time.
Leaf blowers are power tools, so naturally, they will produce noise and vibration when in use. Noise and vibration can be safety issues if they are not at acceptable levels. The Husqvarna has a noise rating of 94db when operational while the STIHL measures at 70db. Both of them come with their own anti-vibration systems to dampen the vibration and lessen the strain on your arms when using. Husqvarna uses their LowVib technology for this while STIHL has their own anti-vibration system in place.
When it comes to noise levels, the STIHL is definitely better, having a noise rating of only 70db. However, the 94db rating of the Husqvarna is not that bad, and it is still well within the acceptable levels of noise that won't damage your hearing. For extra safety though, you should always wear ear muffs or ear plugs, like these 3m ear plugs, whenever you are using loud power tools.
As for vibration, both brands have taken measures to make sure that it is minimized. Husqvarna's LowVib tech and STIHL's own anti-vibration system are nice features that definitely reduce any vibrating discomfort that you may encounter when using their products.
Design and Other Features
Both the Husqvarna and STIHL leaf blowers are designed with the user in mind.
As we mentioned above, both are lightweight and ergonomically designed for ease of handling. For the fuel capacity, the Husqvarna 125b comes with a tank that can hold 16.91 fl. oz. of fuel while STIHL's BG 56 C-5 has a fuel capacity of 18.3 fl. oz. Not much difference between the two.
Both of these leaf blowers come with extra features to make them even easier to use. They both have adjustable nozzles, a pump purge for easier starting and their controls are easy to use and accessible.
An exclusive feature of the Husqvarna is its variable speed throttle with cruise control. It basically makes your tasks easier by locking the fan speed at a setting that you desire while doing tasks such as sweeping and raking.
As for STIHL, they also have an exclusive feature; the Easy2Start™ system. It's a feature that allows you to start the tool easier. Instead of multiple fast pulls, you only need to do a long easy pull and the unit will start.
Verdict
The Husqvarna 125b and STIHL BG 56 C-E are both great products but the Husqvarna is slightly better.
More performance for the money
Low noise levels
Clearing your property of any leaves, dirt or any kind of small debris in a short amount of time can be done by pretty much any decent leaf blower in the market. In the case of Husqvarna vs STIHL leaf blowers, we recommend the Husqvarna 125b over the STIHL BG 56 C-E. They perform similarly in a lot of areas but the power output of the Husqvarna, as well as its cruise control and LowVib tech, puts it well above the STIHL. It simply offers more value and performance for the price.
FAQs
📌 Which is better between the STIHL or Husqvarna leaf blower?
It depends on the models being compared. However, we tend to lean towards Husqvarna products as they oftentimes outperform STIHL products in the same price range.
📌 Are STIHL leaf blowers any good?
Yes, they are. They offer a lot of extra features and they are durable and easy to use.
📌 Which brand of leaf blower is best?
One brand that we can recommend is Husqvarna. Their leaf blowers, specifically the Husqvarna 125b, provides great value for the price.
📌Which STIHL blower is best?
It depends on how and where you will be using it. They have a variety of products to choose from that will satisfy both homeowners and professionals.