Getting the right refrigerator is important in more ways than one. For starters, it's usually the biggest appliance in the kitchen, which means it has to look good since it plays a huge role in the overall decor scheme. Moreover, it's a significant factor in your electricity bill and how long your food will stay fresh.
Frigidaire and GE or General Electric are two household names that deliver where it counts, particularly in reliability and functionality. On top of that, they're backed by years of experience in the business, and they have decent track records as well. Considering you can't go wrong with either one, deciding between the two seems like it doesn't matter, but there's more to it than that. Take the Frigidaire Gallery FGHB2868TF and GE Profile PVD28BYNFS, for instance. Both are French door fridges that share a few features here and there, but they aren't exactly the same.
Frigidaire vs GE Refrigerator Comparison Chart
| | | |
| --- | --- | --- |
| | Frigidaire | GE |
| Popular Models | | |
| Price | | |
| Refrigerator Types | French Door, Side-by-Side, Top Freezer, Compact, Beverage Center, Wine Cooler, Single Door | French Door, Side-by-Side, Top Freezer, Compact, Beverage Center, Wine Cooler, Bottom Freezer |
| Capacity | Up to 27.6 cu. ft. | Up to 28.7 cu. ft. |
| Water Dispenser | Yes | Yes |
| Ice Dispenser | Yes | Yes |
| Humidity-Controlled Crisper Drawers | Yes | Yes |
| Smart Features | No | Yes |
| Fingerprint Resistant Options | Yes | Yes |
Refrigerator Styles
Frigidaire and GE have about any kind of refrigerator type there is.
Both Frigidaire and GE have French door, side-by-side, top freezer, and compact refrigerators, as well as beverage centers and wine coolers. The only difference is the former has single door variants, while the latter has bottom freezer ones.
These brands can also accommodate counter-depth installations so their fridges can sit flush with kitchen cabinets, drawers, and countertops.
As for their capacities, Frigidaire's largest refrigerator is a French door with 27.6 cu. ft. Meanwhile, GE can go up to 28.7 cu. ft., which is also a French door model. The takeaway here is that both can provide a unit with plenty of space to work with.
Features and General Performance
GE has more features, but Frigidaire is more energy efficient.
Two of the most common features high-end refrigerators have are water and ice dispensers, and Frigidaire and GE equipped certain models with them. In the same vein, both also include humidity-controlled crisper drawers to keep produce fresh longer in most of their fridges. 
Frigidaire isn't big on the whole smart refrigerator business, but it did release the Professional Glass Door that has a panel that becomes transparent when it detects movement nearby, which has been discontinued.
On the other hand, select GE refrigerators can be controlled via a smartphone, allowing users to do things like adjust temperature and turn the ice maker on or off. Others also have an adjustable temperature drawer for more flexibility, and oddly enough, some have a built-in Keurig brewer, which can save some counter space, if nothing else.
While both companies offer energy efficient fridges, Frigidaire slightly has the edge because its models typically consume less electricity. However, GE units usually last longer before needing any sort of repair, but Frigidaire refrigerators are easier to fix because they use fewer parts. It goes without saying that this really depends on the model itself, but at the very least, it gives a general idea of what to expect.
Click here for our Keurig Mini and Mini Plus comparison.
Recommended Models
The Frigidaire Gallery FGHB2868TF and the GE Profile PVD28BYNFS are both French door fridges, but they have features that make them unique from each other.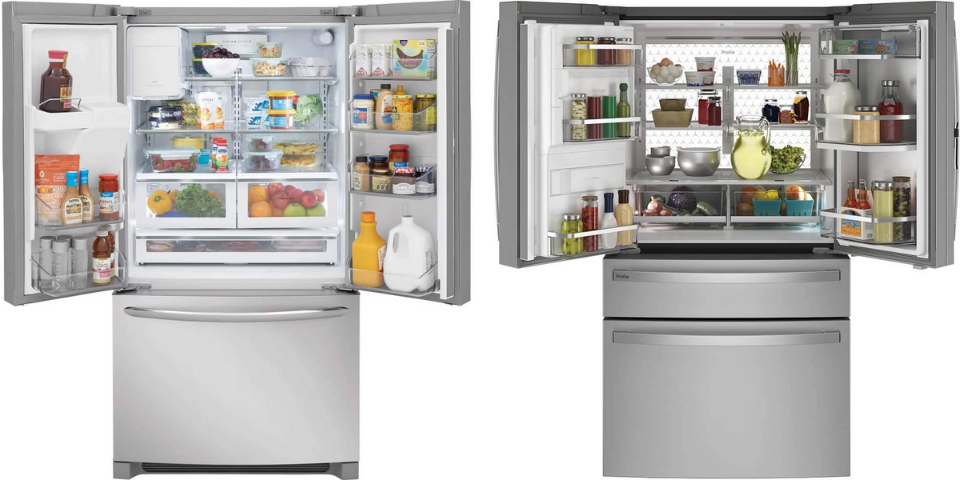 To start things off, the Frigidaire Gallery FGHB2868TF French door is basic in the sense that it doesn't have fancy features. Instead, it focuses on functionality. That includes water filters and even air filters to keep things fresh inside, as well as a guarantee that temperatures are even throughout. Space is hardly an issue too, thanks to its adjustable storage and flip-up shelves for tall items. Not to mention that its freezer has dividers for easy organizing.
Then there's the GE Profile PVD28BYNFS French door. Like the Frigidaire Gallery, it also has a reliable water filter and storage features like its door-in-door system. But what makes it stand out is it's smart. On that note, it has an auto-fill water dispenser and Wi-Fi connectivity, to name a few. In short, it's packed with a lot of features.
Verdict
GE refrigerators are more expensive than Frigidaire, but they're worth the extra cost.
To sum things up, both make energy efficient refrigerators, but Frigidaire models require less electricity in most cases. In contrast, GE fridges have more features, but the trade-off is they're usually more expensive and have more parts that need to be maintained. However, they tend to last longer before they have to be serviced.
If we had to choose, we'd go with GE because of the additional functionalities and features, like on the GE Profile PVD28BYNFS. But that's not to say that Frigidaire isn't a good pick. After all, the Frigidaire Gallery FGHB2868TF offers solid performance, even though it may be relatively basic.
FAQs
📌 Which is a better refrigerator, Frigidaire or GE?
It depends, but both brands make fridges you can depend on. However, Frigidaire models are usually more energy efficient, while GE ones are more feature-packed.
📌 Which refrigerator brand is the most reliable?
GE makes some of the longest-lasting refrigerators that only need occasional maintenance. Frigidaire also manufactures fridges that can go for years, but they typically need more frequent servicing.
📌 Is Frigidaire a good refrigerator brand?
Yes, the Frigidaire Gallery FGHB2868TF is a testament to that. It may not have that many bells and whistles, but it has plenty of space and organizing options and does an excellent job at keeping food fresh.
📌 Is GE a good refrigerator brand?
Yes, the GE Profile PVD28BYNFS is one of the best refrigerators that offers dependable performance and features. It has Wi-Fi connectivity and smart features that lets you control it via its accompanying app, and it even has a water dispenser with an auto-fill function.
Last update on 2022-05-27 / Affiliate links / Images from Amazon Product Advertising API