Launched in the spring of 2020, the Dyson V11 Outsize is the latest addition to Dyson's flagship V11 cordless vacuums. It follows the similar aesthetics that the other V11 models have, but it boasts better power, performance, and features. If you are wondering whether it's worth upgrading to the Dyson V11 Outsize if you already own the V11 Animal or are simply on the hunt for your next cordless vacuum, our in-depth review below will guide you in making the right call. 
Dyson V11 Outsize vs Animal Cordless Vacuum Comparison Chart
Model
Dyson V11 Outsize
Dyson V11 Animal
 
Amazon product 
Amazon product 
Price
Amazon product 
Amazon product 
Color
Copper
Nickel/Purple
Dimensions (HLW)
12.5″ x 50.63

" x 11.7″

10.28

" x 50.63″ x 9.84″
Weight
7.85 lbs
6.68 lbs
Digital Display
LCD
LED
Runtime
Up to 120 minutes
Up to 60 minutes
Runtime Countdown
Yes
No
Click-In Battery
2
No
Suction Power
220 AW
185 AW
Radial Cyclone Technology
18 cyclones
14 cyclones
Bin Capacity
1.89 L /.5 G
.76 L / .2 G
Torque Drive Head
High Torque XL
High Torque
Mini Motorized Tool
Yes
Yes
Combination Tool
Yes
Yes
Crevice Tool
Yes
Yes
Stubborn Dirt Brush
Yes
Yes
Mini Soft Dusting Brush
Yes
No
Charger
2
1
Design
The Dyson V11 Outsize boasts a wider cleaning head and larger dustbin capacity than the V11 Animal
True to its name, the newest Dyson V11 Outsize comes with an exceptionally large dustbin capacity and wider cleaning path width compared to the V11 Animal. It still follows the overall design of other V11 cordless vacuums, but a closer look reveals a noticeable increase in the size of some of the Outsize's parts. The V11 Animal, and other V11 models, can only hold up to .76 liters while the new V11 Outsize boasts a 1.89-liter capacity. This means less frequent bin-emptying even if you have a larger home or if your furry friend sheds a lot of hair. 
Another upgrade on the Dyson V11 Outsize is its torque drive cleaning head that is wider than the V11 Animal and other V11 models by 25 percent. The upside to this increase in the cleaning path width is it allows better coverage and more efficient cleaning. However, it can be tricky to clean tighter spaces (e.g in between the legs of smaller furniture). Their displays are also different. The Outsize's LCD display shows the specific remaining usage time while the Animal's older LED screen (bottom right photo) only shows the estimated battery life. 
Cleaning Power
The Dyson V11 Outsize has slightly better suction power and offers double the runtime of V11 Animal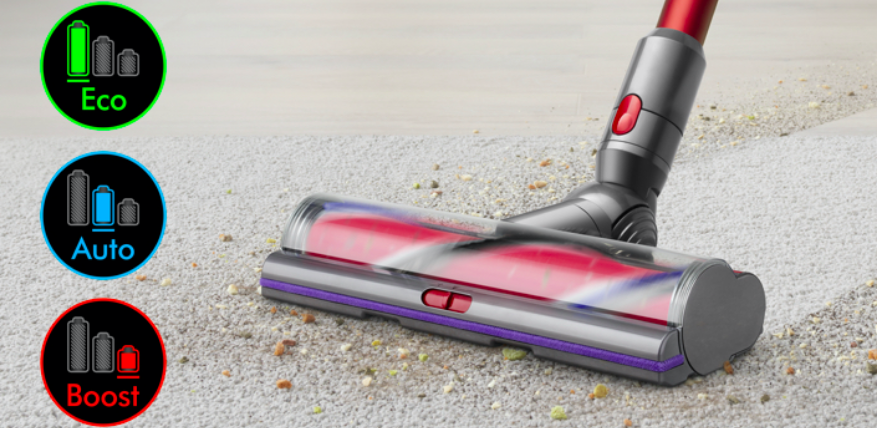 Dyson's flagship V11 Outsize and Animal are equipped with the V11 motor that rotates for up to 125,000 revolutions per minute and releases up to 79,000 grams of force. In terms of power, it's hard to beat Dyson's V11 models. Both the V11 Outsize and Animal deliver strong suction power and clean various floor types effectively, but the former slightly outperforms the latter. 
The Dyson V11 Outsize and Animal have three cleaning modes: Eco, Auto, and Boost. On Auto mode, these Dyson V11 models will adjust their suction power depending on the floor type. They will increase their power automatically when they detect you're vacuuming a carpet and dial it back down when you're on a smoother surface. The battery-saving Eco mode is best for easy-to-clean areas while the Boost mode, on the other hand, can pull in more debris or finer particles. 
Larger homes will benefit from the longer runtime offered by the new Dyson V11 Outsize. It is packaged with an additional click-in battery which adds up to 60 more minutes of usage. Meanwhile, the V11 Animal only promises up to 60 minutes of battery life, just like most V11 cordless vacuums. It's worth mentioning that, unlike the V11 Outsize, the Animal's battery is not an updated one that can be easily attached and detached with one click.
Maneuverability
Both models are ergonomic and intuitive 
Dyson has gained the trust of many households for its reliability, revolutionary engineering, and thoughtfully-designed mechanisms. Its line of V11 cordless vacuums also reflects these. The bin-emptying mechanism of the Dyson V11 Outsize and Animal requires a simple downward pull of the red lever, a design that allows for a virtually mess-free emptying process. Their wall-mounted docking station is also handy for the storage and organization of tools. 
Something Dyson can improve on is the weight of its cordless vacuums. Both V11 models are heavier than their predecessors and other cordless vacuums in the market, a fair trade if you consider their impressive motor and battery. Between the V11 Outsize and V11 Animal, the former is slightly heavier by almost a pound. The V11 Outsize weighs 7.85 lbs while the V11 Animal weighs 6.65 lbs. This does not significantly affect their ease of use, however. Both are still ergonomic and their handles offer a good grip that make it comfortable to use either cordless vacuum for extended periods.
Attachments and Accessories
The new Dyson V11 Outsize comes with a mini soft dusting brush and an additional click-in battery and charger
The Dyson V11 Outsize and Animal include the following tools and accessories on top of the torque drive cleaning head: 
Mini-Motorized Tool 
Stubborn Dirt Brush 
Combination Tool 
Crevice Tool
Wand Storage Clip
Docking Station
What the older V11 Animal is missing is the mini soft dusting brush (see bottom right photo) that is excellent for cleaning delicate furniture. The new Dyson V11 Outsize further comes with an extra click-in battery (see top right photo) and charger so you won't have to wait for hours if you need to cover a larger floor size.
Verdict
The Dyson V11 Outsize is definitely worth the upgrade
Amazon product
Dyson's line of cordless vacuum cleaners pack powerful features and deliver topnotch cleaning performance. While the new Dyson V11 Outsize may cost a pretty penny, the efficiency and convenience it offers make the V11 Outsize a worthwhile purchase for your home. Its longer runtime, larger dustbin capacity, wider cleaning path, and better power are excellent upgrades that give great bang for your buck. 
As the V11 Animal has since been discontinued by Dyson, it's been hard to come by. It remains a great alternative, however, for those on a budget. The V11 Animal may not be the best option for larger homes, but its decent cleaning path width and power are still better than most cordless vacuums of its class.