More experienced cooks know that it pays to invest in quality cookware. The premium price tag that comes with it also guarantees special features that not only make cookware more durable but also make them better partners in the kitchen. Two names in the kitchen world that seasoned cooks love are Cuisinart and Circulon.
Both brands have earned their place in the industry for years and are also continuously perfecting their products. However, this review will feature two of their cookware sets that are constructed with different technologies. We have already featured Cuisinart's MultiClad Pro tri-ply stainless steel cookware in a separate post. This time, we'll see how it fares in comparison to the hard anodized aluminum cookware that is Circulon Premier Professional.
Cuisinart MultiClad Pro vs Circulon Premier Professional Comparison Chart
Model
Cuisinart MultiClad Pro
Circulon Premier Professional
Amazon product
Amazon product
Price
Amazon product
Amazon product
Material
Premium 18/10 stainless steel
Aluminum core
Magnetic stainless steel
Hard anodized aluminum
Stainless steel
Silicone (handles)
Included in the set
1.5 qt saucepan with cover
3 qt saucepan with cover
3.5 qt sauté pan with helper handle & cover
8 qt stockpot with cover
8″ fry pan
10″ fry pan
20 cm steamer insert with cover
1 qt straining saucepan with cover
2 qt straining saucepan with cover
3 qt straining saucepan with cover
8 qt stockpot with cover
5 qt sauté pan with cover
8.5″ skillet
10″ skillet
12″ skillet
Other sets available
7-pc set
10-pc set
13-pc set
None
Induction stove ready
Yes
Yes
Oven safe
Yes, up to 550°F / 288°C
Yes, up to 400°F / 204°C
Dishwasher safe
Yes
Yes
Warranty
Lifetime
Lifetime
Country of origin
Made in China
Made in China, Thailand, or Italy
Dimensions
24.2″ x 14.2″ x 10.7″
24″ x 16″ x 12″
Weight
26 lb
32.7 lb
Cuisinart's Tri-Ply Stainless Steel Cookware
Tri-ply steel has a layer of aluminum sandwiched between two layers of stainless steel.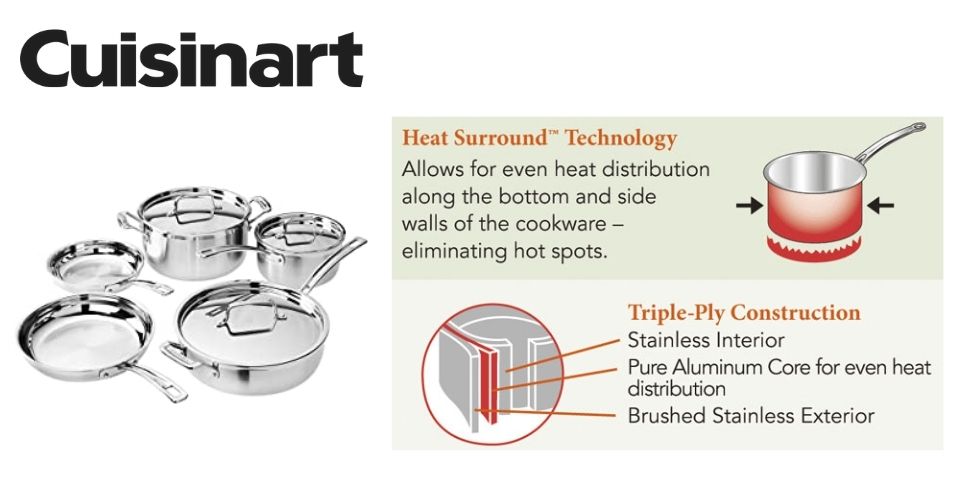 Cuisinart has gone a long way from the very first food processor the company launched in 1971. And now, they have tri-ply stainless steel cookware that is comparable with other quality multi-clad brands such as All Clad and Tramontina.
The Cuisinart MultiClad Pro is Cuisinart's tri-ply cookware that has also gained a following among cooking enthusiasts. It's no wonder at all as it has Cuisinart's trademark Heat Surround Technology. This feature enables efficient heat distribution throughout the whole body of each pot and pan in the set. Cuisinart MCP also uses 18/10 quality stainless steel that is resistant to corrosion.
Circulon's Hard Anodized Aluminum Cookware
Oxidation hardens aluminum and makes it more durable.
Circulon has been around for more than two decades already and is the first company to patent and introduce hard anodized aluminum cookware. Anodizing is an electrolytic process where aluminum is treated in a chemical bath and subjected to electrical current. This makes aluminum resistant to rust. Hard anodizing, meanwhile, is done with higher voltage and lower temperature.
Circulon cookware is easily distinguishable by its dark grey color because of the hard anodized aluminum material it uses. The silicone lining on its stainless steel handles can also withstand up to 400°F / 204°C in the oven.
Design
Cuisinart MCP stainless steel gleams while Circulon Premier Professional sports a classy bronze body.
It's but natural to notice the huge difference in how each cookware set looks because of the different materials used on them. While Cuisinart MCP's tri-ply stainless steel gleams beautifully, Circulon Premier Professional still exudes class with its matte bronze-colored aluminum body.
Beginners appreciate the pouring rims present in each Cuisinart MCP piece as it makes pouring sauces and soups hassle-free. All pieces in the Circulon Premier Professional cookware set also have this but the saucepans have beaks and strainer lids that makes pouring even easier.
The handles of the Circulon Premier Professional are more user-friendly with its silicone lining whereas Cuisinart MCP users would need a pot holder when the handles get hot. Still, the handles in both cookware sets are made firm and durable with rivets.
Performance
Both cookware brands have proven their good performance in the kitchen.
Cuisinart has made sure that heat will be distributed evenly with its Heat Surround Technology. Circulon's cookware set also has this feature to avoid having heat spots on each pot and pan. In addition, Circulon cookware employs the TOTAL Food Release System which are hi-low circular grooves on the surface of the pans that avoids scraping of cooking utensils while cooking.
Both the Cuisinart MCP and the Circulon Premier Professional sets are induction-stove ready and dishwasher-free. But while both sets are oven-safe, the MultiClad Pro can withstand higher oven temperature at 550°F / 288°C.
Verdict
Tri-ply stainless steel or 3-layer non-stick cookware? Your choice.
Amazon product
The Cuisinart MultiClad Pro and the Circulon Premier Professional are use different construction technologies. The real deal breaker then would be whether you prefer to cook on tri-ply stainless steel or on hard anodized aluminum cookware.
Also, tri-ply stainless steel material is not non-stick and you will need to pre-heat and use oil when frying. On the other hand, this is the biggest strength of Circulon cookware.
Lastly, you get an extra piece of cookware with the Circulon cookware set at a lower price. Not to mention that the saucepans in Circulon Premier Professional have straining lids and beaks.
Needless to say, whether you buy the Cusinart MultiClad Pro or the Circulon Premier Professional, you're getting premium cookware that's worth every penny.
FAQs
📌 Do tri-ply cookware and hard anodized cookware use the same material?
Both cookware use aluminum. However, tri-ply cookware has aluminum sandwiched in between 2 layers of steel while hard anodized cookware uses aluminum that has undergone natural oxidation to make it resistant to corrosion.
📌 Is it safe to use hard anodized cookware?
Good quality hard anodized aluminum cookware is very durable and rust-free. Also, the oxidation process prevents it from reacting to acidic foods, therefore lessening the risk of aluminum ingestion.
📌 Do Cuisinart and Circulon cookware sets have warranty?
Yes, both Cuisinart and Circulon offer lifetime warranty for their products.
📌 Is 18/10 try-ply stainless steel good quality?
18/10 means the steel has 18% chromium and 8% nickel. These percentage is characteristic of good quality steel.