Stainless steel cookware has always been loved by cooks because of its durability and cooking performance. Aside from these, stainless cookware sets gleam with beauty and can add class to any kitchen. Cuisinart and Tramontina are two brands of stainless steel cookware that have gained popularity among cooking enthusiasts over the years. In this review, we will be taking a closer look at these brands' 12-piece tri-ply stainless steel cookware sets. Just in case you're torn between the two, this article is for you.
Cuisinart MultiClad Pro Stainless Cookware vs Tramontina Tri-Ply Clad Cookware Comparison Chart
Model
Cuisinart MultiClad Pro
Tramontina Tri-Ply Clad
Amazon product
Amazon product
Price
Amazon product
Amazon product
Material
Premium 18/10 stainless steel
Aluminum core
Magnetic stainless steel
Premium 18/10 stainless steel
Aluminum core
Magnetic stainless steel
Color
Silver
Silver
Included in the set
1.5 qt saucepan with cover
3 qt saucepan with cover
3.5 qt sauté pan with helper handle & cover
8 qt stockpot with cover
8″ fry pan
10″ fry pan
20 cm steamer insert with cover
1.5 qt sauce pan with cover
2 qt sauce pan with cover
3 qt sauce pan with cover
6 qt deep sauté pan with cover
8 qt stock pot with cover
8″ fry pan
10″ fry pan
Other sets available
7-pc set
10-pc set
13-pc set
8-pc set
10-pc set
Pouring rim
All pots and pans
Frying pan only
Induction stove ready
Yes
Yes
Oven safe
Yes, up to 550°F / 288°C
Yes, up to 500°F / 260°C
Dishwasher safe
Yes
Yes
Warranty
Lifetime
Lifetime
Country of origin
Made in China
Made in Brazil, assembled and packed in the USA
Dimensions
24.2″ x 14.2″ x 10.7″
22.75″ x 14.63″ x 15.9″
Weight
26 lb
26.4 lb
Construction & Materials
Both Cuisinart and Tramontina use Triple Ply (Tri-Ply) steel.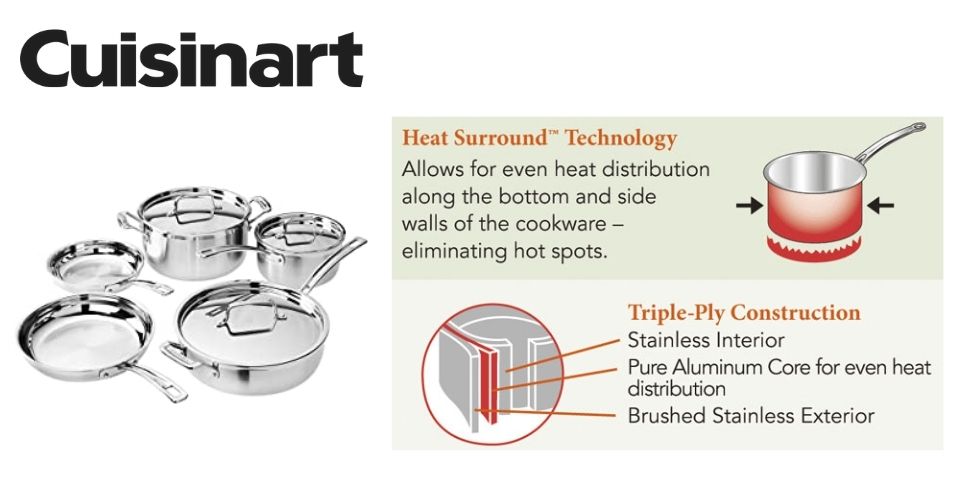 Cuisinart first started making a name in the kitchen industry with their food processor that was first launched in 1971. The company has expanded their product line since then and now includes stainless steel cookware.
The MultiClad Pro, their tri-ply cookware product, spells durability judging from the handles riveted securely on each pot and pan. The stainless steel covers are tight-fitting thus sealing in the food's flavors while cooking. Cuisinart's trademarked Heat Surround Technology makes sure that heat is evenly distributed not only on the base but on the whole body of the pots and pans, as well.
Like Cuisinart's set, Tramontina's stainless steel cookware set is also made with 18/10 stainless steel making it resistant to corrosion. Both sets are also oven-safe but the Tramontina Tri-Ply can only be used up to 500°F which is slightly lower than Cuisinart's 550°F limit. Tramontina's handles are also riveted into the body.
Design
What Cuisinart lacks in design, Tramontina has and vice versa.
Cuisinart MultiClad Pro and Tramontina Tri-Ply Clad sets both exude the beautiful gleam that's expected of premium stainless steel cookware. However, there are a few differences.
First, all pots and pans of the Cuisinart MCP cookware set have pouring rims making pouring sauces drip-free. Meanwhile, only the frying pans in the Tramontina Tri-Ply Clad cookware set have this.
Another notable difference is the design of the handles. While both sets have riveted handles, Tramontina's handles appear to be more rounded in shape and, thus, more comfortable to hold.
Last is the set inclusions. Cuisinart's set includes a strainer that can be inserted into the stockpot for cooking pasta. Tramontina's set does not have this but has an extra sauce pan, instead.
Performance
You can never go wrong with tri-ply stainless steel cookware.
You will not have a problem in any of these two cookware sets when it comes to even heat distribution. Still, too much heat can cause warping so always remember the maximum heat limit these pots and pans can take. Also, stainless steel is not non-stick. When frying, pre-heating is advised and spraying with oil is better than having none.
Why Choose Clad Cookware
Clad cookware has better heating properties than those made with just stainless steel.
Cladding is the process of sandwiching aluminum in between stainless steel which in turn results in better heat distribution. This process was patented by John Ulam, founder of the All-Clad cookware. Clad cookware is generally more durable and non-reactive to any food substance.
After All-Clad's patent on cladding expired in the early 2000s, other cookware brands started to manufacture their own tri-ply versions. Eventually, clad cookware has evolved to include 4-ply, 5-ply, and even 7-ply versions. Then again, more plies do not mean better heating performance. What counts is the thickness of the aluminum or copper cladded in between the stainless steel layers.
Verdict
Both have their strengths and weaknesses, but the design and price differences may help you with your decision.
Amazon product
Since both cookware sets are tri-ply and are made with 18/10 premium stainless steel, your preferred design features may help you decide on which stainless steel cookware set to buy.
For beginners, the Cuisinart MultiClad Pro Stainless Cookware will be a good choice as it's less expensive and almost has every pot and pan you'll ever need in the kitchen. The drip-free rims are also a plus for the inexperienced cooks because it guarantees less mess in the kitchen.
Meanwhile, the Tramontina Tri-Ply Clad Cookware is a worthy investment for those seeking a new or additional stainless steel cookware set. More seasoned cooks will appreciate the round-shaped handles and will be less-bothered by the lack of pouring lips in the pots.
FAQs
📌 Is it safe to use stainless steel cookware?
Yes, stainless steel does not react with food or seasoning and is safe to use for cooking.
📌 Is 18/10 stainless steel good quality?
An 18/10 stainless steel cookware has 18% chromium and 8% nickel. It is somewhat heavy but elegantly gleaming. Therefore, it is good quality steel.
📌 What is tri-ply stainless steel?
Tri-Ply (3-Ply) stainless steel is comprised of an aluminum or copper steel layer sandwiched between two layers of stainless steel.
📌 Does Cuisinart and Tramontina cookware have warranty?
Yes, both Cuisinart and Tramontina offer lifetime warranty.