Many travelers still prefer classic soft-shell suitcases for their flexibility. Travelpro has long been known for its classic, functional designs at reasonable price points while Away has only recently launched its softside expandable carry-on. Even with similar features, The Expandable Carry-On by Away is more expensive than the Travelpro Maxlite 5. We compare their top-selling softside expandable carry-ons to help you decide which expandable luggage is a better purchase.
Away Travel vs Travelpro Comparison Chart
Model
Away The Expandable Carry-On
Travelpro Maxlite Expandable Carry-On
Price
Check Price
Check Price
TSA-approved locks
Yes
No
Material
Water-resistant nylon
Water repellent and stain resistant polyester
Weight
9.28 lbs
5.4 lbs
Exterior Dimensions
21.7″ x 13.7″ x 9.2″
23″ x 14.5″ x 9″
Interior Dimensions
20″ x 13.4″ x 9″
21″ x 14″ x 9″
Expands
up to 1.75 in
up to 2 in
Capacity
up to 42 L when expanded
up to 46 L when expanded
Colors
Black, Navy, Green, Asphalt
Black, Azure Blue,
Midnight Blue, Sapphire Blue, Dusty Rose
Handles
Slip handle on base
PowerScope Lite handle
Luggage Tag
Black leather luggage tag
No
Wheels
360° dual 4-wheel spinners
360° 4-wheel spinners
Warranty
Lifetime limited warranty
Lifetime limited warranty
Design
Away's signature silhouette makes its softside luggage look more stylish
You can tell from afar if one is carrying an Away suitcase because of its signature ridged-look. The modern, sleek design of their hardside luggage has appealed to many. Staying consistent with their aesthetic when it came to their softside suitcase worked well. Meanwhile, longtime industry player Travelpro's Maxlite 5 carry-on looks conservative and conventional.
Apart from its expandability and flexibility, many travelers prefer the soft-shell luggage because of its front pockets, something that typical hard-shell suitcases do not have. The Expandable Carry-On by Away has a big pocket on the front with dividers inside that can snugly fit an average-sized laptop. Travelpro's front pocket is a bit smaller, but can still fit smaller items such as tablets and passports.
Size and Weight
Travelpro is incredibly lighter than Away and has a larger capacity
True to its name, the Maxlite 5 carry-on is impressively light. At 23″ x 14.5″ x 9″, the Travelpro only weighs 5.4 lbs. Away's dimensions are a little smaller, but it weighs 9.28 lbs. When expanded, the Travelpro has a capacity of up to 46 L compared to Away's 42 L. As the Travelpro is a lot lighter, you can pack more and maximize your airline's weight limit. Even when full, both the Travelpro and Away can still be lifted pretty easily to stow in the overhead bins.
The Travelpro Maxlite 5 is made of lightweight polyester fabric with DuraGuard coating that makes it water repellent and water-resistant. On the other hand, The Expandable Carry-On by Away is made of water-resistant nylon. You have to note that although polyester is lighter, nylon is more durable and more scratch and tear-resistant than polyester. This is also why nylon suitcases have a higher price tag than polyester ones and most top of the line softside luggage is made of nylon material. If you are a loyal Travelpro user though, their Platinum Elite Expandable Carry-On is made of nylon (but also costs more than the Away).
Interiors and Storage Space
Away's compression system helps, but Travelpro's carry-on can pack more
The interior of the Travelpro Maxlite 5 has a full-length lid pocket on its left where you can store footwear. On its right compartment are the side accessory pocket and adjustable hold-down straps to keep your items secure. The Travelpro is also equipped with H20 Guard to protect the interior lining from moisture. This is helpful because its exterior material is only water repellent, but not water-resistant unlike Away's.
Away Travel's Expandable Carry-On luggage has a deeper full-length pocket on its left compartment. On its right compartment is the hidden laundry bag, adjustable straps, and a compression pad. Although it has a smaller capacity than the Travelpro, the Away can still pack a couple of outfits that will be good for four to nine days, thanks to its compression system.
Both suitcases do not tip over even when expanded so you can squeeze in what you need in your carry-on without problems. The Away luggage can be expanded for up to 1.75 inches while the Travelpro up to two inches. As mentioned before, Travelpro has a larger capacity so this model can fit in a couple more clothing items if you are traveling a little longer.
Additional Features
Away has TSA-approved locks and dual four-spinner wheels
Additional differences between the Away Travel and the Travelpro expandable carry-ons include their wheels and TSA locks. As mentioned earlier, The Expandable Carry-On is more expensive than the Travelpro Maxlite 5 and these details justify why.
They both feature spinner wheels, but the dual four-spinner wheels of the Away provide better support and control. That is not to say that Travelpro's wheels are ineffective. They still do the job fine and offer good maneuverability, but Away's dual four-wheel spinners glide more smoothly.

Another difference is the Travelpro Maxlite 5 expandable carry-on is also lacking the TSA lock. If you need to check it in or leave it at your hotel, you have to buy a separate lock to secure your belongings.
Free Trial and Warranty
Both Away and Travelpro offer an attractive lifetime warranty
Away and Travelpro have some of the most attractive return policies and warranties in the luggage industry. Don't like your expandable carry-on after trying it on a trip? No problem. Both offer a trial period of 100 days with free shipping and a limited lifetime warranty that covers material defects and workmanship.
Verdict
The durability and stylish design of The Expandable Carry-On by Away make it worth paying more for
Away Travel The Expandable Carry-On
Travelpro Maxlite 5 Expandable Carry-On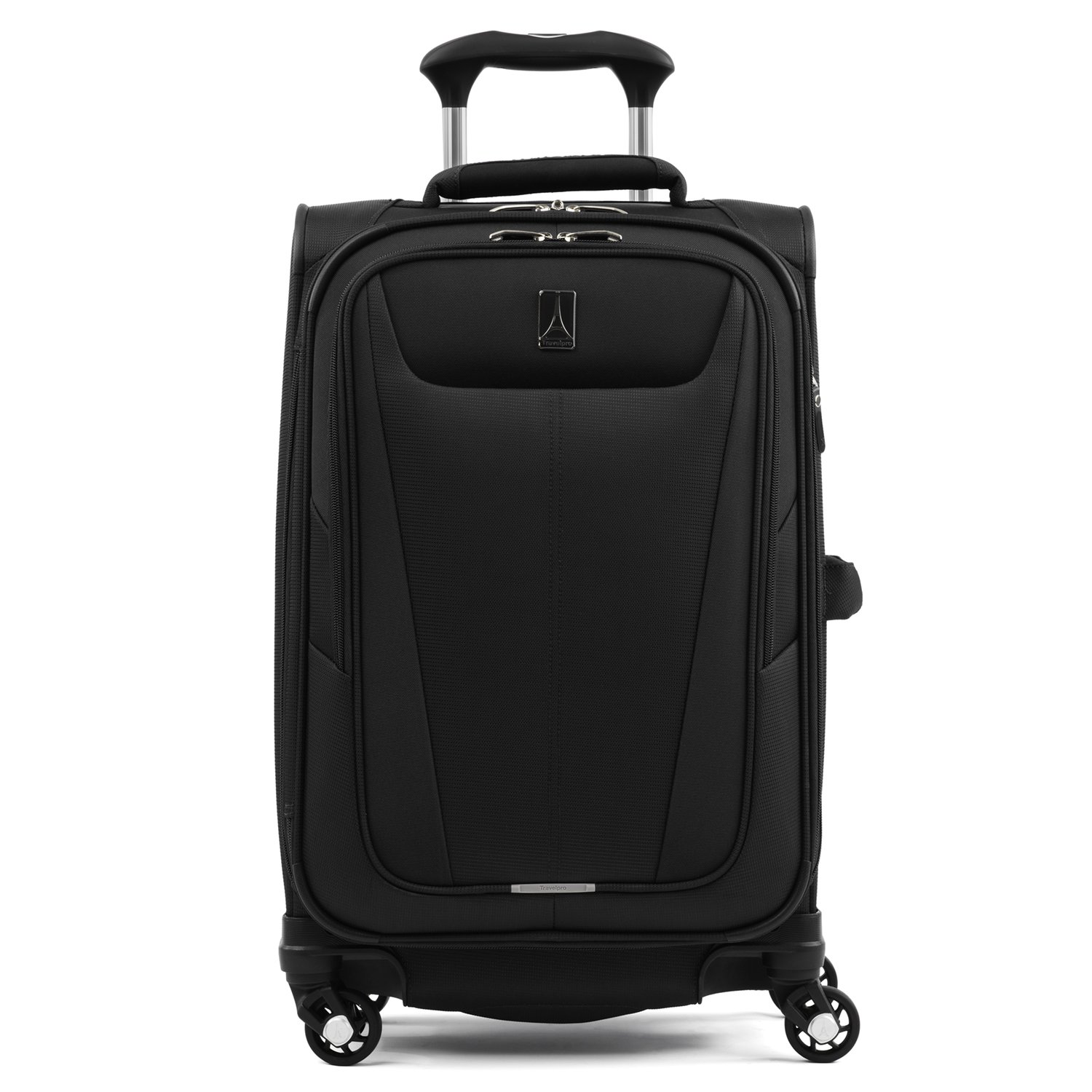 If you are simply looking for a budget-friendly carry-on that can fit more stuff than the average soft-shell luggage, the Travelpro Maxlite 5 is perfect for you. However, if you fly frequently and intend to use your carry-on longterm, The Expandable Carry-On by Away is the better choice. Its water-resistant and more durable nylon material, TSA lock, dual four-wheel spinners, and roomy compartments on both sides make the Away Travel's softside luggage worth the investment.