If you've been searching for your first or next massage gun, chances are you've come across two of the most popular brands: Theragun and KRAFTGUN. And with the percussion massager market getting more crowded each day, it has become harder to choose which one is better. We compare their flagship massage guns–the Theragun PRO and the KRAFTGUN FORCE–to help you choose the best percussion massager that will aid body recovery.
Theragun vs KRAFTGUN Comparison Chart
| | | |
| --- | --- | --- |
| Model | Theragun PRO | KRAFTGUN FORCE |
| | | |
| Price | Check Price | Check Price |
| Battery Life | 150 mins/battery (includes two batteries) | Up to 3.5 hours |
| Weight | 2.9 lbs | 2.2 lbs |
| Speed Settings | 5, further speed customization available using the app | 3 |
| Stall Force | 60lbs | 66lbs |
| Attachments | 6 | 4 |
| Noise | 50 to 60DB | up to 65Db |
| Carrying Case | Yes | Yes |
| Mobile App | Therabody App | N/A |
| Warranty | 2 years | 2 Years |
Design and Build
Both the Theragun and KRAFTGUN are well-built, but the KRAFTGUN is lighter
Theragun by Therabody is one of the most trusted percussion massager brands by professional athletes and therapists alike. It's made of high-quality, durable materials and its closed-cell foam attachments are great for those who find plastic too harsh on the skin. Weighing 2.9 lbs, the Theragun PRO is slightly heavier than the 2.2-lb KRAFTGUN FORCE. In addition, the KRAFTGUN is also stealthier and sleeker than the Theragun.
Both the Theragun and the KRAFTGUN have an adjustable arm so you can easily massage hard-to-reach areas on your back by changing the arm's angle. They are further equipped with a Samsung lithium-ion battery, but the Theragun's is swappable and comes with a spare battery (more on their battery life later).
Performance and Features
The Theragun comes with an app, is quieter, and has more speed settings, while the KRAFTGUN has a stronger stall force
Both the Theragun PRO and the KRAFTGUN FORCE deliver excellent power, one of the most important considerations when choosing your percussion device. Both can reach up to 2400RPM, but the Theragun has more speed settings. The KRAFTGUN only has three speed settings while the Theragun PRO, and many other Theragun models, have five. If you use the Therabody app, you can choose any speed between 1750 to 2400 PPM.
Speaking of apps, the major difference between the Theragun PRO and the KRAFTGUN is the latter's lack of a companion app. The Therabody app that comes with a Theragun provides a wealth of information and insights that will help guide you in your percussive therapy. Where the KRAFTGUN slightly edges out the Theragun is in its stall force. It boasts a stall force of up to 66lbs while the Theragun PRO's stall force is only around 60 lbs.
One of the major improvements on the Theragun PRO is it's quieter than the other Theragun models. You can use this massage gun while watching TV with no problems. With that said, the KRAFTGUN isn't significantly louder either.
Additional Features
The Theragun PRO has a longer battery life, comes with more attachments, and has faster shipping times than the KRAFTGUN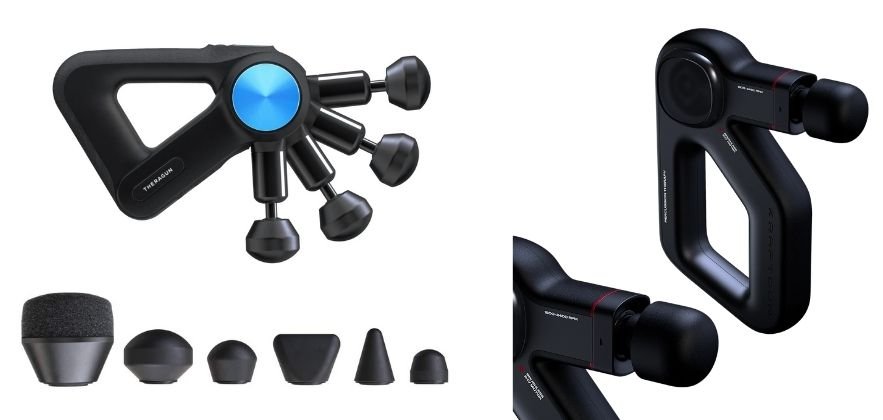 Bot the Theragun and KRAFTGUN are excellent percussive devices, there's no doubt about that. Whichever you pick, you can't go wrong with either brand. With that said, KRAFTGUN has been having problems with their shipping times and seeing long delays in their product's delivery. They are also only available on their website and are not available on Amazon or anywhere else.
When it comes to batteries, both have long battery life and don't require frequent charging. The Theragun PRO has a longer battery life of up to 300 minutes through its two batteries that come with the massage gun (up to 150 minutes/battery). Meanwhile, the KRAFTGUN FORCE lasts up to 3.5 hours, longer if used on a low-speed setting.
Both percussion massagers include attachments designed for different impact levels. The KRAFTGUN only has four attachments, while the Theragun PRO has six attachments, including the super soft attachment which is great for those who want a gentler massage.
Verdict
The Theragun PRO offers overall better value for money than the KRAFTGUN
Amazon product
As we have mentioned earlier, you can't go wrong with either percussion massager. However, Theragun is more reliable than KRAFTGUN in terms of shipping times and availability. The small price difference between the Thearagun PRO and the KRAFTGUN FORCE becomes negligible if you consider the Theragun's faster shipping time, Bluetooth and app connectivity, more attachments, and more speed setting options.
If the Theragun PRO is too expensive for your budget, an excellent alternative would be the Pulse Fx massage gun. Its features and attachments are similar to the KRAFTGUN's, but it's a lot more affordable and you won't have to wait too long for the massage gun to make it to your doorstep.
FAQs
📌 Which is better, the Theragun or KRAFTGUN?
Both are excellent percussion massagers, but the Theragun is overall better in terms of features, performance, and reliability.
📌 Are massage guns worth it?
Massage guns significantly help increase blood flow in specific muscle groups, and thus aid body recovery after intense workouts.
📌 Is KRAFTGUN legit?
Yes, KRAFTGUN is a legitimate company, although, at the time of writing, customers have been experiencing longer wait times than usual (two months or more).
📌 Is the Theragun worth the money?
Yes, it's worth the money, especially if you often get massage therapy or do intense workouts. In addition, using a percussive massager has long-term positive health effects.