Living a healthy lifestyle includes taking fruits and vegetables with the body's most needed vitamins, minerals, and fiber. But did you know that you may not be getting the most nutrients out of these healthy food unless you chop and blend them? That's why you can often see the health conscious chugging down a smoothie. And when it comes to smoothie blenders, it's best to check which one to get from between NutriBullet, Magic Bullet or Ninja.
We chose these three because they're the most popular among the smoothie blenders we've seen. Each has its own unique features but, of course, your choice will still depend on your needs and preferences.
NutriBullet vs Magic Bullet vs Ninja Comparison Chart
| | | | |
| --- | --- | --- | --- |
| Model | NutriBullet | Magic Bullet | Ninja Blender Duo |
| | Amazon product | Amazon product | Amazon product |
| Price | Amazon product | Amazon product | Amazon product |
| Capabilities | Shreds, blends, grinds, purees, and chops | Blends, grinds, chops, and whips | Blends, grinds, purees, and chops |
| Wattage | 600 watts | 250 watts | 1200 watts |
| Capacity | Up to 24 oz | Up to 18 oz | Up to 72 oz |
| Speed | 24,000 RPM | 20,000 RPM | 20,000 RPM |
| Material | BPA-free plastic | BPA-free plastic | BPA-free plastic |
| Care & Cleaning | Dishwasher-safe parts | Dishwasher-safe parts | Dishwasher-safe parts |
| Dimensions | 12.87″ x 9″ x 13″ | 13.19″ x 6.93″ x 10.63″ | 7″ x 10″ x 17.5″ |
| Weight | 7.4 lb | 4.19 lb | 10.1 lb |
Design & Build Quality
NutriBullet, Magic Bullet, and Ninja Blender Duo are primarily designed for making quick ready-to-drink healthy smoothies.
The NutriBullet is known as the "Original Nutrient Extractor" with patented extractor blades and a unique extractor technology made possible with its 600-watt motor base. Since it's designed as a personal blender, a NutriBullet package includes one (1) 18 oz handled cup, one(1) 18 oz cup, and one (1) 24 oz cup. The plastic cups are made of BPA-free polycarbonate plastic and can be easily cleaned-up in a dishwasher. Aside from the cups, there are also two (2) removable blade assemblies that serve different purposes. The extractor blade is for shredding and blending fruits and vegetables while the milling blade is used for grinding nuts, seeds, grains, and even coffee beans.
The original NutriBullet is a hit among those who prefer blenders that will not take up too much counter space in the kitchen. If you're looking for a more powerful smoothie maker, there's also the 900-watt NutriBullet Pro, 1200-watt NutriBullet Blender Combo, and a 1700-watt NutriBullet Rx blenders. These models with higher wattage motors are best for those with more active lifestyles and people who need more precise nutrition extraction.
The Magic Bullet is another bullet blender that comes with ready-to-use BPA-free plastic cups. It's smaller and lighter than the NutriBullet, which is incidentally also made by the same manufacturer. But unlike the NutriBullet, Magic Bullet's package already includes one Flip-To-Go Lid for yummy smoothies-on-the-go. You can have this special lid as an add-on accessory with the NutriBullet.
Other than the additional items in the package, there isn't much difference between the NutriBullet and Magic Bullet when it comes to design. There's also only one model in this series, unlike the NutriBullet that gives you more models with higher wattages to choose from.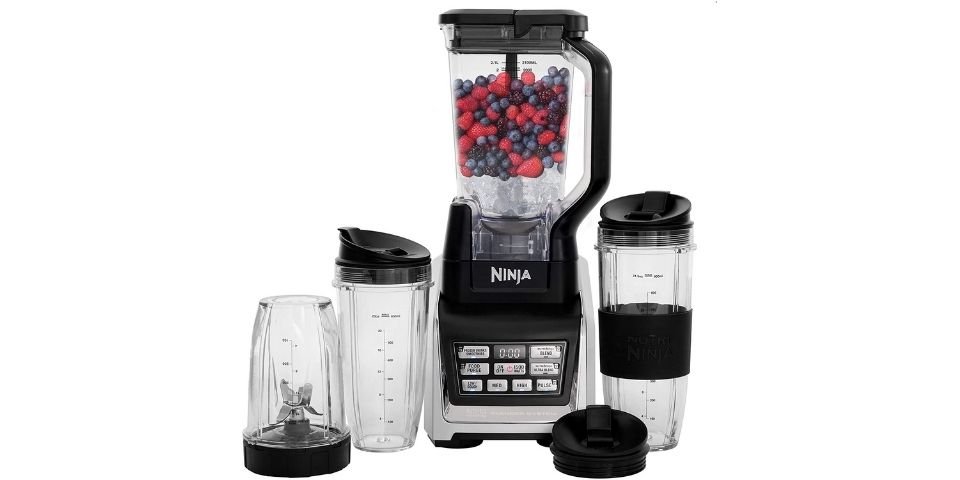 Meanwhile, Ninja's Nutri Ninja Duo Blender is a hybrid of sorts. It's like having the best of both worlds – you get a blender for your daily smoothies plus a 72 oz pitcher should you need to make large batches for family or friends. It has a 1200-watt base and a special blade design that can crush any ingredient including ice cubes. Aside from the huge pitcher, you also get an 18 oz cup, a regular 24 oz cup, and a large 32 oz cup. All of these BPA-free plastic cups already include Sip-and-Seal lids so you can conveniently bring your smoothies anywhere you go.
Unlike the NutriBullet's and the Magic Bullet's, the Nutri Ninja Duo Blender's base have control buttons like any standard blender would. There are five Auto-IQ programs and 3 manual presets and it's pretty easy to figure out what preset to use depending on the ingredients used or the recipe you're making.
Features & Performance
These blenders from NutriBullet, Magic Bullet, and Ninja Nutri all have unique features that cater to users' different needs.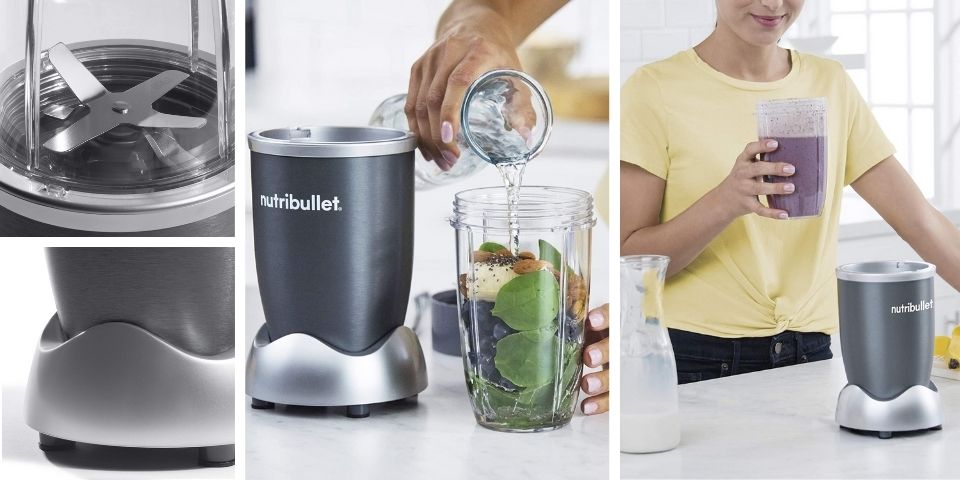 The NutriBullet System takes pride in having an advanced exclusive extraction technology. Even the most basic model, the 600-watt NutriBullet, can break down ingredients that any ordinary blender could not. Breaking down each piece of food is vital to extracting the nutrients and this is where NutriBullet stands out. In fact, this powerful personal smoothie blender does not only shred, grind, and chop, but can also burst open seeds.
Using the NutriBullet is quite simple. All you have to do is add the ingredients into the cup (plus some water if you must), twist the blade set cover on, and set it onto the NutriBullet power base, and press the cup to activate the power base. You'll have a really yummy smoothie in no time. Be reminded, however, that you'll have to stop and check once in a while depending on your desired consistency. The NutriBullet is so powerful that you may want to stop halfway if you like your smoothie a bit on the chunky side.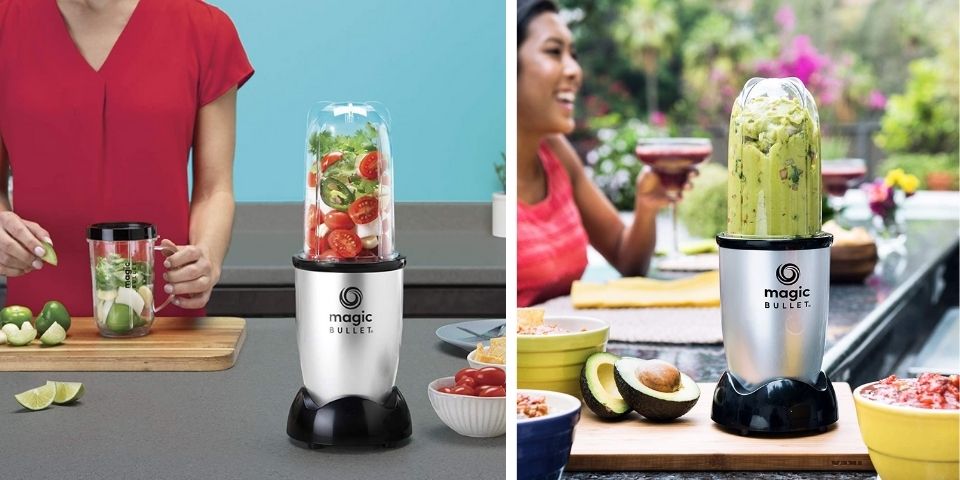 Consider the Magic Bullet as the NutriBullet's baby brother. It's as powerful as a standard blender, but it's 250-watt power base is no match to NutriBullet's 600-watt motor. Still, it's not bad at all for a personal smoothie maker. You will still be able to blend fruits such as apples, oranges, and bananas, but will not be able to finely crush ice as with the NutriBullet. It can also shred and chop soft veggies.
The Magic Bullet is also operated like the NutriBullet. There are no control buttons so you will have to press the cup onto the power base to activate the blades. Again, it's up to you whether you want to blend your ingredients for a full minute or less if you want a chunkier smoothie.
The Nutri Ninja Blender Duo definitely belongs to a league of its own since it's a cross between a bullet blender and a standard pitcher-type blender. Aside from having a different build, it should also be noted that this Ninja blender has a 1200-watt motor that's double the power of the NutriBullet. The downside of this is the noise but this is already a given considering its large motor.
Using the Nutri Ninja Blender Duo is made easier with the Auto-IQ feature. With its five presets, you'll basically just choose which button you like. Each program has different patterns of continuous blending and pulses to suit your target smoothie consistency. It also has a unique "Total Crushing" blade design that can finely chop and crush ice and frozen food. Another blade, the "Pro Extractor," is used for shredding fruits and vegetables.
Cleaning, Safety, & Warranty
All three blenders come with a limited warranty and dishwasher-safe parts.
Nutribullet, Magic Bullet, and Nutri Ninja Blender Duo all have a one-year limited warranty period. Moreover, since the NutriBullet and Magic Bullet are both from the same manufacturer, an optional 4-year limited warranty is offered as an additional purchase. Requesting for repairs or replacement can be done through the product website or through the toll-free number posted in the product manual.
Parts and accessories for all three blenders are readily available from each respective products' websites or from Amazon. NutriBullet users can opt for an additional flip-top lid to make it easier for bringing smoothies outside the home. Clean-up is very easy. In fact, you can just rinse the cup with water and let it dry. In using a dishwasher though, it would be better to place the lids and blade assemblies on the top rack.
Verdict
These three blenders are winners in their own rights. Your choice will be up to your blending needs.
Amazon product
Choosing the best smoothie blender will depend on your budget and blending needs as these three blenders all have different costs, motor power, and accessories. It would be a shame to recommend just one among the three and tag it as the best smoothie blender for you.
Magic Bullet is the perfect choice for those on a budget but would like to start a healthy food journey. It's also a good option for moms looking for a blender that's going to be used exclusively for processing baby food. It's affordable, compact, convenient to clean, and does the job of a standard blender. It has its limitations, but we just can't deny that it's still a good buy.
The NutriBullet is a practical upgrade of the Magic Bullet. With a few additional bucks, you get a 600 watt-powered smoothie blender that can handle tougher ingredients such as stems, stringy vegetables, and nuts. It's bigger and heavier than the Magic Bullet, but it still won't take too much space in the kitchen.
Finally, the Nutri Ninja Duo Blender is good for professional smoothie makers or for those who often make large batches of processed food and drinks. The 72-ounce pitcher makes large servings possible and its Total Crushing blades will be perfect for creating frozen drinks and cocktails.
FAQs
📌 Are NutriBullet, Magic Bullet, and Nutri Ninja blenders made in the USA?
All three smoothie blenders have headquarters based in the USA. Thus, they are designed in America but assembled in China.
📌 Where does the "bullet" in the NutriBullet and Magic Bullet come from?
The "bullet" in the names of the Magic Bullet and Nutri Bullet comes from the bullet-like ogive-shaped cups that come with each package.
📌 Why is it important to choose the blender with the best extraction feature?
A blender with excellent extractor blades will be able to break down the cell walls of fruits and vegetables. Once broken down, important vitamins and minerals are released and are easily taken into the body by drinking the smoothie.
📌 Is the Magic Bullet and NutriBullet made by the same manufacturer?
Magic Bullet and NutriBullet are both manufactured by Homeland Housewares, LLC. which is located in California, USA.