If you're a home cook who loves experimenting in the kitchen, one of the best things you can get for yourself is a cast iron dutch oven. Once you have one, it will be that much easier to level up your cooking game. Because of their weight, they're able to keep the heat even during the entire cooking process, plus their tight-fitting lids are able to prevent moisture from escaping. The best part is that they're able to reach high levels of temperature, allowing you to get that nice crust that everyone loves to munch on. If you're thinking about investing in a cast iron dutch oven, two of the best brands to look into are Le Creuset and Staub. 
So how do you choose between the two? That's when things get slightly tricky because they do seem quite similar. They are, after all, both made in France. But they do have some differences and we're here to shed some light on them. Here's an in-depth comparison of Le Creuset and Staub dutch ovens so that you can choose wisely. 
Le Creuset vs Staub Comparison Chart
| | | |
| --- | --- | --- |
| Model | Le Creuset  | Staub |
|   | Amazon product | Amazon product |
| Price | Amazon product | Amazon product |
| Enamel Coating | Interior is light-colored and smooth | Interior is dark with a rougher texture |
| Color Range | Has a wide range of colors but are discontinued quickly | Has a smaller ranger of colors but aren't discontinued as fast |
| Lids | Able to let out a bit of moisture | Very tight-fitting and designed with nubs for maximum moisture retention |
| Lid Knobs | Made of composite material that is less durable than stainless steel | Made of stainless steel which can withstand high temperatures |
| Weight | Weight is kept to a minimum, making it easy to carry around | Heavier by a couple of pounds, making it harder to maneuver in the kitchen |
Design
Both Le Creuset and Staub have their pros and cons when it comes to design.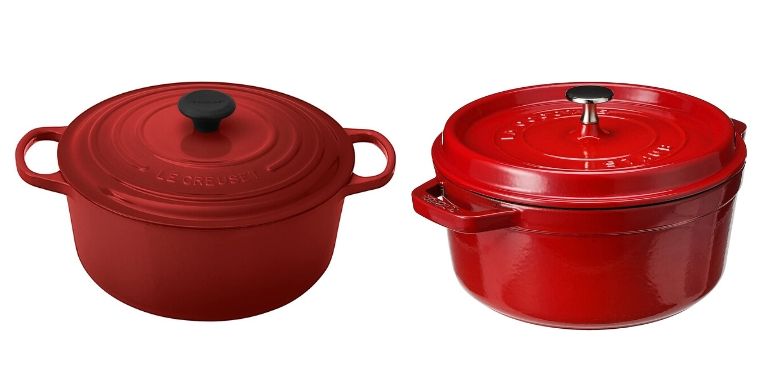 Le Creuset and Staub use an enamel coating for their dutch ovens and so you can expect both of them to be efficient heat conductors. This also means that they're very easy to wash and that they won't go all rusty on you. There's a big difference though because Le Creuset's enamel coating is cream-colored and smooth while Staub's is black and a little rougher. This makes the Le Creuset a little bit easier to cook with because its light interior lets you see the food clearly and you can tell right away if it's ready or not. It's also easier to clean because you can see exactly where the leftover food bits are. That said, scratches may be more visible on it. As for Staub, its dark and courser interior allows it to age nicely as it's harder to scratch it up and dings won't be as detectable. It could, however, be more challenging to check up on your food and clean the inside afterwards.
When it comes to colors, it's hard to beat Le Creuset. They are, after all, the pioneer of colorful cookware. They have an impressive range of colors, including the classics, trendy variants, and partner colors for individual retailers, and they're always churning out more. Because they have so many colors to choose from, they actually have a color coordination guide on their website so that it's easier for you to see which colors go well together. You should, however, note that their colors (aside from their classic orange one) tend to get discontinued quickly and so you have to swoop right in if there's a particular color you're eyeing. As for Staub, their color range isn't bad but it's certainly not as extensive as Le Creuset's. The good thing is that their colors don't get discontinued as quickly and so you have higher chances of getting the variant you like.
It's important to look at their lids as well because they play a big part in the cooking process. Le Creuset's lid is a tight-fitting one, able to hold in most of the moisture while you're cooking. It does let a little bit of steam out though so you should probably baste your food again to add some of the juices back in. As for its lid knob, it's a little disappointing that it's made out of composite material, meaning you'd have to be careful when you're subjecting it to high heat. While you can trade them in for a stainless steel one, that's going to be another $20 on top of the already hefty price tag of the actual dutch oven. As for Staub's lid, it provides a much tighter seal plus it has nubs on its underside, allowing the juices to drip back into the food instead of collecting around the sides. Plus points for the metal lid knob as well. As for handles, Le Creuset has roomier ones compared to Staub, allowing for a firmer grip.
Weight is another thing you should consider when you're deciding between the two. The thing is, these are cast iron dutch ovens and so you should expect them to be significantly heavier than your average pots and pans. Le Creuset, however, does a fine job of keeping the weight at a minimum, known as one of the lightest options in the market. So even if you were to choose their biggest dutch oven, you shouldn't have too much trouble carrying it around. As for Staub, they're heavier by a couple of pounds and so they might be harder to maneuver around in the kitchen. But because Staub is on the heavier side, this could also mean it has better heat regulation than Le Creuset. 
Cooking Performance
Le Creuset and Staub are different when it comes to moisture retention.
If you're wondering what you can do with cast iron dutch ovens like Le Creuset's and Staub's, the question should actually be what can't you do with them. They're like workhorses in the kitchen, able to boil, braise, bake, and deep-fry. That said, there are some important differences between the two brands when it comes to cooking performance.
As mentioned, the Staub dutch oven is pretty good at keeping moisture locked in, thanks to its very tight-fitting lid with nubs on it. This isn't always a good thing though, especially when you need to let some of the moisture out as in the case of stews. Some evaporation is needed when you want to make rich and flavorful stews and this could be a challenge with Staub as it retains a lot more water than Le Creuset. You'd need to tilt its lid off to the side which could prove to be quite a hassle. If you love making stews, you might be better off with Le Creuset. 
When it comes to browning meat or vegetables, however, Le Creuset and Staub are pretty much on the same page. They're both able to reach high temperatures and will give you that crust and flavor you're looking for. But as mentioned, Staub has a dark interior that makes it quite difficult to check up on your food during the browning process and so you have to be a lot more careful not to burn them to a crisp. Some even have to use a flashlight just to see what's going on inside the pot which isn't the most convenient thing. For this reason, it's easier to brown with Le Creuset. 
Price
Le Creuset and Staub are in the same price range.
Le Creuset and Staub are French brands, both well-known for their long history of excellence and quality. Their cast iron dutch ovens are made through tried and tested traditional methods, an assurance that they're going to last you a long time. You could probably even pass them down to your children if you take good care of them. That said, they're definitely considered an investment because they're not cheap by any means. They're both in the $300 to $400 price range although Staub tends to be just a tiny bit cheaper than Le Creuset. While there are a bunch of more affordable options out there that can do the same things, they definitely won't stand the test of time like these two French-manufactured dutch ovens.
Verdict
Enamel coating, weight, and moisture retention are some of the things you need to consider. 
Amazon product
The Le Creuset and Staub dutch ovens have been rivals for a long time and it's no mystery why. They're both French brands, they're both quality investments, and they're both excellent partners in the kitchen. While they are similar in a lot of ways, there are some differences here and there that you need to consider before you invest in either of them. 
One good reason to go with Le Creuset is the fact that it has an unbeatable color range and you're sure to find a variant that fits your taste perfectly. Le Creuset is also the better option if you like to constantly check up on your food as it's cooking, an easy thing to do because of the light-colored interior. Sizing up also isn't a problem with Le Creuset because they're able to keep their dutch ovens pretty light. Even if you opt for their biggest one, it wouldn't be that hard to move around. Another good thing about Le Creuset is that they're able to let some moisture out which is necessary if you like to cook dishes with excessive moisture in them. There are some drawbacks though. The cream interior means that scratches are easily visible. There's also the fact that their lid knobs are plastic, a less durable option compared to stainless steel.
As for Staub, it's the ideal choice if you don't want to keep on re-basting your food because it's able to keep all the juices locked in. You can also be sure that your meat, even if they're not the most ideal cut, will come out moist and tender. Staub is also the better option if you like to keep your cookware in pristine condition. With its dark interior, scratches won't show up as much and it's also less likely to stain down the road. As for the disadvantages, it's not as easy to check up on your food and because it's on the heavier side, you might have to stick to the smaller variations if you want easy maneuvering in the kitchen.
FAQs
📌 Which is better, Le Creuset or Staub?
It depends on what you're after. If you want to be able to remove excess moisture from your food, go with Le Creuset. But if you want to able to retain as much moisture as possible, Staub is the better option.
📌 Why are Le Creuset and Staub dutch ovens so expensive?
Le Creuset and Staub are French brands and they're both sticklers for excellence. Their dutch ovens are of the best quality and have become the standard in the industry, explaining their hefty price tags. 
📌 What can you do with Le Creuset and Staub dutch ovens?
You can do pretty much everything with the Le Creuset and Staub dutch ovens. You can deep-fry, boil, braise, and bake with them. 
📌 Are the Le Creuset and Staub dutch ovens worth it?
Le Creuset and Staub dutch ovens may be on the pricey side but they're worthwhile investments because they're going to last you a long time. You can even pass them down to the next generation if you take good care of them.