Away made waves in the luggage industry when it released a line of premium carry-ons and checked suitcases with affordable price tags. Amazon aims to target the budget-conscious market even better though, as their AmazonBasics line of luggage products are simply the most affordable you can find today that doesn't disappoint in quality. We compare the popular AmazonBasics Hardside Spinner Luggage and the equally popular Away Carry-On below.
AmazonBasics vs Away Luggage Comparison Chart
| | | |
| --- | --- | --- |
| Model | AmazonBasics Hardside Spinner Luggage | Away Carry-On |
| | | |
| Price | Check Price | Check Price |
| Height | 21.6" | 21.7" |
| Width | 14.9" | 13.7" |
| Depth | 10" | 9" |
| Weight | 7.34 lbs | 8.1 lbs |
| Capacity | 39 L | 39.8 L |
| Ejectable Battery | No | Yes |
| TSA-Approved Locks | No | Yes |
| Compression | No | Yes |
| Hidden Laundry Bag | No | Yes |
| Telescopic Handle | Yes | Yes |
| Colors | Black, Blue, Navy Blue, Orange | Black, Navy, Green, Asphalt, Coast, White, Sand, Blush, Brick |
Design
The Away Carry-On has a more elegant appeal than the AmazonBasics Hardside Spinner Luggage.
Though both of these hard carry-ons feature similar horizontal ridges and overall shape, there's no denying that Away's design comes out on top. It simply looks more eye-catching and ready for photo ops, which, if any of the thousands of Instagram photos it's been featured in is any indication, most would find easily more attractive.
Small touches such as the wheels being a bit more tucked inside the case's space and the handle being all grip-friendly black give the Away Carry-On the nod in terms of design. The texture of its polycarbonate shell is a big reason for its clean look, which on the AmazonBasics Hardside Spinner is a bit more pronounced.
Storage Space
The AmazonBasics Hardside Spinner Luggage has a bit more storage and organization than the Away Carry-On.
AmazonBasics manages to stretch its case up to the full carry-on size limits with its Hardside Spinner Luggage. It does result in a lot more storage capacity than the competition though it's highly recommended that you double check your flight's carry-on requirements to be sure you're not bringing something that you'll have to check. With multiple zip pockets and a tie-down strap for the bottom compartment, it should be easier to organize your packing with this hardside suitcase.
The Carry-On from Away does have a similarly large storage capacity, and with the help of the interior compression system, you should be able to squeeze every bit of available space for clothes. This is more noticeable if you're bringing bulkier or warmer clothing that flattens nicely, resulting in maximized storage.
Handling and Durability
The Away Carry-On is more durable than the AmazonBasics Hardside Spinner Luggage.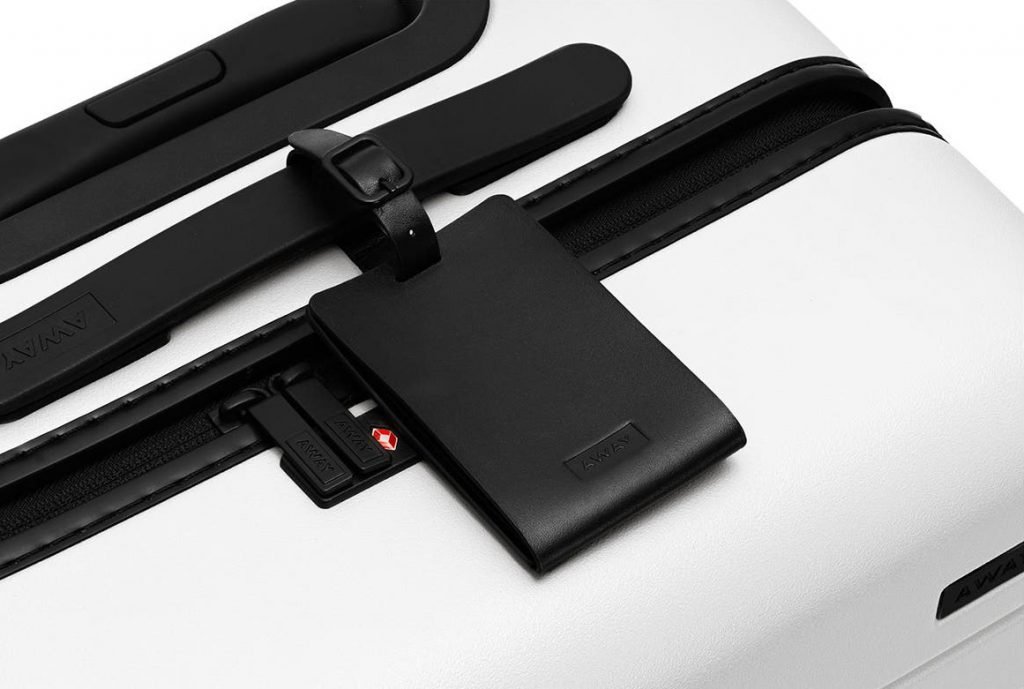 For all of its affordability and easy handling, the AmazonBasics Hardside Spinner Luggage has issues with its durability. It's not the extra-thick ABS hard shell that's the concern, as it's able to withstand impact and scratches capably. Many owners report that their spinner's wheels, telescopic handle or side handle break off after several flights. Considering how much it costs, it might not be a surprise, but it's a definite consideration when you're choosing between this and the Away Carry-On.
Speaking of which, Away offers a strong guarantee and a long warranty for its products, as the brand aims to bring luxury suitcases to an affordable level. Its polycarbonate shell is tougher than ABS, and scuffs can be cleared easily. You can look forward to being able to take your Away Carry-On in multiple flights over the years to come.
Other Features
The Away Carry-On has a TSA-approved lock and an ejectable battery.
Keeping your luggage secure through transit is important, and Away knows this. They've added a TSA-integrated combination lock at the top of the case to make it easy for inspection officials to access your luggage, removing the need for padlocks. There's also a built-in battery underneath the handle, allowing you to easily charge your mobile device on the go without having to open the carry-on.
None of these convenient features are present on the AmazonBasics Hardside Spinner Luggage, so they're significant considerations if either is big in your list of priorities for what you're looking for in a carry-on.
Verdict
The Away Carry-On is a better investment for frequent flyers.
AmazonBasics Hardside Spinner Luggage
The Carry-On from Away
There's no doubt that the AmazonBasics Hardside Spinner Luggage is very attractively priced. You'll be saving a lot by opting for the affordable suitcase from Amazon, though keep in mind that there's a real risk of it sustaining some damage if handled roughly. If you don't really travel often and only need a basic carry-on for the few clothes you're bringing, you'll love the value the AmazonBasics Hardside Spinner can give.
For those who travel a lot and can foresee needing a dependable carry-on years into the future, you'll be glad to spend the extra dollars on the Carry-On from Away as it's simply more durable and has major conveniences that people on the go would love. Plus, it's more stylish too, and it'll continue to look great with minimal upkeep.