Comparing next-gen gaming consoles with current ones can be lopsided, but it's ultimately the best way to see just how much better the new machine is going to be. Now that Microsoft has shared the hardware details of the upcoming Xbox Series X, we can take a look at how big of a leap it's going to be in terms of graphics power and overall performance. Here's a comparison between the Microsoft Xbox Series X and the Sony PlayStation 4 Pro.
Xbox Series X vs PS4 Pro Gaming Console Comparison Chart
| | | |
| --- | --- | --- |
| Model | Xbox Series X | PlayStation 4 Pro 1TB |
| | | |
| Price | Check Price | Check Price |
| CPU | Custom AMD Zen 2 | AMD Jaguar |
| Cores | 8 | 8 |
| Speed | 3.8 GHz | 2.9 GHz |
| GPU | Custom AMD RDNA 2 | AMD Radeon |
| Die Size | 360.45 mm2 | 328 mm2 |
| Power | 12 TFLOPS | 4.20 TFLOPS |
| Memory | 16 GB GDDR6 | 8 GB GDDR5 |
| Memory Bandwidth | 560 GB/s | 217.6 GB/s |
| Internal Storage | 1 TB Custom NVMe SSD | 1 TB HDD |
| Expandable Storage | 1 TB Expansion Card | USB 3.0 |
| Optical Drive | 4K UHD Blu-ray | BD / DVD |
| Wi-Fi | n/a | Yes |
| Accessories | Xbox Wireless Controller | Sony DUALSHOCK 4 |
| Availability | December 31, 2020 | Now |
Design
The PS4 Pro is slimmer than the Xbox Series X.
One immediately noticeable change on the Xbox Series X's design is its larger, blocky build. Compared with the flattened, rectangular frames of the current gen gaming consoles like the Xbox One and PS4, it looks quite bulky and imposing. However, it should take up much less space than before while you had to get a stand to orient the PS4 Pro for example to fit easier into crowded TV stands.
The Xbox Series X looks more minimalist, too, compared to the PS4 Pro. It has a grill covered top for ventilation and only a slit for the Blu-ray slot and the Xbox logo on its front. All of the juicy engineering improvements are found inside, which is also the reason for its new shape. Microsoft placed a parallel cooling architecture that enhance the machine's performance through even temperature distribution. Moreover, it has a massive heat sink integrated into its chassis, along with a whisper-quiet fan and vapor chamber, to cool its interiors further.
Meanwhile, the horizontal orientation of the PlayStation 4 Pro has its advantages, in that you can place it right in front of your flat screen TV and it won't block the view at all. It will also fit in neatly in TV cabinet shelves due to its slim size, and the optional vertical stand can be better for some setups.
Graphics and Performance
The Xbox Series X is a more powerful gaming console than the PS4 Pro.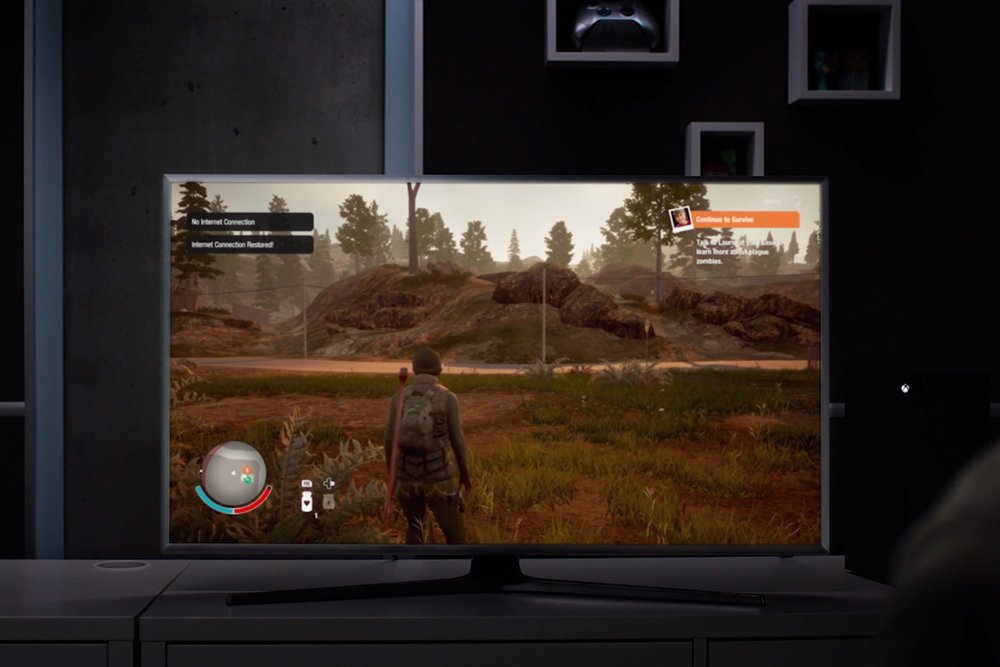 The spec sheet that Microsoft released shows what a behemoth the Xbox Series X is. It's their most powerful console ever, which should be a given, but seeing by how much is still jaw-dropping. It sports a custom AMD Zen 2 CPU and RDNA 2 GPU that are built for speed and muscle, which pushes it to up to 12 teraflops and 3.8 GHz of processing power. That makes it about three times faster than the PS4 Pro, which is only capable of 4.2 teraflops and 2.9 GHz.
Microsoft has its eye on true 4K gaming, which can range from 60 fps to 120 fps depending on how well developers are able to leverage the machine's power. 8K visuals are also a possibility with Variable Rate Shading tech. So far, there are only a few native 4K games that can run on the PS4 Pro, while the rest can only use dynamic upscaling to approach 2160p quality. There's no doubt how good games look on the PS4 Pro, but the Xbox Series X will herald in the next era of game visuals.
"Play more, wait less" is also a big theme for memory improvements on the Xbox Series X. It can harness double the RAM with its faster 16GB GDDR6 compared to the 8GB GDDR5 of the PS4 Pro. More importantly, its internal storage is now all solid state drive. With a 1TB NVMe SSD, loading screens on the Xbox Series X become a fleeting apparition. You'll hardly get to see them as you switch between levels or areas. This can be further expanded with a 1TB Storage Expansion Card that plugs directly into the console's back.
Meanwhile, you still have to wait more than a few seconds for the PlayStation 4 Pro to load new areas since it relies on a 1TB HDD. For additional storage, you can use external hard drives that you can plug into its USB 3.0 port.
Games
The Xbox Series X and PS4 Pro have separate exclusive titles.
Current Xbox One owners will be happy to know that their game library will remain playable on the next-gen Xbox Series X. It's confirmed to have 100% backward compatibility with Xbox One titles and new games will be available on both consoles with Smart Delivery enabled. This new feature ensures that you have the best version of any Xbox game you own that's supported by Smart Delivery. For example, buying Halo Infinite for the Xbox One means you can play the same title on the Xbox Series X later on, without having to buy the game again.
Microsoft is committed to supporting its current consoles with cross-gen games for the next couple of years or so, so it might be quite a while before we get to see any purely Xbox Series X exclusive titles. However, since you can play any Xbox One game on it, you get the same exclusives, including:
Halo 5: Guardians
Gears 5
Sea of Thieves
Forza Horizon 4
Sunset Overdrive
Ori and the Will of the Wisps
Halo: The Master Chief Collection
State of Decay 2
More exclusive Xbox titles are on the way, with Halo Infinite, Cyberpunk 2077, Watch Dogs Legion, Hellblade 2, and The Lord of the Rings: Gollum among them. As for the PS4 Pro, it has its extensive list of Only On PlayStation titles:
God of War
Death Stranding
Infamous: Second Son
Ratchet & Clank
The Last of Us Remastered
Uncharted 4: A Thief's End
Horizon Zero Dawn
Persona 5
Previous console wars have been won before on the strength of their games lineups. You might simply make your gaming console pick based on which one has the most games you'd want to play. As such, keep an eye on more announcements from Microsoft on which titles are coming to the Xbox Series X.
Controls and Other Features
The Xbox Series X and PS4 Pro have wireless controllers and can stream video content.
The new Xbox Wireless Controller for the Series X features more graceful, minimalist curves that feel solid and steady in your hands. Microsoft enhanced its sculpted form to be more comfortable when held, with a textured grip to reduce slipping. The asymmetrical placement of the analog sticks can feel more natural for some, while others prefer the balanced design of the PS4 Pro's DUALSHOCK 4 controller. This wireless controller is much slimmer in comparison, and has a wide touchpad that can be pressed to pause the game for example.
Whichever controller design feels more comfortable in your hands is really a personal preference, so ideally you'd want to be able to hold them for long stretches of time without strain. They're both wireless, making them more convenient and allows you to enjoy gaming at a nice safe distance from the TV. The PS4 Pro's DUALSHOCK 4 does have an integrated speaker that can enhance tactile and audio feedback while playing.
Both Xbox Series X and PS4 Pro have numerous online features that enhance gameplay and go beyond it. You can live stream your games or share a playthrough with friends, who can join your game in real time if you wish. The gaming consoles can also stream video content from Netflix, YouTube and other streaming services, so their entertainment value isn't limited to gaming either.
Verdict
The Xbox Series X is simply more powerful than the PS4 Pro.
Xbox Series X
PlayStation 4 Pro
It's clear that the new generation of gaming consoles is upon us. With three times the speed and double the memory, the Xbox Series X is a beast of a machine, capable of unleashing native 4K games with more impressive visuals than ever. You'll find loading screens a momentary blip instead of a pause to refill your glass of water, and it's got access to all of the best current and upcoming titles coming to the Xbox platform. We're still waiting on price announcements to see how badly this will gouge our wallets, but all of its upgrades will be worth it.
It might not be as powerful as its main competitor, but the PlayStation 4 Pro delivers on eye-popping graphics and solid gameplay just as well. Its more affordable price has definitely played a big role in its massive success in sales over the Xbox One. You'll have a grand and arduous time picking which game to play among hundreds of fantastic titles, and there are even more coming in the future.