Monitoring one's blood pressure is an important aspect of managing one's health. After all, conditions like hypertension put people at risk for some of the leading causes of death. Fortunately, today's wearable tech includes devices that make monitoring one's BP more accessible.
Withings, for instance, is one of the leading health ecosystem providers today. Its entry-level Withings BPM Connect tracks key BP and cardio fitness metrics while syncing data to its integrated app. Qardio is also bringing innovative yet affordable technologies to the fore. Aside from BP and heart rate, its QardioArm BPM can even detect irregular heartbeat. How do these blood pressure monitors compare? Read our comparison below to find out more.
Withings vs Qardio Blood Pressure Monitor Comparison Chart
| | | |
| --- | --- | --- |
| Model | Withings BPM Connect | QardioArm |
| | Amazon product | Amazon product |
| Price | Amazon product | Amazon product |
| FDA-Cleared | Yes | Yes |
| Display | Yes | No |
| Systolic | Yes | Yes |
| Diastolic | Yes | Yes |
| Heart Rate | Yes | Yes |
| Irregular Heartbeat Detection | No | Yes |
| Connectivity | Wi-Fi, Bluetooth | Wi-Fi |
| Compatibility | iOS, Android | iOS, Apple watchOS, Android |
| Battery | Rechargeable (6 months battery life) | 4 AAA batteries |
| Arm Circumference | 9 to 17 in. | 8.7 to 14.6 in. |
| Dimensions | 6.10 x 2.56 x 1.97 in. | 5.5 x 2.7 x 1.5 in. |
| Weight | 250 g | 310 g |
Design
Both the Withings and Qardio BPM sport clean and simple designs that belie their advanced features.
If not for the attached cuff, it's easy to mistake the Withings BPM Connect and QardioArm as power banks. Both sport a bar-shaped form and a simple yet clean white case reminiscent of portable chargers. The Withings BPM Connect, however, comes with a flexible grey cuff that wraps around the main body for portability. The QardioArm, on the other hand, sports a black cuff that resembles that of traditional blood pressure monitors.
Between the two, Qardio takes a more minimalist approach. There are no power buttons on the QardioArm. To turn the device on, users need to unwrap the cuff from the device's body, where a small magnet activates the monitor. Likewise, closing the cuff and wrapping it up turns off the QardioArm. With the Withings BPM Connect, you get a physical button. There's also an LED matrix screen to display readings. On the Qardio BPM, you only get a small LED light to indicate the power status of your device.
The Withings BPM Connect has a cuff size range of 22 to 42 cm. Qardio's sleeve, on the other hand, has a 22 to 37 cm. arm circumference. Both monitors fall right within the recommend cuff sizes for adults but may not be a good fit for larger people or use on adult thighs.
Features
Although the Withings BPM Connect and QardioArm measure the standard blood pressure metrics, Qardio's monitor adds an irregular heartbeat detection feature.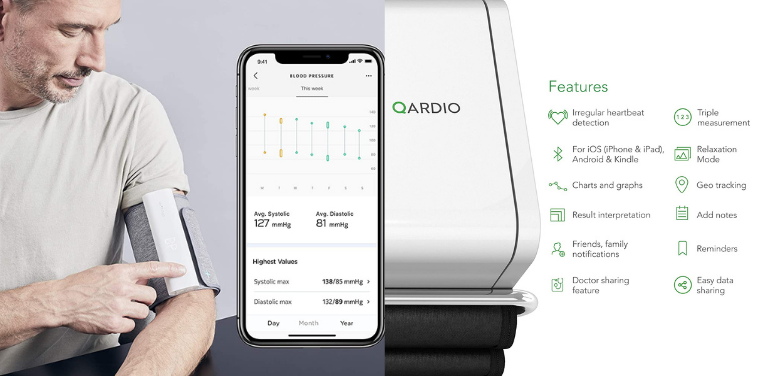 As smart devices, the Withings BPM Connect and QardioArm work in tandem with their accompanying mobile apps. However, both measure blood pressure in the standard manner — by pumping air into the cuff and applying pressure on your upper arm. Depending on your mobile platform, the readings can be sent directly to your healthcare provider, too.
Currently, the Withings BPM Connect measures systolic and diastolic blood pressure. Users can also get a reading for their heart rate. If you don't have your phone around, the Withings blood pressure monitor will store up to 8 readings locally. On cloud, however, you get unlimited storage. Just like Withings Body smart scales, the BPM Connect supports multiple users through the HealthMate app. It also syncs with your smartphone through Wi-Fi and Bluetooth.
QardioArm tracks the same blood pressure metrics but adds an irregular heartbeat detection. This feature works by detecting irregularities in your pulse. Users are then notified of the reading via the Qardio App. Qardio shares that the irregular heartbeat feature can be triggered by excess movement during measurement. As such, the readings should be evaluated by a healthcare provider.
Both the Withings BPM Connect and QardioArm can also take three automatic measurements. This is a way of getting a more accurate reading of your blood pressure. On the Withings, this advanced feature can be accessed by a long press of its button. The QardioArm, on the other hand, offers this feature via the app.
Accuracy and Ease of Use
While both monitors deliver accurate readings, the Withings BPM Connect is easier to use compared to the QardioArm.
With their sleek design and advanced features, the question is just how accurate are these monitors? Fortunately, the answer is reassuring. Reviews from healthcare practitioners and patients indicate that Withings BPM Connect and QardioArm readings are as good as manual monitoring. There are occasional flawed readings, but they are typically attributed to user error, including incorrect cuff positioning or excessive movements during measurements.
The Withings BPM Connect and QardioArm are regulated medical devices. Both have undergone clinical validation for safety and accuracy. They have also been cleared by the FDA and have received CE markings as well.
Compared to the QardioArm, however, the Withings BPM Connect is a bit more user-friendly. Withings' monitor enjoys the intuitive interface of the HealthMate App. Since the device comes with an LED screen, you can also take measurements even without your phone. With the QardioArm, you will need the mobile app to get readings of your blood pressure.
App and Battery Life
Withings and Qardio's blood pressure monitors enjoy extensive integrations and long battery life.
The Withings BPM Connect is compatible with major OS platforms and third-party applications. You can also connect the monitor to smartphones and tablets, but note that the compatibility does not extend to desktop computers. As mentioned earlier, the Withings BPM Connect works with HealthMate. The app currently enjoys partnerships with over 100 applications. Some of the apps you can feed data to include Apple Health, Google Fit, and WebMD.
Qardio's BPM is similarly compatible with popular apps like Apple Health and Google Fit. It works with major operating systems like Android and iOS as well. Beyond phones and tablets, however, the QardioArm can also connect with the Apple Watch, although blood pressure data is limited to just seven days. To check your long-term trends, however, you'll have to be on iOS.
In terms of power, the BPM Connect is more hassle-free compared to Qardio's monitor. The Withings BPM Connect runs on rechargeable batteries advertised with 6-month battery life. It also charges via a micro-USB cable. For a similarly priced monitor, the QardioArm runs on 4 AAA alkaline batteries that last for about 12 months.
Verdict
If you don't stand to benefit from an irregular heartbeat detector, you'll find the Withings BPM Connect better than the QardioArm blood pressure monitor.
Amazon product
Smart and portable blood pressure monitors make the task of managing your health easier. Qardio's QardioArm, for instance, is a minimalist device that keeps tabs on key blood pressure metrics. It also adds an irregular heartbeat detection feature for those with arrhythmias. However, the Qardio BPM doesn't have an on-device display, and it only runs on AAA batteries. While it may sound like nitpicking, it can be a bit inconvenient needing your phone for every measurement or manually replacing batteries. In this day and age?
In which case, the Withings BPM Connect presents itself as the better no-frills device. Aside from a physical power button, the BPM Connect comes with an LED matrix screen so you can read measurements on the device itself. It's a thoughtful feature for situations when you're not anywhere near your phone. The BPM Connect also stores several readings locally in case you're not able to sync them to the HealthMate app. The app itself enjoys extensive third-party integrations that make feeding your data to your favorite health platforms convenient.
FAQs
📌 Is the Withings BPM better than the Qardio BPM?
The Withings BPM Connect is a more practical smart blood pressure monitor compared to the QardioArm. The Withings BPM Connect tracks standard metrics but is also more user-friendly thanks to the on-device screen and rechargeable battery.
📌 What's the difference between the Withings BPM Connect and the Withings BPM Core?
The Withings BPM Connect is more of the entry-level model for smart blood pressure monitors. On the other hand, the Withings BPM Core adds a medical-grade ECG and digital stethoscope to the standard metrics taken by the BPM Connect.
📌 Is the QardioArm blood pressure monitor accurate?
Yes, the QardioArm takes accurate readings of one's blood pressure. The monitor has been clinically validated for safety and effectiveness.
📌 Does the QardioArm work with Apple Health?
Yes, the QardioArm blood pressure monitor supports Apple Health and is also optimized for iOS.