It's not easy to choose between Weber, Napoleon, and Broil King grills as each has its own set of attractive features. To guide you in deciding which grill should be the next addition to your patio, we review and compare their top-selling, similarly-priced grills: the Weber Genesis II S-335, Napoleon Prestige 500, and Broil King Regal S490 Pro. Keep reading to find out how their full-sized grills stack up against each other so you can get a feel of what each brand has to offer.
Weber vs Napoleon vs Broil King Gas Grill Comparison Chart
Model
Weber Genesis II S-335 Gas Grill
Napoleon Prestige 500 Gas Grill
Broil King Regal S490 Pro Gas Grill
Price
Check Price on Amazon
Check Price on Amazon
Check Price on Amazon
Dimensions (HWD)

Lid open: 62″ x 59″ x 31″

With Lid closed: 47″ x 59″ x 29″

Lid open: 50.25″ x 66.25″ x 26.5″

With Lid closed: 57
" x 53.75″ x 29″

56.3″ x 49.2″ x 24.8″
Fuel type
Liquid Propane, Natural Gas
Liquid Propane, Natural Gas
Liquid Propane, Natural Gas
Burners
3 main burners, 1 side burner, 1 sear station
4 main burners, 1 Infrared side burner/sear station, 1 Infrared rear burner
4 main burners, 1 Infrared rear burner, 1 side burner
Total Cooking Surface
669 sq in
900 sq in
625 sq in
Primary Cooking Area
513 sq in
500 sq in
490 sq in
BTU

Main Burner: 39,000

Side Burner: 12,000

Sear Station: 9,000

Main Burner: 48,000

Infrared rear burner: 18,000

Main Burner: 50,000

Side Burner: 10,000

Rear burner: 15,000

Temperature Gauge
Yes, compatible with the iGrill 3 thermometer monitor
Yes
Yes
Mobile App
Yes
No
No
Warranty
10 years
Lifetime
Up to 10 years
Design & Build Quality
Weber's propane tank storage is outside its closet while Napoleon and Broil King designed the pedestal to store the propane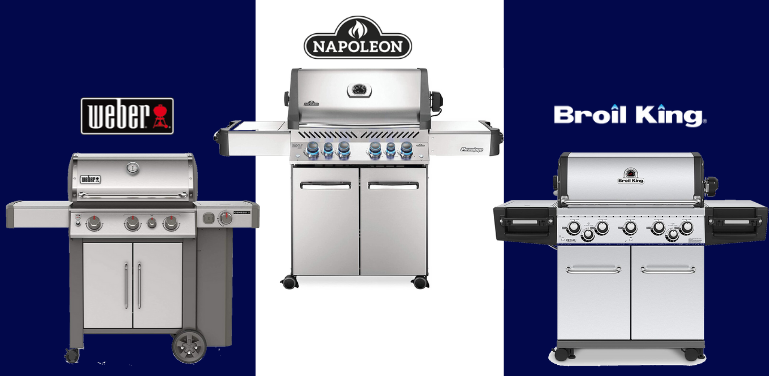 From the outside, Napoleon's and Broil King's gas grills look more modern and stylish than Weber's. However, looking inside their firebox, Weber won't disappoint. Both the Weber Genesis and Napoleon Prestige have a solid aluminum tub that will last for years as their seamless design can help keep grease and drips at bay. This will help prevent rust and corrosion, unlike the firebox of the Broil King Regal that is not built with solid aluminum like the rest.
Among the three, only Weber designed its propane tank to be placed outside of its storage closet. Whether this is good or bad depends on your preference. In some countries, the smallest propane tanks can't fit inside the storage closet, thus Weber's design fits their needs better. This also allows for more storage space, which others might appreciate. However, for those who prefer their propane tank to be stored inside, Napoleon's and Broil King's design will be better. It's worth noting that the Broil King Regal has a sliding propane tank base so you won't struggle as much when putting the tank inside.
In addition, all three grills include a built-in temperature gauge so you can better control the heat. The Napoleon Prestige and Broil King Regal have knobs that light up when they're in use to lessen the risk of forgetting to turn off the gas grill.
Grilling Features
While they differ in their burner features, the Weber, Napoleon, and Broil King gas grills all heat up fast and evenly
In terms of grilling features, all three gas grills get their job done well. Among the three, the Weber Genesis S-335 offers the least bells and whistles. It has three main burners and a standard side burner and sear station. Meanwhile, both the Napoleon Prestige and Broil King Regal feature four main burners and an infrared rear burner that you can use as a rotisserie. Between the two, the Napoleon delivers better heat output at 18,000BTU compared to the Broil King's rear burner with 15,000BTU. Napoleon's infrared side burner also doubles as its sear station, thus providing more space for grilling. As for the Broil King grill, there's an option to upgrade to an infrared side burner.
Meanwhile, the Weber Genesis II S-335's grates are made of cast-iron, which can be more prone to rust than the stainless steel equipped in the Napoleon Prestige and Broil King Regal. If you want grates that will last longer, you can get the Genesis SE version to upgrade to the same grates used in the high-end Weber Summit grills. Both the Napoleon Prestige and Broil King Regal are equipped with stainless steel grates. The Napoleon sports its signature WAVE grids that promise more even heating than the more common straight grids found in the Weber and Broil King grills.
Weber, Napoleon, and Broil King equip their grills with sear diverters. These are called differently by each brand, but they all serve the same purpose: significantly reduce flare-ups and add flavor to the meat or vegetables through vaporizing juices and marinade drippings. An additional feature that users appreciate about the Weber Genesis S-335 is its propane tank gauge and compatibility with the iGrill thermometer monitor that lets you see the temperature through its app.
Assembly and Warranty
Weber offers a straightforward 10-year warranty, Napoleon a lifetime warranty on its Prestige grills, while Broil King offers up to 10 years on certain parts
Weber, Napoleon, and Broil King all offer video tutorials to guide you in the assembly of your gas grill. In addition, you can use Weber's app to get an interactive guide for putting the Genesis II E-335 together. Where the three companies differ is in the warranty they offer for their grills. Here's a rundown of their warranty policies on their mid-tier gas grills:
Weber Genesis II E-335: 10 years on all parts, except for the normal wear and tear
Napoleon Prestige 500: Lifetime warranty on the hood, lids, aluminum castings, stainless steel cooking grids, and stainless steel burners and 15 years on other parts
Broil King Regal S490 Pro: Limited lifetime warranty on stainless steel cookbox, cast aluminum cookbox, and stainless steel lid components and varying periods for the rest of the parts
Make sure you read the fine print of the warranty before deciding on which gas grill to purchase.
Verdict
Napoleon offers the best value for money overall with its Prestige 500 gas grill
Weber, Napoleon, and Broil King are all great gas grill choices, especially their popular mid-tier full-sized grills. However, between the three, the Napoleon Prestige 500 gives the most value for your money for its features and lifetime warranty. While the Weber Genesis II E-335 seems bare-bones compared to the Napoleon's, it is a strong contender as Weber grills are among the sturdiest out there. If you live in a country where the regular propane tank size won't fit in the storage closet of either the Napoleon or Broil King gas grill, you'll benefit from the Genesis' design as well.
Meanwhile, the Broil King Regal S490 Pro remains a great gas grill, but compared to the two, it pales in comparison. Its cookbox isn't as robust and solid as the Weber's and Napoleon's, too. In addition, its warranty is the most limited among the three.
FAQs
📌 Is Broil King a good brand?
Broil King is an excellent brand overall and provides a more affordable alternative to Weber and Napoleon. However, Broil King's warranty is not as good as what the other two companies offer.
📌 What grills are better than Weber?
Napoleon and Broil King are popular alternatives to Weber as they deliver more features at a more attractive price point.
📌 Are Napoleon grills manufactured in China?
Napoleon manufactures its grills in Ontario, Canada.
📌 Is Broil King made in the USA?
Broil King manufactures its gas grills in the USA and Canada. Just like Napoleon, they also have a plant in Ontario.
Last update on 2020-08-08 / Affiliate links / Images from Amazon Product Advertising API