Waterpik and Hydrofloss are two of the most well-known oral irrigators in the market. Each one uses different cleaning technologies, but they set out to do pretty much the same thing: get rid of plaque and food debris between teeth and from the gumline.
Without a doubt, both can do a thorough cleaning job, but then the question is, which one should you get? We compare the two on a couple of important fronts to help you decide.
Waterpik vs Hydrofloss Comparison Chart
Waterpik
Hydrofloss
Top-Rated Models
Price
Models
Countertop: Sidekick, Radiance, Aquarius Professional, Aquarius, Traveler, Ultra, For Kids, Nano Plus, Classic Professional, Nano

Whitening: Whitening Professional, Whitening

Cordless: ION Professional, Cordless Advanced, ION, Cordless Select, Cordless Plus, Cordless Freedom, Cordless, Cordless Express

Complete Care: Complete Care 9.0, Complete Care 9.5, Complete Care 5.5, Complete Care 5.0

Sonic-Fusion: Sonic-Fusion Professional, 2.0 Professional, Sonic-Fusion, Sonic-Fusion 2.0
Hydro Floss
Tips
Classic Jet Tip, Orthodontic Tip, Plaque Seeker Tip, Pik Pocket tip, Tongue Cleaner, Toothbrush Tip, Implant Denture Tip
Everyday Tips, Pocket Pal Tips, Sulcus Tips, cannulas
Cleaning Technology
Water pressure and pulsation
Water pressure and pulsation, magnetics
Money-Back Guarantee
30 days
30 days
Warranty
1 to 3 years
1 or 3 years
Models
Waterpik has a wider selection than Hydrofloss.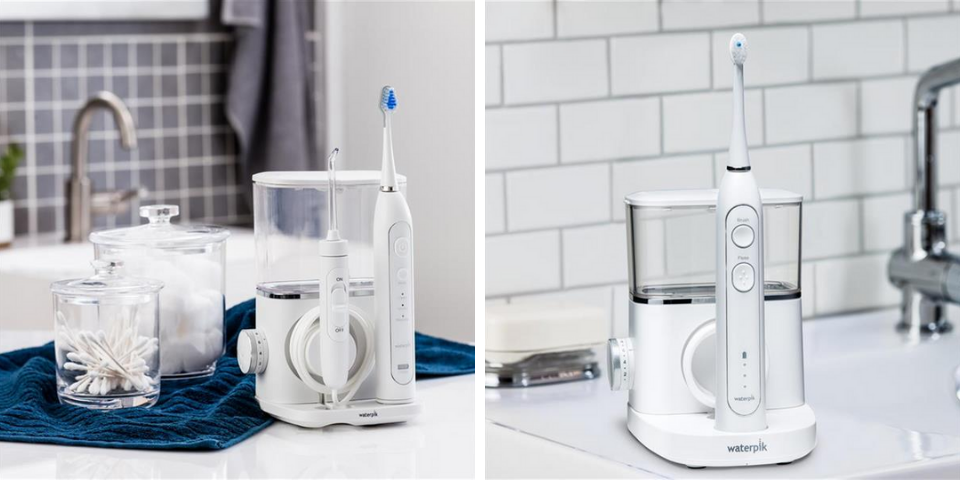 To start things off, Waterpik has dozens of options to choose from. It has countertop and cordless water flossers, as well as models designed for kids or for whitening teeth. In addition, there's also the Sonic-Fusion flossing toothbrush and the Complete Care kit that includes a water flosser and a Sonic toothbrush. Meanwhile, Hydrofloss only has one model, but it does make picking a whole deal simpler.
In Waterpik's lineup, the Nano and the Cordless Express are at the lowest end of the price spectrum for the countertop and cordless categories, respectively. While these can do the trick in most cases, there are better picks available, namely the Aquarius. It's the go-to oral irrigator for a lot of people, and for good reason too. First off, it doesn't break the bank, and yet it's got plenty of features, like a massage mode and a timer and pacer.
Click here to see our comparison between the Waterpik Ultra and Aquarius.
Performance
Waterpik and Hydrofloss use pressure and pulsation for cleaning, but only the latter uses magnetics.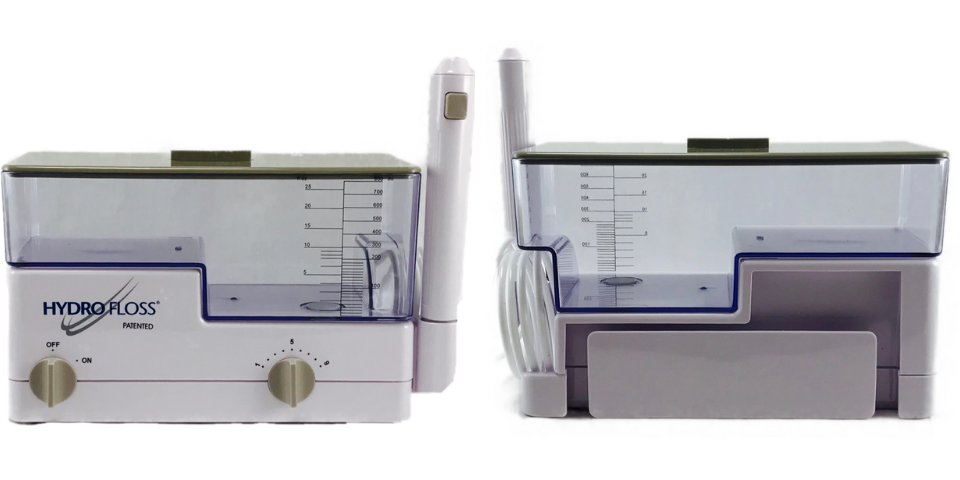 As noted, Waterpik and Hydrofloss take a different approach in cleaning teeth. To begin with, Waterpik uses water pressure and pulses. According to the company, it's better than steady streams that other counterparts in the market use.
On the other hand, Hydrofloss uses not only pressure and pulsation but also magnetics, claiming that this makes it 64 percent more effective than non-magnetic oral irrigators. Straight from the horse's mouth, magnetics prevent bacteria from sticking to teeth, reducing overall plaque buildup.
That said, it can be considered that Hydrofloss is better, but in a way, it isn't as flexible as Waterpik's offerings. For instance, Hydrofloss's device has a maximum pressure of 60 PSI, delivering 1,200 pulses per minute. In contrast, Waterpik's offerings vary in that regard. Others can go up to 100 PSI, but the countertop water flossers have a pulse rate of 1,400 per minute and the cordless models from 1,200 to 1,300 per minute.
Last but not least, Waterpik uses an on-and-off slider for most of its models, and arguably, it's better than a push button, which the Hydrofloss has.
Tips and Features
Waterpik has more types of tips and features than Hydrofloss.
When it comes to tips, Waterpik has a wide variety. For starters, there's the Classic Jet Tip, Orthodontic Tip for braces, Plaque Seeker Tip for hard-to-reach areas, and Pik Pocket Tip for periodontal pockets. Moreover, there's the Implant Denture Tip, Tongue Cleaner, and Toothbrush Tip, all of which are self-explanatory already.
Hydrofloss keeps things relatively simpler with three primary tips: Everyday Tips, Pocket Pal Tips for cleaning below the gumline, and Sulcus Tips for orthodontics. It also carries cannulas for irrigation under the gums.
Where Waterpik stands out is in features. Certain models like the Aquarius have things like a massage mode to promote healthy circulation in gums and a timer and pacer to ensure even cleaning.
Price
Waterpik and Hydrofloss more or less provide the same value for money.
Depending on the model, Waterpik can be more affordable or more expensive than Hydrofloss. However, water flossers like the top-rated Aquarius can give a better bang for the buck. After all, it costs less and comes with plenty of features and tips for a complete Waterpik experience. Still, the difference isn't all that big.
Both brands throw in between one and three years of warranty. In Waterpik's case, the length depends on the device. With Hydrofloss, buyers have the choice to get one or three years, and needless to say, the latter option is pricier. The two also offer a 30-day money-back guarantee, so there's that.
Verdict
Both are excellent oral irrigators, but Waterpik edges out Hydrofloss in a few ways.
All things considered, we'll have to go with Waterpik here. It has more options to suit any budget and more tips to choose from, not to mention that features like a timer and pacer can come in handy. But Hydrofloss isn't without its charm. As noted, its main selling point is magnetics, which prevents bacteria from adhering to teeth. However, it just doesn't outweigh Waterpik's benefits in terms of options, performance, features, and price.
FAQs
📌 Are Waterpiks as effective as flossing?
Waterpik claims that water flossers are 51 percent more effective at reducing gingivitis, two times more effective at reducing gingival bleeding, and 29 percent more effective at removing plaque than ordinary floss.
📌 Which oral irrigator is the best?
The Waterpik Aquarius is considered as the overall best oral irrigator in the market. That's because it's pretty affordable, comes with a lot of features and tips, and cleans teeth and gums thoroughly.
📌 What's the difference between Waterpik and Hydrofloss?
Waterpik and Hydrofloss use water pressure and pulsation to clean teeth and gums, but only the latter uses magnetics, which prevent plaque from adhering to teeth. However, Waterpik has more options, features, and tips.
📌 Do dentists recommend water flossers?
According to the American Dental Association, water flossers can get rid of plaque effectively. It's best to pick oral irrigator brands with the ADA Seal of Acceptance like Waterpik.
Last update on 2022-07-05 / Affiliate links / Images from Amazon Product Advertising API