Percussive massage devices have grown in popularity over the years owing largely to the convenience and portability they offer. With brands like Theragun and Theradrill, the benefits these workout recovery tools offer have also been extended from pro athletes to even casual fitness enthusiasts and gym-goers.
Theragun, which recently rebranded to Therabody, has long been a big name in the market. However, smaller brands like Theradrill are getting their share of the spotlight as well, thanks to their impressive features and budget-alternative price. But do these numbers translate to a better massage gun? Below, we compare Therabody's line of massage guns against Theradrill's GX-Turbo device to help you decide which one to get.
Theragun vs Theradrill Comparison Chart
| | | |
| --- | --- | --- |
| Model | Theragun | Theradrill |
| Best Seller | | |
| Price | Check Price at Amazon | Check Price at Theradrill |
| Models | Theragun PRO, Theragun Elite, Theragun Prime, Theragun mini | Theradrill GX-Turbo |
| Max Stall Force | 60 lbs (Theragun PRO) | 60 lbs |
| Max Percussions Per Minute | 2,400 | 3,200 |
| Amplitude | 12mm (mini) 16mm (PRO, Elite, Prime) | 16mm |
| Speed Settings | 5 with options for customizable speed (PRO, Elite & Prime); 3 (mini) | 6 adjustable speed strengths |
| Display | OLED (PRO & Elite), LED (Prime) | LCD control screen |
| Attachments | 6 | 6 |
| Max Battery Life | 2.5 hours | 4 hours |
| Wireless Charging | Yes | No |
| Carrying Case | Yes | Yes |
| Mobile App | Yes | No |
| Color Options | Black (Prime); Red and Black (PRO); Black, White, Red (Elite and mini) | Gun Metal, Silver, Pink |
Design
The Theradrill GX-Turbo follows the design of traditional massage guns while the Theraguns take a more innovative and ergonomic approach.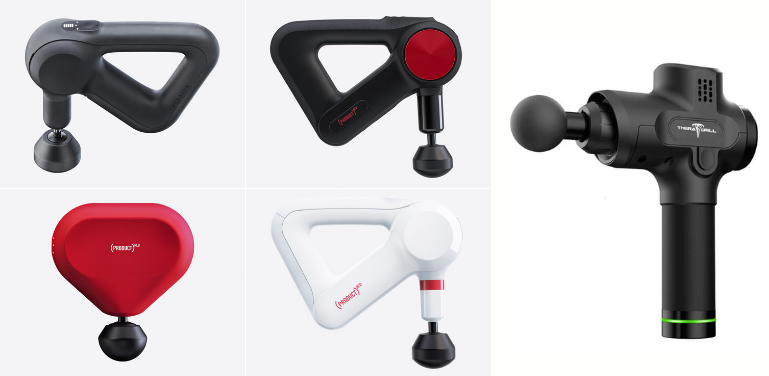 When it comes to design, the Theragun devices and Theradrill couldn't be any more different. The latter follows the form of most percussive massagers, which are designed like a "gun", with a single grip and a "barrel" that contains the motor and most of the device's components. Instead of a muzzle, however, the Theradrill's tip is where the interchangeable massage heads are located. This makes the Theradrill GX-Turbo resemble other popular percussive massagers like Hypervolt and Achedaway Pro.
In contrast, the Theragun breaks the form of traditional massage guns. The Theragun PRO, Elite, and Prime all follow an eye-catching, triangular design. This unique shape creates a multi-grip handle that makes the massage guns easier to hold across different positions. As a result, arm fatigue or strain is significantly reduced even across hard-to-reach areas of the body.
Meanwhile, Therabody's entry-level Theragun mini similarly breaks the mold of other massage guns but opts for a slightly less ergonomic spade-like design. It doesn't sport the multi-grip handle of its pricier siblings but does offer a no-slip body. Plus, as its name suggests, the mini is quite a compact device.
Both brands offer fairly lightweight devices. The GX-Turbo comes in at about 2 lbs while the Theraguns range from 1.4 to 2.8 lbs. Lastly, the Theradrill is available in multiple colors—gun metal, silver, and pink. Theragun's Elite and mini, on the other hand, is available in black, white, and red. The PRO comes in black and red while the Prime is limited to black.
Force and Stroke
The Theradrill GX-Turbo offers similar stall force and amplitude as Theragun's top-of-the-line PRO model.
Although ergonomics are crucial to the performance of a massage gun, stall force and stroke are still the two most important variables to consider. In this regard, Therabody's fourth-generation percussive massagers all have something different to offer.
The entry-level Theragun mini delivers the lowest stall force of 20 lbs, coupled with an amplitude of 12mm. While it should suffice as a post-workout tool, it's definitely not enough for those who need more intensive treatment.
For deep tissue percussive therapy, a 30 lbs to 50 lbs stall force is the industry standard. The Theragun Prime and Elite fall right within this range, offering 30 and 40 lbs of pressure respectively. But deep tissue massage is even more possible with the Theragun PRO. Therabody's top-of-the-line device delivers up to 60 lbs of stall force.
All three Theraguns boast of a 16mm amplitude for deeper, more intensive strokes. However, only the Pro has an adjustable arm.
Theradrill's GX-Turbo, on the other hand, boasts an impressive stall force of 60 lbs. Just like the Theraguns, the GX-Turbo offers a 16mm extension that helps deliver optimal pressure to target muscle groups.
Speed and Noise
When it comes to speed, the Theradrill has an advantage over the Theraguns.
The Theradrill not only fares as well as the Theraguns when it comes to stall force and amplitude, but it also does the competition better when it comes to speed. Currently, the Theradrill GX-Turbo delivers up to 3,200 strokes per minute. You also get 6 adjustable speed strengths from the device. All of this can be managed through the massage gun's LCD control screen.
All fourth-generation Theraguns, on the other hand, offer up to 2,400 percussions per minute. However, the PRO, Elite, and Prime models come with 5 built-in speed settings as opposed to the mini, which only features three. In addition, the three standard models' speed range is customizable through the Therabody app. With the mini, you're stuck with 1750, 2100, and 2400 percussions per minute.
Theradrill claims to be one of the quietest massage guns in the market, producing minimal noise of around 45 decibels. The company attributes this to its use of Quiet Glide technology.
Meanwhile, the current crop of Therabody guns are considerably quieter than previous iterations of the massage device, thanks to its own QuietForce innovation. However, you will still get over 60 decibels of noise from the PRO and Elite models. If you're looking for a less annoying hum from a percussive massage device, then the Prime and mini are more discreet options.
Battery Life and Attachments
Both the Theradrill GX-Turbo and Theragun's PRO model put a premium on longer battery life, and come with a complete set of massage heads.
Theradrill does have an advantage when it comes to battery life. The massage gun can operate for up to four hours on a single charge. It also comes with a fast-charging power adaptor.
Nonetheless, the Theraguns are no pushovers. The mini and PRO offer up to 2.5 hours of battery life while the Elite and Prime models have a runtime of about 2 hours. With the PRO, you also get two swappable batteries, each delivering 150 minutes of battery life for a total runtime of 5 hours. That's more than enough for most post-workout massage treatments.
The latest Theraguns are all compatible with the fourth-generation attachments. However, the number of heads you get will depend on the model you choose. For the mini, only the standard ball attachment is included. You get four attachments with the Prime, and five with the Elite. If you want the complete set, only the PRO features all 6 massage gun heads.
Being the only model under Theradrill, the GX-Turbo does come with the complete set of 6 interchangeable heads. This includes the innovative heating attachment head that can be used for warm ups or to soothe chronic muscle pain.
Verdict
For pro athletes and new users with deep pockets, Theragun is a premium choice. Those on the budget, however, will find Theradrill a highly capable alternative.
Best for professional athletes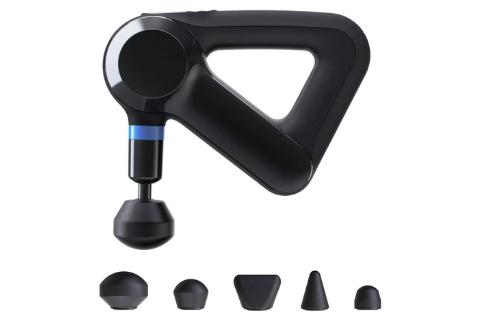 Best for those on a budget
If you're looking for a tried-and-tested brand, then Theragun is still the way to go. The company has plenty of years of experience behind it, and its fourth-generation line of massage guns is a testament to the brand's dedication to improving their products. Plus, its ergonomic design really stands out in a market saturated with massage guns that all look the same.
Among its four new models, however, the Theragun Elite is the one that balances exceptional features with price. Of course, the PRO remains its top-of-the-line offering. But its features are more suited for professional athletes who really want to invest in a percussive massager. With the Elite, you get a tool that is perfect for both seasoned athletes and new users. Theragun's Prime and mini models, on the other hand, are solid entry-level choices.
However, if you're on a budget, then you're better off with the Theradrill GX-Turbo. It offers a stall force and stroke that is comparable with the higher-end Theragun PRO model but also adds impressive speed and battery life. While a 3,200 percussion per minute cap does give Theradrill an advantage, most massage guns do max out at 2,400, which is powerful enough for treating sore muscles.
Still, having a complete set of attachments go along with your device is quite the deal. So if you're not keen on spending too much money but do want a taste of premium features, then the Theradrill should do the trick.
FAQs
📌 Is the Theradrill GX-Turbo compatible with wireless charging?
The Theradrill GX-Turbo does not come with wireless charging. However, you do get a fast-charging power adaptor.
📌 What's the best Theragun to get?
The Theragun PRO and Elite are the company's best massage guns. While the PRO comes with the complete set of attachments plus an adjustable arm, the Theragun Elite is still a solid option for new users looking for a percussive massage device.
📌 Does Theradrill offer free shipping?
Yes, Theradrill does offer free shipping in the US.
📌 Are Theraguns compatible with the Therabody app?
The Theragun PRO, Elite, and Prime are all compatible with the Therabody app through Smart Integration. This gives users access to customizable speed settings. The mini, on the other hand, is limited to its three built-in speeds.