There's no denying that the Theragun percussion massagers are well-built and reliable, but expectedly, their premium quality comes with a hefty price tag. If you don't want to fork out hundreds of dollars for a massage gun, there are knockoff models available on Amazon that can also do the job at a much lower cost. The Theragun can range from $200 to $900 at regular price, while knockoff massage guns can be as low as $55 or somewhere around $100 to $200.
To find out whether it's worth getting the cheaper version or if you're better off investing in a premium percussion massager, we compare the Theragun Elite against popular knockoffs at different price ranges: the Cotsoco handheld massage gun and the RENPHO R4 PRO.
Theragun vs Foam Roller Comparison Chart
| | | | |
| --- | --- | --- | --- |
| Model | Theragun Elite | RENPHO R4 PRO | Cotsoco |
| | Amazon product | Amazon product | Amazon product |
| Price | Amazon product | Amazon product | Amazon product |
| Attachments | 5 | 6 | 4 |
| Speed Settings | 5 (further customizable on the app) | 4 | 6 |
| Speed Range | 1750-2400 PPM | N/A | 2100 to 3600 PPM |
| Battery Life | up to 2 hours | 4 to 6 hours | up to 3 hours |
| Mobile App | Yes | No | No |
| Adjustable Arm | No | Yes | No |
| Carrying Case | Yes | Yes | No |
| Dimensions | 9.5″ x 6.7″ x 2.9″ | 10.47″ x 10.63″ x 3.80″ | 8.66″ x 2.76″ x 6.69″ |
| Weight | 2.2 lbs | 2.2 lbs | 2.31 lbs |
Design & Build Quality
The Theragun and the RENPHO are well-built and ergonomically-designed while the knockoff Cotsoco is a no-frills massage gun
One of the reasons why the Theragun is more expensive than knockoffs is the research and quality control that takes place before the product is released in the market. With the Theragun Elite, you'll get a percussion massager that is made of premium materials, underwent quality control, and will last you a long while. Even the closed-cell foam that covers the head attachments of the Theragun feels plush and won't break easily.
With that said, the RENPHO R4 PRO is also well-built, sturdy, and doesn't look and feel like it's a whole lot cheaper than the Theragun Elite; we're talking around 75% cheaper. The RENPHO R4 PRO even has an adjustable arm that makes it easier to massage hard-to-reach areas by adjusting the arm's angle.
As for the Cotsoco brand, the cheapest percussion massager in this comparison, the material is decent, although it doesn't look as sturdy as the other two. Its design is also more similar to the Hypervolt percussion massager.
Performance and Features
The Theragun Elite and RENPHO are comparable in terms of performance but the Theragun has more features than the knockoffs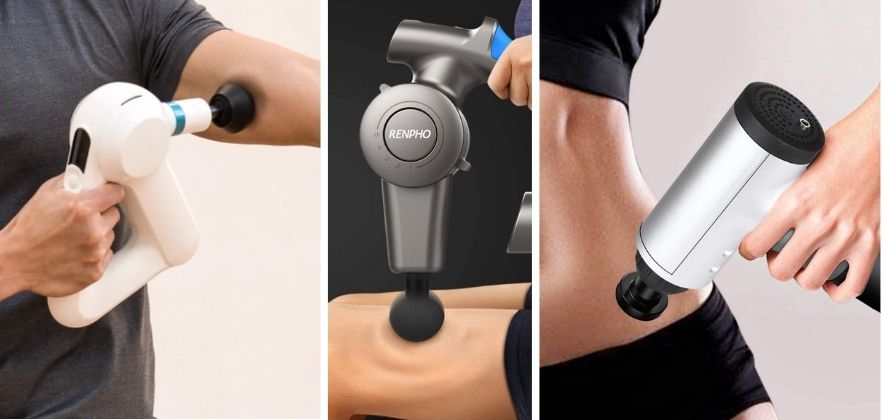 Of the three percussion massagers in this comparison, the cheapest knockoff is the one with the most speed settings and highest RPM on paper–six speed settings with vibration speeds from 2100 to 3600 RPM. In comparison, the Theragun Elite only has five speed settings from 1750 to 2400 PPM and can be further fine-tuned using the Therabody app. The RENPHO R4 PRO, meanwhile, only has four and its speed setting range is undisclosed.
These percussion massagers do a great job of helping ease muscle tension, especially the Theragun Elite and the RENPHO R4 PRO. They are powerful and not as loud as standard massage guns. However, the Cotsoco brand has received complaints about its machine not being powerful enough as well as issues with the attachment head breaking after two to three uses. This is a common issue among knockoffs as they don't undergo stringent quality control.
Battery Life & Attachments
The RENPHO R4 PRO comes with the most attachments and has the longest battery life
Different areas and muscle groups require different impact levels and targeting, thus the different attachment heads that come with most massage guns. Of the three percussion massagers, the RENPHO R4 PRO has the most attachment heads included (middle photo): the flat head, bullet head, air cushion head, medium ball head, fork head, and large ball head. The Cotsoco brand only has four attachments and doesn't include the air cushion head and large call head.
Meanwhile, the Theragun Elite comes with five closed-cell foam attachment heads that are easy to clean and designed to last (see leftmost photo above). Theragun's attachments include the thumb, cone, dampener, wedge, and the standard ball.
In terms of battery life, the RENPHO massage gun can last between four to six hours, depending on the speed setting, while the Theragun can last up to two hours. The Cotsoco massage gun has an advertised battery life of up to three hours, but some users have complained about the percussive device's battery not holding charge after a couple of uses.
Verdict
If the Theragun Elite is out of your budget, the RENPHO R4 PRO is a great alternative and is better than most knockoff massage guns
Amazon product
What comes with your purchase of a Theragun is the peace of mind that you will get a device that actually works as advertised and is sturdy enough to last a while. However, its price tends to make some users look to knockoff brands as an alternative. One of the top alternatives on our list is the RENPHO R4 PRO, which is significantly cheaper but is still well-made.
If you still want to risk it and get cheaper knockoff massage guns like the Cotsoco, make sure you check their return policies before deciding to hit that buy button.
FAQs
📌 Are cheap massage guns any good?
We won't recommend getting the extremely cheap knockoff massage guns, but the middle-priced percussion massagers like RENPHO, Vybe, and Pulse are great options if you're looking for Theragun alternatives.
📌 What Theragun knockoffs are good?
Massage gun brands like Vybe, RENPHO, and Pulse are cheaper alternatives to the Theragun.
📌 What are some of the best massage guns under $150?
RENPHO, Sonic, and Vybe have good handheld massage gun models that are below $150.
📌 Are deep tissue massagers worth it?
Yes, they help increase blood flow in the massaged areas. They are even more worth it if you often have deep massage therapy.