Garmin and Suunto are some of the most well-known smartwatch brands around. The two companies offer a lot of different watch lines suited for different kinds of people. In this comparison, we'll take a look at two of their more sporty watches, the Suunto 9 and the Fenix 6, and see how they stack up against each other.
Suunto 9 vs Garmin Fenix 6 Comparison Chart
| | | |
| --- | --- | --- |
| Model | Suunto 9 | Garmin Fenix 6 |
|   | Amazon product | Amazon product |
| Price | Amazon product | Amazon product |
| Screen Resolution | 300×320 | 260×260 |
| Water Resistant | Yes | Yes |
| Sweat Resistant | Yes | Yes |
| GPS | Yes | Yes |
| Heart Monitor | Yes | Yes |
| Barometer | No | Yes |
| Accelerometer | Yes | Yes |
| Sapphire Glass Display | Yes | No |
| Dimensions | 0.77″ x 12.7″ x 8.5″ | 0.75″ x 12.65″ x 8.42″ |
| Weight | 81g | 80g |
Design
Both go for a more traditional circular design over rounded rectangular shapes.
Unlike other popular smartwatches like the Apple Watch or the Fitbit, both the Fenix 6 and the Suunto 9 go for a more conventional round design. It's low-key enough to be mistaken for a traditional watch, but it has all the benefits you'd expect from a smartwatch (to be explored later in this article). The way the two are built reminds customers of older, rugged, athletics-oriented watches like the Casio G-Shock line. This rough, sweat-proof and waterproof build that both watches have make it great for mountain climbers, long-distance cyclists, marathon runners, and all other athletes who spend a lot of time training. They're also super durable, owing to the kind of glass that the two watches use.
With that being said, it's worth noting that the two companies' choices for glass are different. Garmin went for a more well-known option with their Power Glass, which is similar to other damage-resistant glass formulations like Corning's Gorilla Glass (used in iPhones). Meanwhile, the Suunto 9 comes with a sapphire crystal glass display, which is one of the strongest materials available. The Fenix 6 does have a Fenix 6 Sapphire option, if ever you choose to buy from Garmin but think that the sapphire glass is a non-negotiable.
Activity Tracking and Sensors
The Fenix 6 has more available sensors, making it easier to use.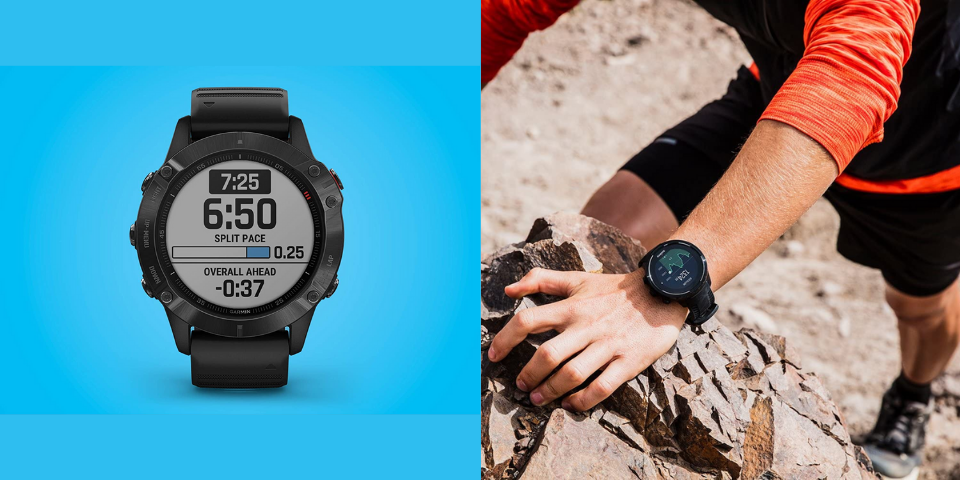 Both watches come with the expected sensors from a smartwatch. What counts as usual are a GPS sensor, a heart rate monitor, an accelerometer, a compass, and a cadence sensor. With these sensors, your watch of choice can help you navigate your course through the track or mountains, while letting you keep track of how your body is reacting to the exercise as well. This is extremely important, and the main reason why smartwatches are a big hit with athletes: all the data you receive on the fly can help you adjust your workout intensity depending on what you need, from stamina to speed and strength training. However, the Fenix 6 does have the upper hand when it comes to sensors, since it also has a blood oxygen sensor (useful for ensuring you won't get tired easily), a barometer (for helping predict the weather outside), and a gyroscope. Its compass is also 3D, unlike the Suunto 9's.
In tracking specific activities, the two watches are mostly the same. They both measure distance and pace while also counting an approximate number of how much calories you've burnt. Both watches can also track your route with its built-in map functions, and has an included trackback mode if ever you get lost. You can also specify what kind of exercise you did after the fact. If you wear it to sleep, both watches can track your sleeping patterns and provide sleep reports for you to peruse. One small advantage that the Fenix 6 has in terms of tracking activities is that it's also designed for tracking golf since it's pre-loaded with courses plus capabilities for keeping score and a shot distance calculator.
Features
The Fenix 6 proves to be a nifty wristwatch with its additional features.
To be honest, the two watches are quite similar when it comes to the features that they have. Both can handle different maps, which is useful for those who like exploring a lot of different places. The two models both have a stopwatch, notifications from your connected phone, and even a silent alarm (which works perfectly with their sleep pattern tracking abilities). Inactivity alerts are also a feature for both watches, meaning that your watch will notify you if you've been idle for too long. Neither watch has more advanced features seen in more expensive models, like a built-in speaker and microphone or an external memory slot.
The Fenix 6 does have a few exclusives, making it quite a bargain for anyone who'll choose it over its competitor. One of these features is the ability to track your phone (useful for when you misplace it, which could be quite often for some). The GPS sensors that the Fenix 6 has are also a bit more efficient than the Suunto 9's, with aggregate reviews saying that it acquires GPS data faster. It also supports a wider array of languages than the Suunto (26 compared to 19), so it's more suited to multilingual users.
Battery and Compatibility
Garmin's watch lasts for a longer period of time, even with GPS on.
Between the two watches, the Fenix 6 seems to have the more durable battery. Though both are rechargeable and neither are solar-powered, the two watches have a similar battery life coming in at 14 days per full charge. The difference starts to show when the GPS is left on. The Fenix 6 can last for 36 hours, which is a full eleven hours longer than the Suunto 9's GPS-enabled battery life. This may be a deal breaker if you're looking to use this watch a lot outdoors, especially for hiking or camping trips. GPS will be invaluable, so you'd want a watch with a battery that lasts as long as possible.
Both are compatible with Android, iOS, macOS, and Windows, but if you're using a Windows-based phone, don't get the Suunto 9 since it's incompatible. The Fenix 6's compatibility advantages don't stop there, since this watch also supports WiFi and NFC, which could be useful for some transactions.
Verdict
The Garmin Fenix 6 is the better choice on almost all fronts.
Amazon product
The two things that the Suunto 9 has going for itself is the default usage of sapphire crystal glass and its affordability. While Garmin also offers an option for a watch that uses sapphire crystal glass instead of Power Glass, that entails an additional fee that adds to an already more expensive product. Suunto 9, on the other hand, is significantly more affordable than its competitor. Listed prices online are around two hundred dollars cheaper than the Fenix 6, and you may even be able to find better deals that give you an even bigger bargain.
On just about everything else, though, the Fenix 6 proves to be the better smartwatch. It has better compatibility, and is more flexible in usage because of its greater variety of sensors and a wider array of recognized sporting activities. It's also suited for longer use even with the GPS on, outlasting its competitor by an impressive eleven hours. While it's not as sturdily built as the Suunto 9 by itself, it's still a good choice for aspiring outdoors people and seasoned athletes alike.
FAQs
📌 Which Garmin Fenix 6 should I buy?
The base Fenix 6 is already a great choice, but they do have a lot of other options available (for example, the Fenix 6 Sapphire).
📌 Is Fenix 6 worth the money?
With its impressive features, durable build, and overall great design, the Fenix 6 is worth what you pay for it.
📌 Which is better, Suunto or Garmin?
Both brands offer great smartwatches; however, between the Suunto 9 and the Fenix 6, the Garmin watch is arguably better (though a bit more expensive).
📌 How many years do Garmin watches last?
Users online say that their watches last them around 5 years, or even more.