Handhelds have always been popular, but when the Nintendo Switch released, the popularity of handheld gaming was taken to a whole new level. As a result, there have been quite a few handhelds released in the past five years or so, including the AYA NEO, WIN GPD and more. But these are from not-so-well-known manufacturers, so they aren't as popular. Also they're quite expensive.
Enter Valve's Steam Deck. With Valve at the helm, the Steam Deck already has the name recognition that can rival Nintendo. In addition, the pricing of the Steam Deck is quite attractive. In this article, we'll be taking a look at how the Steam Deck and the Nintendo Switch OLED fare against each other to help you choose which handheld is better for your gaming needs and preferences.
Steam Deck vs Switch OLED Comparison Chart
Model
Steam Deck
Switch OLED
Price
Check Price
Check Price
Size and Weight
11.73 x 4.61 x 1.93 inches
1.47lbs
9.5 x 4 x 0.55 inches
0.93lbs
Both with Joy-Con attached
CPU/GPU
Custom AMD APU
Zen 2 4c/8t CPU
8 RDNA 2 CUs
NVIDIA Custom Tegra processor
Display
7-inch IPS LCD
1280 x 800
16 x 10
7-inch OLED
1280 x 720
16 x 9
Dock
Separate purchase
Included
Controls
Built-in
ABXY buttons
D-pad
L/R analog sticks with capacitive touch
L/R bumpers and analog triggers
4x grip buttons
2x trackpads
Gyro
Detachable Joy-Cons
BAYX buttons
D-pad
L/R analog sticks
L/R buttons
ZL/ZR buttons
Gyro
Connectivity
2.4GHz & 5GHz WiFi a/b/g/n/ac
Bluetooth 5.0
2.4GHz & 5GHz WiFi a/b/g/n/ac
Bluetooth 4.1
Audio (handheld)
Stereo
3.5mm jack
USB-C
Bluetooth
Stereo
3.5mm jack
Bluetooth
Storage
64GB eMMC
256GB NVMe
512GB NVMe
microSD card slot
64GB
microSD card slot
Battery
2 – 8 hours
4.5 – 9 hours
Colors
Black
White, Neon Blue/Neon Red
Design
Both the Steam Deck and Nintendo Switch OLED are portable, but the latter has the advantage here due to its more compact build.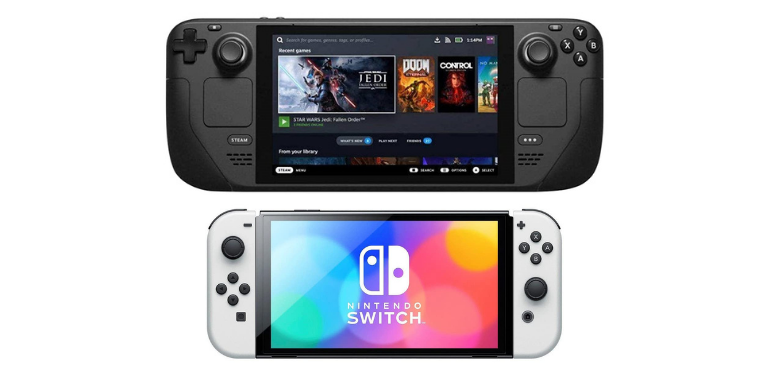 Compared to the Nintendo Switch OLED, which measures 9.5 x 4 x 0.55 inches and weighs 0.93lbs, the Steam Deck is a big handheld. It measures 11.73 x 4.61 x 1.93 inches and weighs 1.47lbs. The difference in size is not really that big of an issue as the Steam Deck is quite comfortable to hold. However, the weight difference can cause some discomfort, especially when gaming for a long period.
As for portability, the advantage goes to the Nintendo Switch OLED since it is more compact. That said, the Steam Deck is also portable and will fit inside most bags. Both handhelds will not fit inside pockets.
Display
The screens on the two handheld devices measure 7 inches diagonally, but that's the only similarity. The Steam Deck's screen has a resolution of 1280 x 800 pixels while the Nintendo Switch OLED's screen has a resolution of 1280 x 720 pixels. They differ in aspect ratio, with the Steam Deck having more vertical pixels.
Another difference is the panel technology used. On the Steam Deck is an IPS LCD while the Switch OLED, as the name implies, comes with an OLED display. On paper, the difference should be massive, however, in reality, the Switch OLED's screen is just a bit better than the one on the Steam Deck. The only differences are that the colors on the OLED screen pop, and it has deeper black levels.
Both are touchscreens and they have a maximum refresh rate of 60Hz.
Hardware
The Steam Deck offers more power under the hood than the Nintendo Switch OLED.
When it comes to hardware internals, there really is no comparison. The recently launched Steam Deck features a powerful custom APU from AMD which is comprised of a Zen 2 CPU with 4 cores and 8 threads, as well as a GPU with 8 RDNA 2 Compute Units. On the other hand, the Switch OLED, despite being a newer iteration, still has the older custom Tegra processor from NVIDIA. The Tegra processor is not in the same league as AMD's custom APU when it comes to performance.
The difference in processing power reflects the difference in performance when it comes to demanding AAA and Indie games. Some demanding games run terribly on the Switch OLED with massive frame drops, while the Steam Deck allows for a consistent 30fps on most games. Some of these games can even run 60fps, but that's with the power maxed out and graphics turned down.
Controls
The Steam Deck's controls is more comprehensive than that of the Nintendo Switch OLED. Aside from the usual d-pad, thumbsticks, shoulder buttons and face buttons, the Steam Deck also has two trackpads for touch-based controls and four back buttons that can be mapped to specific functions.
The Nintendo Switch OLED, in comparison, has the Joy-Cons. The Joy-Cons are detachable and each can be used separately in table-top mode. Being detachable means that you can easily replace them if they develop issues, something that you can't do with the Steam Deck's built-in controller.
Storage
Available in three configurations, the Steam Deck offers flexibility to buyers with different budgets. There's a 64GB eMMC variant and 256GB and 512GB NVMe variants. All models have microSD slots that support up to 2TB.
Meanwhile, there's only a 64GB version of the Nintendo Switch OLED, which is an improvement over the measly 32GB storage of the original. It also has a microSD slot that supports up 2TB.
Battery Life
The Steam Deck's battery life can last between 2 to 8 hours while the Nintendo Switch OLED's battery can last up to 4.5 to 9 hours.
Software and Games
The Steam Deck is a handheld PC that can run various operating systems while the Nintendo Switch OLED runs Nintendo's OS.
The Steam Deck will ship with SteamOS installed. However, since it is a handheld PC, you can install Windows on it if you wish. SteamOS is pretty much Steam in Big Picture mode, but with a few tweaks. It acts very much like a game console would, with automatic updates, easy access to games and more convenience features. You can also access the desktop mode on it.
Even if you are unfamiliar with Linux, you won't have any trouble with SteamOS as it's easy to use. It might take a bit of getting used to, especially if you are not familiar with Steam as well.
The Nintendo Switch OLED, on the other hand, has Nintendo's OS. It's designed for gaming, and just like SteamOS, it's easy to familiarize yourself with it.
Games
Steam's lineup of games is in the tens of thousands, so the Steam Deck will launch with the biggest library of games. If you have a Steam account, all the games in your library will be accessible. Also, with cloud saving, all your games' progress will be saved whether you play on PC or on the Steam Deck.
Nintendo also has an impressive library of games, with exclusives such as the Super Mario games, Zelda games, Super Smash Bros. and more. However, when it comes to sheer number of games, the Nintendo Switch can't match Steam's offerings.
Verdict
The Steam Deck and Nintendo Switch OLED are worth buying if you love playing on the go, and we recommend that you get both if you can.
Steam Deck
Most powerful handheld with access to Steam's catalogue of games
Nintendo Switch OLED
More portable handheld and access to Nintendo exclusives
Both the Steam Deck and the Nintendo Switch OLED are worth buying if you consider yourself a gamer. They are portable, so they are designed with the on-the-go player in mind, but couch gamers will also love them. The Steam Deck's strengths are in its superior hardware and access to Steam's massive library of games. Also, Steam is popular for their major and weekly sales, so most games are cheaper. Meanwhile, the Nintendo Switch OLED's strength is its lineup of first-party games. If you are a fan of any of Nintendo's IPs, the Switch OLED is a must-buy.
FAQs
📌 Is the Nintendo Switch OLED better than Steam Deck?
The Nintendo Switch OLED offers games that you can't play on the Steam Deck, unless you go the emulation route. On the other hand, there are PC-only games that you can only play on the Steam Deck.
📌 Do games look better on Switch OLED?
Games look better on the Switch OLED than the original Switch. The colors are more vibrant and the blacks are deeper.
📌 Is the Steam Deck 120Hz?
The screen on the handheld device is only 60Hz, but the Steam Deck supports 4K at 120Hz via its USB-C port.
📌 Is the Steam Deck just a PC?
The Steam Deck is a PC, but it's also a console, thanks mainly to SteamOS.