Listening to music at home never sounded so good until Sonos decided to upgrade the experience for us. The brand is distinguished for its revolutionary wireless multi-room system that changed the audio tech industry. Since it was established in 2020, Sonos produced some of the best wireless speakers in the market designed for home use. Two of which are the Sonos Move and the Sonos Play:5. Released back in 2015, the Sonos Play:5 brings you a vibrant sound experience together with the classic speaker features you know and love. The Sonos Move is a current-generation wireless speaker model released just last year and is designed to deliver great sound quality in indoor and outdoor areas. Find out how they compare in terms of audio performance, design, and portability.
Sonos Move vs Play:5 Chart
| | | |
| --- | --- | --- |
| Model | Move | Play:5 |
| | | |
| Price | | |
| Connectivity Technology | WiFi, Bluetooth | 802.11b/g 2.4GHz Wi-Fi, 10/100 Ethernet |
| Supported OS | Windows, Mac, iOS, Android | Windows, Mac, iOS, Android |
| Weight | 6.6 pounds | 14 pounds |
| Dimensions | 4.96 x 6.29 x 9.44 inches | 14.30 x 8.00 x 6.00 in |
| Audio Line-in | No | Yes |
| Charging | Charging base, USB-C Cable, USB /AC Power Adaptor | AC Power Adaptor |
| Color Variation  | Black | White and Black |
| Alexa Built-in | Yes | No |
Design
The Move and the Play:5 share the similar minimalist aesthetic that Sonos is known for.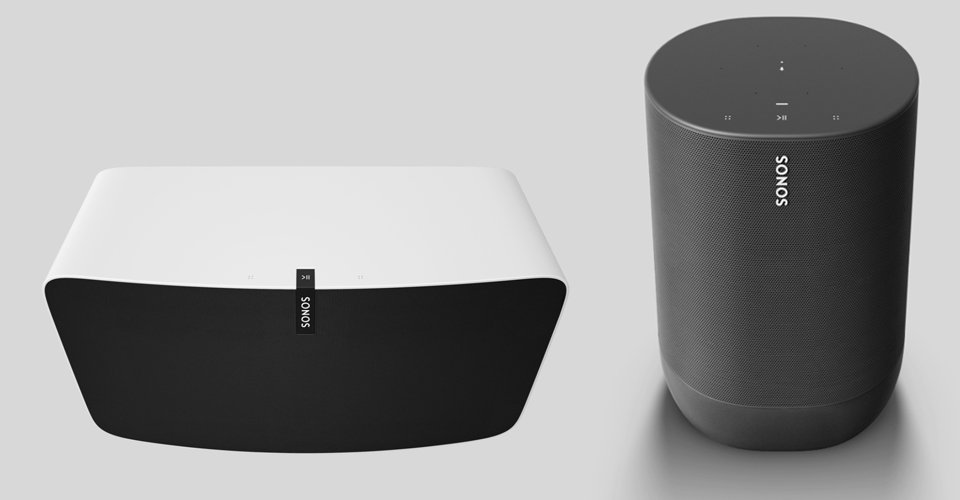 Sonos adhered to their signature minimalist approach with the Play 5 and the Move's design. While this is something that both speakers have in common, you can easily tell them apart right off the bat. The Play:5 comes in a rectangular shape to allow users to place it horizontally or vertically. On the other hand, the Move has a cylindrical shape that makes it look sleeker compared to most outdoor speakers available.
The Play:5 is ideally used indoors as a table-top speaker. For this reason, the Move has a versatility advantage as an indoor-outdoor speaker. The Move's IP56 rating indicates that it can withstand wear-and-tear in an outdoor environment. In other words, you won't have to worry about exposing it to dust, UV rays, snow, rain, salt spray, and extreme hot and cold temperatures. The same can't be said about the Play:5.
Sonos placed touch panels with play-back control buttons at the top of each speaker. You will find the Move's power, multi-room pairing, and Bluetooth/Wi-Fi toggle buttons around its rear. Below these three buttons is a USB-C port. On the other hand, the Play:5's only physical button is one for syncing, which is placed on the back. Located beside the sync button are a 3.5mm aux and ethernet port.
The Play:5 comes in two color selections for its chassis — black and white. In comparison, the Move only comes in black.
Audio Performance
Both the Move and the Play:5 can deliver great audio but not without each its own drawbacks.
Two Sonos speakers are often claimed as relatively similar to the Move when it comes to sound performance — the Play:5 and the One. The key difference between the Move and the Play:5 in this aspect is the former's smooth and warm audio delivery translated in a wide array of genres.
On the other hand, the Play:5 decently delivers sound from most genres, but it performs best when playing bass-heavy material. You can ideally make the most out of this speaker when playing hip-hop or EDM. But if you're one who enjoys a dramatic ballad, you'll enjoy the Move for its uncompromised vocal sound quality.
Portability
Sonos designed the Move for easy carrying while the Play:5 is built to save space and stay in place.
Both the Move and the Play:5 are heavy-duty portable speakers that weigh quite hefty. However, the newer Sonos Move speaker is significantly lighter than the Play:5. The Move weighs 6.6 pounds (3 kg), making it easier to carry around from room-to-room. Play:5 is better for those who want to set it and forget it at a weight of 14 pounds (7 kg). That's some serious weight as it is over twice heavier than the Move.
The Play:5 is ideal if you want to maximize the space that you will designate for speakers. Unlike the Move, you can place the 2015 model either vertically or horizontally. It's also wall-mountable if you prefer audio sources at a certain height. Unfortunately, you won't be able to do the same with the Move.
Those who want to set their speakers in place and save some space will appreciate the Play:5's build. Otherwise, the Move is ideal if you want a speaker you can take with you from room to room.
Features
The Play:5 gets the shorter end of the stick compared to the Move when it comes to features.
Don't let the Move's minimalist design fool you. Aside from its ultra-durability and portability, the Move has a lot more rolled up in its sleeves.
You probably won't see this as a setback provided that you have a stable WiFi connection at home. But it's quite a disadvantage for any wireless speaker. You will have to buy a wireless extender like the Sonos Boost if you experience spotty WiFi at home.
Does the Play:5 have a feature that the Move doesn't have considering that it's a model released about five years ago? Yes. Most current-generation speakers don't have a 3.5 mm aux jack, and the Move is no exception. This time, Play:5 has the upper hand for those who want to connect non-Bluetooth devices to their speaker. Its wired connection support might be a considerable advantage to some.
One feature that both these speakers share is Sonos' Trueplay tuning tech.
Verdict
The Move is recommended for music lovers who live in a home with plenty of outdoor space. Those living in dormitories, apartments, and other units with limited space will find the Play:5 a worthy investment.
The Sonos Move is an excellent choice for those with smart homes who need a speaker system to match. Its voice control feature is definitely appealing to many tech-savvy homeowners. Its Bluetooth connectivity also appeals to those with spotty Wifi signals. Moreover, the Move is built for outdoor use if you enjoy lounging at a patio, balcony, or rooftop.
Those residing in residential buildings and units will enjoy a great-quality tabletop speaker like the Sonos Play:5. If you don't have the luxury of having spacious quarters, it's a great space-saving option. Its 3.5mm port is also ideal for those who own auxiliary analog devices at home. If you want a steady audio system in your home, Play:5 is worth considering.
Last update on 2022-08-14 / Affiliate links / Images from Amazon Product Advertising API