Everybody wants and likes clean teeth. Starting from our childhoods, we're taught that maintaining good oral hygiene is a super important thing that's a must-do for anyone. We're taught to floss, use mouthwash, and go to the dentist every now and then for a check-up. Most importantly, though, we're taught how to brush our teeth. It gets rid of all the plaque and other stuff that build up on our teeth and helps prevent any microbes from growing and causing disease.
Brushing your teeth with a traditional static toothbrush is fine and gets the job done, but if you're really serious about keeping those pearly whites pristine, it might be a good idea to invest in a durable electric toothbrush. Oral B and Philips produce some of the best electric toothbrushes around. In this comparison, we'll be looking at two of their most popular models, the Oral B Genius 8000 and the Philips Sonicare DiamondClean.
Sonicare vs Oral B Comparison Chart
| | | |
| --- | --- | --- |
| Model | Sonicare DiamondClean | Oral B Genius 8000 |
| | | |
| Price | | |
| Power Source | Li-ion battery | Li-ion battery |
| Battery Life | 14 days | 10 days |
| Voltage | 110-220V | 110V |
| Cleaning Modes | 4 modes, 3 intensities | 6 modes |
| Brushes Included | 3 brushes | 3 brushes |
| Brushing Speed | 31000 vibrations/minute | 40000 pulsations, 8800 oscillations |
| Indicator Bristles | No | Yes |
Design
The DiamondClean is slightly more ergonomic than the Genius 8000.
The first point of comparison for these two is how they're designed. Philips has put more care into how their toothbrush fits in your hand, and it shows in how relatively slimmer it is than its competitor. Compare this to the more cylindrically-shaped Genius 8000. While this may not be an issue for some users, those with smaller hands might find that it's harder to grip (especially when it's active). To their credit, Oral B does give its customers more choices when it comes to aesthetic design. Philips, on the other hand, offers brushes with a more low-key, professional design colored white, black, grey, or pink: no doubt a way to emulate the clinical cleanness of a dentist's workplace. Despite these differences, the two brands stick to a conventional frontal button configuration. They're also equally as travel-friendly, since they don't really take up a lot of space by themselves.
The Oral B brush tends to be louder in action than the Sonicare offering. This is due to the kind of technology it uses (which we'll be looking into later). While your brush of choice will only really see use inside a bathroom, the noise level may be a deal breaker for you, so it's something worth paying attention to. Users also note that the DiamondClean and other Sonicare brushes tend to be more durable than the Genius 8000. It won't break easily if you accidentally drop it, and it's also more water resistant. That's not to say that the Genius 8000 is fragile enough to break at a single touch; it's just not as durable as Sonicare's model.
Features and Accessories
Oral B spoils its customers with a multitude of modes.
Oral B shines in this aspect, since they have a lot of different modes and other features that impact how clean your teeth become. The 6 modes they have are suited to different needs (which even include settings for cleaning your tongue and gums). The Genius 8000 also has Position Detection to help you know where you've already brushed, a pressure sensor that tells you if you're brushing too lightly, and indicator bristles that tell you when it's time to replace your toothbrush head. The pressure sensor is a feature that the DiamondClean shares with the Genius 8000, though it has less modes at 4 but adjustable intensity with 3 different levels. Both are also Bluetooth-enabled.
Sonicare has a lot of accessories that are either included or available for purchase. One important thing they have is its charging station, ingeniously designed to look like a normal glass. Another accessory that might pique your interest is Sonicare's UV cleaner, which can make sure that all the bacteria that may be living on your toothbrush are eradicated. In comparison, Oral B's accessories are a little more conventional. They offer additional brush heads and travel packs that help make your brush a little more travel-friendly.
Technology and Battery Life
The two brushes use different ways to clean your teeth.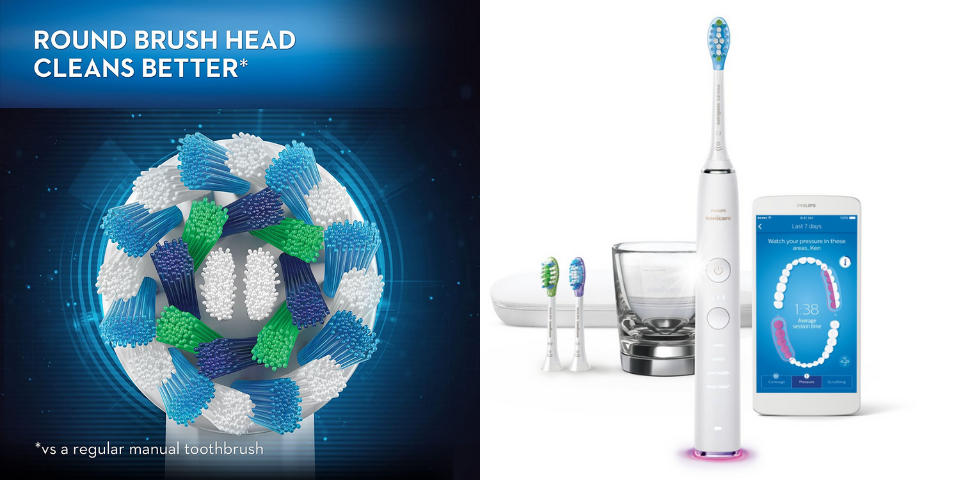 The Genius 8000 and the DiamondClean may sound like they're just two of the same with different brands, but that couldn't be farther from the truth. Oral B and Philips chose different methods of cleaning your teeth. The Sonicare is named so because it uses sonic vibrations to remove the tartar and plaque build-up on your teeth. This method reaches really deep, making sure that you're left with clean teeth and mouth after. Oral B, on the other hand, uses a combination of oscillations and pulsations. This method is just as effective in dislodging undesirable particles in your mouth. At the end of the day, it's just nice to know how they work, even though they're both just as effective.
Where they do differ, though, is in battery life. The Sonicare DiamondClean has been noted to last as long as 14 days of regular use. On the other hand, the Genius 8000 averages a 10 day battery life. Some users have even noted that it only lasted a single week for them. This might be because of the more mechanical method Oral B brushes use, which require more power.
Why Electric?
Regardless of your choice, these still clean better than a manual brush.
After reading this comparison, you may still be thinking: why use an electric toothbrush at all? It's a fair question to ask, especially since we're used to the manual toothbrushes that have been around since forever. However, electric toothbrushes do have some advantages over manual ones. First off, they're just more fun to use than the alternative. They look more appealing, and are usually packed with features that you'll never find on an ordinary toothbrush (like Bluetooth connectivity). They also create less waste, since you won't be needing to replace them as frequently as disposable, manual toothbrushes. Using an electric model to clean your teeth also requires less toothpaste, since the heads that these brushes use are usually smaller.
Most importantly, though, they clean your teeth more effectively. Regardless of the method your electric toothbrush uses, the sheer power it has in comparison to a manual toothbrush is just more effective at dislodging plaque, tartar, and anything else you don't want in your mouth. Its additional movements make sure that even the places that are hardest to reach are cleaned properly.
Verdict
Oral B's toothbrush is more adaptable and affordable, but Soniclean's option can last you longer in both the short and long term.
The Oral B Genius 8000 is a great choice for anyone who wants to have a powerful toothbrush that's customizable. Despite its drawbacks, it still does its job of cleaning your teeth perfectly. With the many options you have for cleaning modes, you can also ensure that your whole mouth, not just your teeth, gets and stays clean. Additional features like the pressure sensor and indicator bristles also remind you to keep both your teeth and toothbrush in tip-top shape.
Philips' Sonicare DiamondClean, on the other hand, is for those who want their toothbrush to last them the longest it can. It has a longer battery life, and it's also more durable if ever any accidents like drops on hard surfaces or water happen. The additional accessories like a UV cleaner available for purchase is also a nice bonus for anyone who's super serious about keeping their teeth and oral hygiene tools clean.
Last update on 2022-06-30 / Affiliate links / Images from Amazon Product Advertising API