If you're looking for a baby monitor, chances are you've come across Owlet. The company offers a number of innovative monitoring products that include wearables and video streaming devices. Owlet's range of baby monitors, however, are a bit on the premium end. For those on a budget, brands like Sense-U provide fairly similar monitoring technology but at more accessible price points.
Like Owlet, Sense-U also offers a complete monitoring set. But does it fair as well as Owlet's? Here, we compare the best-selling monitoring systems from Sense-U and Owlet to help you see which one you should get.
Sense-U vs Owlet Comparison Chart
| | | |
| --- | --- | --- |
| Model | Sense-U | Owlet |
| Complete Monitoring System | Amazon product | Amazon product |
| Price | Amazon product | Amazon product |
| Includes | Sense-U Baby Breathing Monitor 2 and base station, Sense-U Video camera | Owlet Smart Sock 3 and base station, Owlet Cam, wall mounting kit |
| Sleep Monitoring | Yes | Yes |
| Breathing | Yes | No |
| Oxygen Saturation Level | No | Yes |
| Heart Rate Monitoring | No | Yes |
| Body Temperature | Yes | No |
| Room Temperature Sensor | Yes | Yes |
| Camera Resolution | 1080p | 1080p |
| Night Vision | Yes | Yes |
| Two Way Talk | Yes | Yes |
| Compatibility | Android, iOS | Android, iOS |
| Warranty | 1 year | 1 year |
Baby Monitoring System
Both Sense-U and Owlet sell bundled baby monitoring systems.
While both Sense-U and Owlet sell individual products, their baby monitoring technology works best as a system. Sense-U currently offers the Video+Breathing Monitor 2 bundle that includes an HD camera, baby monitoring device, and base station. The set itself seems to follow Owlet's own complete monitoring system, the Monitor Duo.
Now, Owlet's Monitor Duo includes a similar 1080p HD camera, called the Owlet Cam. Its core product, however, is the Owlet Smart Sock 3, an ankle wearable that contains a pulse oximeter sensor, and which sends notifications to an accompanying base station. Sense-U's main monitoring tool, on the other hand, is a button-style device that's clipped onto a baby's diaper or sleepwear.
Although both companies include a base station where their respective monitoring devices communicate, only Owlet's doubles as a charging station. In fact, Owlet's third-generation smart socks support wireless charging via the base station. Meanwhile, Sense-U's Baby Monitor 2 runs on replaceable CR2 batteries.
The Sense-U Video and the Owlet Cam both stream video and audio in real-time, and also allow for two-way talk. They can also double as a nanny cam or security cam, with both devices featuring night vision capabilities.
Design and Installation
Owlet's products look more premium and are easier to set up and install compared to Sense-U.
The individual components of the Owlet Monitor Duo bundle look and feel premium. The Smart Sock 3, for instance, sports a low-profile and ergonomic design that improves on the earlier successes of its predecessor. Meanwhile, the garment's mint green finish lends it a baby-appropriate look that belies the technology hidden in its sensor. Even the Owlet base station and camera look well-worth the money.
Sense-U's monitoring device also sports a nice, minimalist form. When compared to the Owlet Smart Sock, however, parents will most likely find that the ankle wearable more firmly stays in place. The Owlet sock features an overlapping velcro strap unlike the clip mechanism on the Sense-U Baby Monitor 2. Still, both devices are portable and easy to store.
The Owlet Cam is also easier to install compared to the Sense-U Video. Owlet's HD camera comes with a wall mounting kit that includes cable guards to keep the wires firmly in place and away from a baby's curious hands. Plus, the Owlet Cam relies on a magnetic base for mounting compared to the adhesive used by Sense-U's camera.
Monitoring Features
Sense-U's baby monitor is a button-style device that's clipped on babies while Owlet's Smart Sock is an innovative wearable that boasts of a pulse oximeter.
Both Sense-U and Owlet rely on electronic devices to monitor your baby's vitals. This is quite different from the contactless technology used by another popular brand, Nanit. If you're particularly worried about having sensors near your baby, you might be interested in Nanit's system instead.
With Sense-U, the Baby Monitor 2's sensors monitor breathing, sleep position, and room and body temperature. Meanwhile, Owlet's smart sock primarily tracks heart rate and oxygen levels. Given their designs, Sense-U's monitor is better at tracking a baby's movement. Owlet's pulse oximeter sensor usually doesn't read through movement as effectively as when the baby is still.
Like most products in the baby monitor industry, Sense-U and Owlet come with mobile app integration for remote monitoring. Their respective apps are user-friendly, displaying information in an organized manner. With Sense-U, users can look at a baby's current sleep position, set up rollover alarms, monitor breathing rate, and check body temperature. Meanwhile, Owlet includes comprehensive sleep insights like sleep quality and duration to go along with your baby's vitals.
If you're not too fond of going through the app, the Sense-U and Owlet's monitoring devices work with their respective base stations. Although they come in different designs, they essentially operate similarly, using color-coded lights for specific statuses and notifications.
Safety
Sense-U and Owlet products are not medical devices. Nonetheless, both brands claim their baby monitors are safe to operate.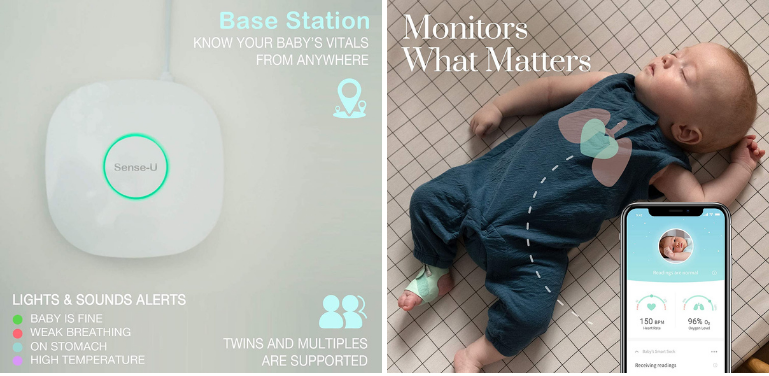 Safety is always a key concern when it comes to baby monitors. But it has to be said that both Sense-U and Owlet are not considered medical devices. As such, they cannot be used to treat, diagnose, cure, or prevent any health condition or disease including Sudden Infant Death Syndrome (SIDS).
What these devices do offer is some guarantee that they're safe to use. For instance, the Sense-U claims negligible radiation levels by using low levels of Bluetooth. The company's monitor also boasts of AES 256-bit encryption to secure the data and media being transmitted.
Likewise, Owlet's Monitor Duo guarantees secure and encrypted HD video streaming although at a lower AES 128-bit standard. The sensor on the Owlet Smart Sock 3 is also smaller compared to previous generations to minimize the pressure that could cause marks on a baby's skin.
Verdict
Parents who only need to track sleeping and breathing will like the affordability of the Sense-U. If you need to monitor oxygen levels and heart rate, you're better off investing in the Owlet.
Amazon product
Resisting the urge to check on one's baby every minute or so can be difficult. But it can also add to the anxiety and stress, especially if you're a working parent. This is one of the reasons why baby monitors have become popular in recent years.
Now, choosing between the Sense-U Video+Breathing Monitor 2 and the Owlet Monitor Duo really depends on what you and your baby needs. If you simply need a sleep and movement monitor, then the Sense-U Baby Monitor 2 is a pretty solid device already. Add the Sense-U Video and you get real-time streaming so you can remotely monitor your baby using a mobile device. Moreover, the bundle is more affordable than Owlet's offering.
But if you need to monitor specific vitals like heart rate, oxygen levels, and sleep trends, then the Owlet Smart Sock is your best bet. Together with the Owlet Cam, the sock becomes a powerful assistant to parents who want some peace of mind. It is more expensive than Sense-U but you do get what is arguably one of the best-designed wearables for babies, along with cool features like wireless charging.
FAQs
📌 What is the main difference between the Sense-U and Owlet baby monitors?
The Sense-U Baby Monitor 2 is a button-style device that is clipped onto a baby's diaper or sleepwear, and which monitors breathing, sleeping positions, and temperature. Meanwhile, the Owlet's main product is the Smart Sock, an ankle wearable that comes with a pulse oximeter sensor. Owlet's Smart Sock 3 monitors oxygen levels, heart rate, and sleep trends.
📌 How long does the battery of the Sense-U last?
The Baby Monitor 2's CR2 batteries typically last for 1 to 2 months before they need to be replaced.
📌 How long does the Owlet Smart Sock battery last?
Owlet's Smart Sock 3 can run for about 16 hours after a 90-minute charge.
📌 What kind of wireless network supports Owlet and Sense-U's baby monitoring systems?
Owlet and Sense-U both connect to a 2.4 GHz wireless network.