The competition between RTIC and YETI has been interestingly heated. In fact, the rivalry has been serious enough to reach a lawsuit, one settled a few years back. But that hasn't stopped either company from putting out product lines that look quite similar to each other. They even come with comparable design features.
RTIC, however, is a direct-to-consumer brand that can afford to sell its RTIC coolers at a lower price. YETI coolers are more expensive and seen as a status symbol. But is the premium pricing justified? Or is the RTIC a compelling alternative? To help you decide, we've listed and compared the best RTIC and YETI coolers below.
RTIC vs YETI Coolers Comparison Chart
Brand
RTIC Coolers
YETI Coolers
Best-Seller
RTIC 45 Hard Cooler
YETI Tundra 45 Hard Cooler
Image




Price
Check Price
Check Price
Types of Coolers Offered
Hard coolers
Soft coolers
Hard coolers
Soft coolers
Hard Cooler Size Options
Limited
Extensive
Hard Cooler Construction
Rotomolding
Rotomolding
Soft Cooler Size Options
Extensive
Extensive
Soft Cooler Design and Format
Varied
Limited
Waterproof Soft Coolers
Not all models are waterproof
Whole collection is waterproof
Established
2015
2006
Headquarters
Houston, Texas
Austin, Texas
Warranty
One-year warranty for both hard-side and soft side coolers
5-year warranty for hard-side coolers; 3-year warranty for soft-side coolers
RTIC and YETI Overview
RTIC and YETI have comparable lineups of hard and soft coolers.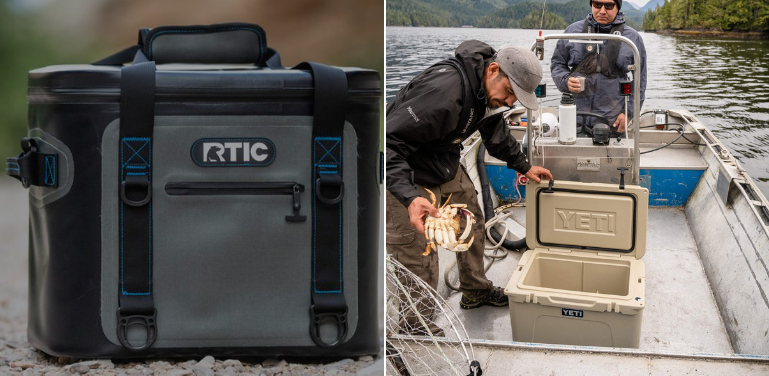 It's interesting to note that both RTIC and YETI were founded by a pair of brothers out of Texas. YETI, however, was established earlier in 2006 and has since then grown to be a household name in outdoor gear. RTIC came into the scene much later, in 2015, but has similarly marketed itself as YETI. Both have expanded their catalog to include bags, insulated drinkware, and accessories.
Nonetheless, RTIC and YETI's overbuilt coolers remain undoubtedly the heart of the two brands. These hard-sided coolers follow the same rotomolded construction — a plastic molding technology used to create hollow articles. When it comes to ice retention, both brands claim their coolers can keep ice frozen for up to 10 days. However, YETI offers a wider range of sizes and designs across five categories. RTIC's more limited catalog has fewer options in terms of capacity.
If you want something more portable, RTIC and YETI do offer soft coolers as well. They're not as durable or spacious as the hard-sided coolers, but they tend to be more varied in design and format. You can get them as tote bags, lunch bags, or even as backpacks. Here, RTIC offers a bit more variety, although they don't all share the same construction. YETI offers limited soft-cooler options but the entire collection is at least made from high-density and waterproof fabric.
Best-Selling RTIC vs YETI Hard Coolers
The RTIC 45 and YETI Tundra 45 are the best-selling hard coolers from the brands.
RTIC's hard coolers are available in five sizes between 20- to 145-quart capacities. Among the limited choices, however, the RTIC 45 is arguably the most popular. As its name implies, the 45-Qt ice chest is a midsize cooler that should fit most families. It's large enough to hold 11 gallons of water but is reasonably sized enough to be carried by one person. RTIC shares that the 45-Qt cooler also has a no-sweat exterior, so it can double as a stool, bench, or even tabletop.
When it comes to size options, YETI has the advantage. Here, you have 16 models of hard coolers available in a modest 24 to a whopping 350 pounds of capacity. But just like RTIC, it's the midsize YETI Tundra 45 that's a best-seller. This iconic ice chest boasts a thick, three-inch wall of insulation for unmatched temperature retention. Outdoor enthusiasts will like the molded tie-down slots of the cooler as well — perfect for anchoring the ice chest to your boat or trailer.
Both the RTIC 45 and YETI Tundra 45 comes with a non-slip base and easy-grip handles. The RTIC 45, however, can carry up to 36 cans of beer as opposed to the Tundra 45's 28 cans. Both coolers are available in different colors, although the YETI Tundra 45 typically includes a dry goods basket.
Best RTIC vs YETI Small Hard Coolers
RTIC's 20 hard cooler and YETI's Roadie 24 are practical and portable coolers for daily use.
For day trips or everyday use, most people will like a smaller cooler. Here, the RTIC 20 and the YETI Roadie 24 are both compelling purchases. RTIC's smallest hard side cooler is a practical option at home, work, or outdoors. The 20-Qt cooler can hold up to 24 cans of beer or about 25 pounds of ice. It also uses commercial-grade foam for extra insulation.
Just as its names suggest, the YETI Roadie 24 is perfect for road trips. It's a hard cooler that builds on the success of the Roadie 20. Unlike its predecessor, however, the Roadie 24 is 10% percent lighter while having 20% more capacity. That translates to about 18 cans of beer for storage. Compared to the RTIC 20, the YETI Roadie 24 is taller. Its 13-inch internal height makes it ideal for storing wine bottles as well.
The RTIC 20, however, comes with the same features as its larger siblings. You get molded-in side handles, a convenient draining system, and a non-slip base, among others. YETI's Roadie 24, on the other hand, misses out on some of the features from the Tundra series.
Best-Selling RTIC vs YETI Soft Cooler
The RTIC Soft Pack Cooler and YETI Hopper M30 are the best soft coolers from the brands.
Those who want a large-capacity cooler without the bulk of a hard side can look into RTIC and YETI's soft coolers. The RTIC Soft Pack Cooler, for instance, is available in 8, 20, 30, and 40-pound capacities. Among these options, the RTIC Soft Pack Cooler 30 is arguably the customer's favorite. It can hold up to 30 cans of beer or 30 pounds of ice, thanks to its heavy-duty nylon exterior. The Soft Pack 30 also comes in a design that resembles insulated lunch bags.
It's hard to compete with the YETI Hopper M30 Soft Cooler, however. Like its mouthful of a name, the Hopper M30 has been redesigned into a tote-style bag with a convenient wide mouth. This makes loading and unloading 20 cans of beer or 28 pounds of ice a breeze. YETI's best-selling hopper uses magnetic closures and quick-release buckles to secure its contents, too.
Both the RTIC Soft Pack 30 and the YETI Hopper M30 boast puncture and UV-resistant fabric. They also sport leak-proof interiors and waterproof exteriors, along with anti-microbial components to resist mildew.
Best RTIC vs YETI Small Soft Coolers
Users who only need day-trip coolers can look into the RTIC Day Cooler and the YETI Hopper Flip.
If the soft coolers above are too big for your preference, you can look into the smaller models offered by RTIC and YETI. The RTIC Day Cooler 8, for instance, is one of the best options for your one-day excursions. Designed to keep cold for 24 hours, the Day Cooler has enough room for water bottles, snacks, and even extra gear. It comes with 2-inches of closed-cell foam insulation and antimicrobial properties, too. However, the cooler isn't waterproof, which is a bummer.
The YETI Hopper Flip 8, on the other hand, comes with a waterproof and leakproof zipper. The high-density fabric used is also puncture and UV-resistant. Like its larger Hopper siblings, the YETI Hopper Flip comes with a wide-mouth opening for easy loading and unloading. It also features a closed-cell rubber foam for insulation and can hold up to 8 cans of beer or 10 pounds of ice.
Verdict
The RTIC 45 hard-side cooler is a value-for-money purchase, while the YETI Hopper M30 is the best soft-cooler to add to your outdoor gear.
With almost similar features and designs, it's hard to choose between RTIC and YETI coolers. In fact, it really boils down to your preference. Outdoor enthusiasts who want only premium gear can spend big bucks on YETI's lineup of coolers. The brand's ice chests, in particular, are available in more capacities. So if there's a specific need for an extra-large cooler, you'll find more options with YETI. As good as their hard coolers are, we find many will benefit from the tote-style design of the YETI Hopper M30 Soft Cooler instead. It simply looks good and feels like a truly premium investment.
Some users, however, might say you're only paying YETI for the brand name. While there might be some truth to this, it's hard to question the quality of coolers from the company that popularized them. If you don't have deep pockets, however, you can always go for the budget alternative, which is quite frankly what RTIC is. The company has fewer models for hard cooler capacities, but its mid-size option, the RTIC 45, is gear we think should be a staple in many homes. It's not as capacious as the larger YETI Tundra's but compared to its rival — the YETI Tundra 45 — RTIC's cooler can hold much more for a lower price.
FAQs
📌 Are RTIC's coolers as good as YETI's?
Users share that RTIC coolers are comparable in quality to YETI. RTIC's hard-side coolers, in particular, follow the same construction as YETI's and feature almost similar features, too.
📌 What does RTIC cooler stand for?
RTIC is pronounced "arctic", the same word the brand name plays on.
📌 What is the capacity of YETI's extra large Tundra 350?
The YETI Tundra 350 cooler can hold up to 259 cans of beer or 316 pounds of ice. It's so big that its empty weight is about 89 pounds already.
📌 Is the YETI Hopper M30 available in different sizes?
No, the YETI Hopper M30 only comes in one size capacity.
Last update on 2022-05-27 / Affiliate links / Images from Amazon Product Advertising API