The Roomba e5 is one of iRobot's budget to mid-range robot vacuums. It brings new pet-friendly features to the dependable performance of entry-level Roombas. However, there are currently two versions of the Roomba e5, the Roomba e5 (5134) and the Roomba e5 (5150). So what's the difference between the two?
Roomba e5 5134 vs 5150 Comparison Chart
| | | |
| --- | --- | --- |
| Model | Roomba e5 5134 | Roomba e5 5150 |
| |   | |
| Price | Check Price  | Check Price |
| Rating |   | |
| Dimensions | 13.4″ x 13.4″ x 3.65″ | 13.4″ x 13.4″ x 3.65″ |
| Weight | 7.23 lbs | 7.23 lbs |
| Smart Navigation | Yes | Yes |
| High Efficiency Filter | Yes | Yes |
| Suction Power | 5x Suction | 5x Suction |
| Runtime | 90 minutes | 90 minutes |
| Bin Capacity | 500 ml | 500 ml |
| Washable Bin | Yes | Yes |
| Voice Control | Yes | Yes |
Design
The Roomba e5 (5134) has a silver finish while the Roomba e5 (5150) has a charcoal color.
And that's all there is to it, really. The only difference between the Roomba e5 5134 and 5150 are its finish, as the former has a silver color while the latter has a black gloss. Everything else is the same, from the control buttons and front bumpers to the undercarriage design and size specifications.
iRobot marketed two distinct colors for the Roomba e5 when it was first released, but it now focuses on the 5150 version as the main Roomba e5 version. Also, the 5150 previously included a Virtual Wall Barrier in its package, which made it cost just a bit more. Today, though, both are offered without this accessory and are priced at similar price points.
Both Roombas use the same navigation system and dirt detection technology.
The same iAdapt 1.0 navigation system guides these Roomba e5 models as they move around the house. It's pretty basic compared to the visual navigation upgrades that more advanced models have. The Roomba e5 will move more or less randomly and attempt to cover as much ground as possible, sucking up dirt and debris as it goes. With dirt detect sensors, it will know whether the area it's cleaning needs more attention, in which case it makes multiple passes until it's satisfied.
One of the best things about the Roomba e5 and other robot vacuums from iRobot is its auto-recharge feature. Once its battery gets low enough, it will travel back to its charging dock automatically to recharge for the next cleaning cycle. Sometimes the Roomba e5 will be too far away to find its base though and not make it in time before its battery runs out. Also, it can get stuck once in a while, either in a tight spot or when its wheels can't move.
Still, you'll find that its navigation features are good enough to be reliable for daily use. It will avoid obstacles and cliffs to prevent damage to itself and to your belongings. With a Virtual Wall Barrier you can further limit the areas it can access. There's no doubt that it works best for open layouts with cables neatly tucked away, but it can do a good job even on interiors with numerous chairs and tables, etc.
Cleaning Power
The Roomba e5 5134 and 5150 have the same cleaning performance.
The Roomba e5 robot vacuums have a nice jump in cleaning power compared to the entry-level 600 series. They have 5 times the air power of the Roomba 600 line, and also use the new Dual Multi Surface Rubber Brushrolls. These have flexible rubber brushes instead of bristles so it tangles on hair less often. With an auto adjust cleaning head the brushrolls will hug any floor type as the Roomba passes over it.
An Edge Sweeping Brush allows the Roomba e5 to reach into corners and walls despite its round design. You can expect similar performance from both the 5134 and 5150 on either hardwood or carpet floors. Overall, they're going to scoop up any dirt and debris they'll find. The boost in motor power makes them particularly better than other entry-level Roombas if you have lots of carpeting at home.
With the same battery runtime of 90 minutes, the e5 robot vacuums have enough charge to clean entire floors of moderately-sized homes. They'll need to charge up for 2 to 3 hours afterwards before they can be ready for another cycle.
Homes with Pets
Both Roomba e5 models have high-efficiency filters for pet allergens.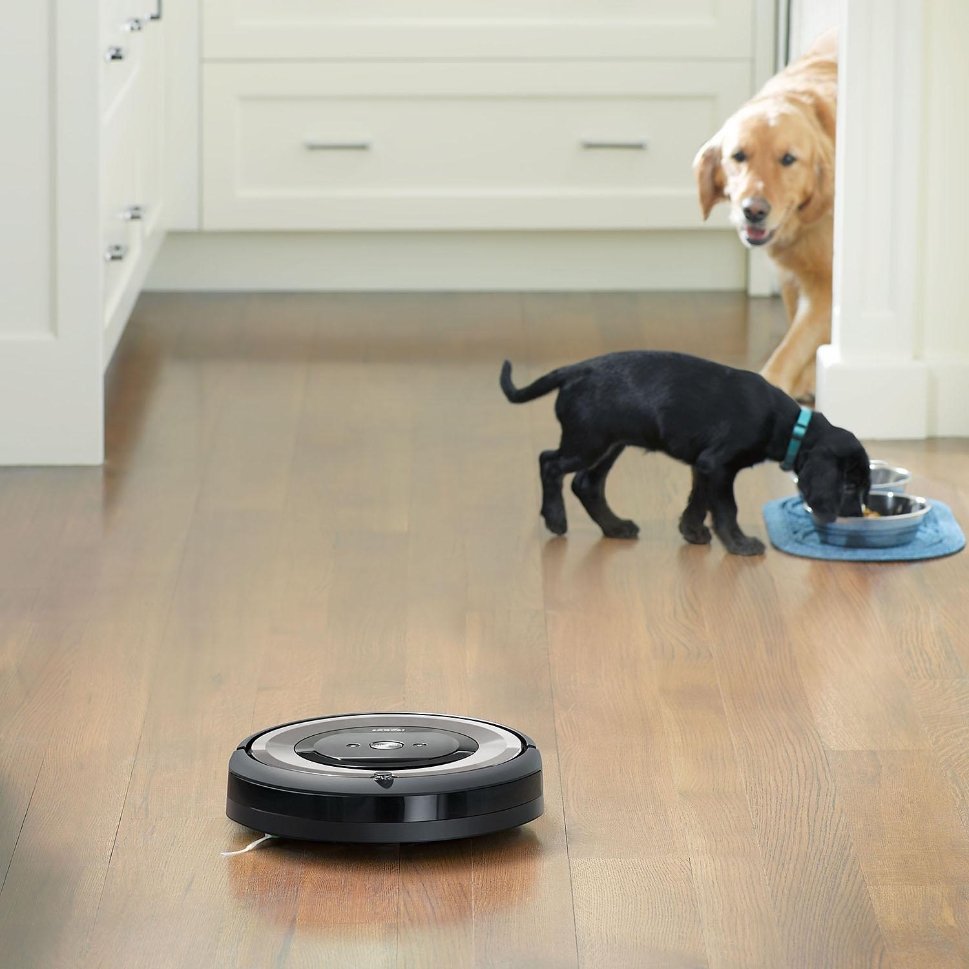 The High Efficiency Filters on the Roomba e5 is another step up from the Roomba 600 series. These can trap up to 99% of dog and cat allergens, which is especially nice if you have several pets at home. In addition, it also captures other microorganisms such as dust mites, pollen, etc.
Maintenance on the Roomba e5 is also much easier. You'll find less hair on the new rubber brushrolls and the dust bin is larger at 500 ml and is completely washable. You can simply pop it out, empty it and run it under the sink to keep it clean for the next cycle.
Smart Features
You can control both Roomba e5 robot vacuums via voice assistant or mobile app.
Like other current Roomba models, the Roomba e5 units have Wi-Fi connectivity. Once set up you can fully control the robot vacuum with the iRobot HOME app and then allow voice assistants access to it. This way you can tell Alexa or Google Assistant to get the e5 to start or stop cleaning. You can also set up cleaning schedules once a day so the Roomba will clean even when you're not at home.
Verdict
The Roomba e5 5134 and 5150 robot vacuums are practically the same.
As the only difference between the Roomba e5 5134 and Roomba e5 5150 is their colors, the best one to pick is the one that currently has the biggest discount attached to it. Online retailers such as Amazon and Walmart typically drop prices on these so you can confidently get the model that's going to save you more.
Last update on 2021-07-19 / Affiliate links / Images from Amazon Product Advertising API