Although there is increasing competition in the robot vacuum market, Roomba continues to reign supreme. The Roomba 614 and 690 are the two great models that we'll be comparing in this article. Both are reasonably priced and feature-rich but we're here to see which one can really get the job done and is worth your money.
Roomba 614 VS 690 Comparison Chart
| | | |
| --- | --- | --- |
| Model | Roomba 614 | Roomba 690 |
| | | |
| Price | | |
| Rating | | |
| 3-Stage Cleaning | Yes | Yes |
| Virtual Wall Barrier | No | Yes |
| Wi-Fi Connectivity | No | Yes |
| Scheduling | No | Yes |
| Height | 3 inches | 3 inches |
| Weight | 7.5 lbs | 7.8 lbs |
| Suction Power | 600 Pa | 600 Pa |
| Battery Capacity | 1,800 mAh | 1,800 mAh |
| Runtime | 60 minutes | 60 minutes |
| Charging Time | 2 to 3 hours | 2 to 3 hours |
Looking to compare more tablet models?
Check out our interactive tablet comparison chart.
Cleaning Process
The Roomba 690 and 614 use three-stage cleaning technology for loosening, lifting, and sucking up dirt.
The cleaning process begins with two rolling brushes that loosen up dust and dirt. These same extractors lift up the debris when the vacuum drives over it. Finally, the suction path sucks up the mess and stores it in the dust container. The 614 and 690 both have a suction power of 600 Pa.
Virtual Wall Barrier
The Roomba 690 comes with a virtual wall barrier for blocking off areas you don't want the vacuum to enter.
The Roomba 614 is bundled with a cleaning tool, an extra filter, and a charging base but it doesn't have a virtual wall barrier. This accessory emits an infrared beam to create an invisible wall that restricts the robot from crossing. If there are certain rooms or areas that you don't want the Roomba to go, this feature can be quite useful.
Controls
The Roomba 690 features wireless connectivity so you can use your mobile phone to operate the robot.
Unlike the Roomba 614, the 690 can be connected to a wireless network which provides you app control. The iRobot Home app has a user-friendly interface that enables you to turn on the robot, view the history of cleaning cycles, pause/resume a cycle in progress, and schedule a cleaning run. You'll have to empty the dust container manually, however.
Scheduling
With the iRobot Home app, you can schedule cleaning runs with the Roomba 690.
As touched on in the previous point, the Roomba 690 can also be operated through the iRobot Home app apart from the controls on top of the vacuum itself. One of the key features of the app is that it allows you to schedule a cleaning run for certain times of the day up to 7 times a week. Unfortunately, the Roomba 614 does not have this ability even though many of the other models in the 600 series do.
Design
The Roomba 614 and 690 have an identical design although with different colors.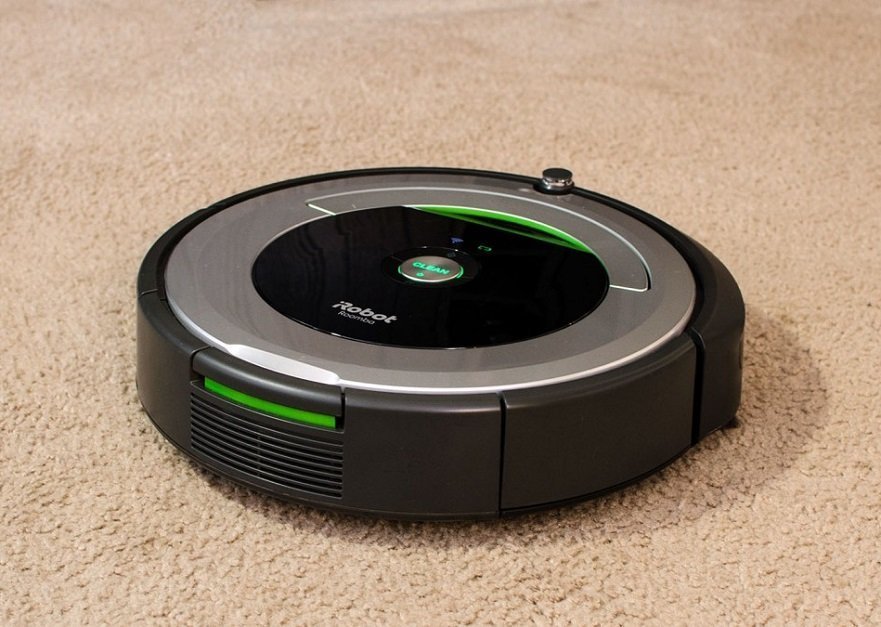 The Roomba 690 and 614 have a circular design and are capable of 360-degree rotation. Their height is at 3 inches, allowing them to maneuver under furniture and other hard-to-reach places with ease. The 690 is slightly heavier than the 614 but this has no effect on the cleaning performance whatsoever. The Roomba 690 comes in the traditional black and gray combination while the 614 has a touch of bronze.
Battery
The Roomba 690 and 614 carry the same 1,800 mAh Lithium-ion batteries.
Carrying 1,800 mAh batteries, these two models have a runtime of 60 minutes. They have a charging time of about 2 to 3 hours which is sadly longer that its cleaning time. Fortunately, it is possible to buy an alternative 3,500 mAh that fits both robots. This doubles the runtime to 120 minutes.
Verdict
Offering a virtual wall and premium app features, the Roomba 690 is great value for money.
Want to save money but want a robot that has similar capabilities to the 690? The Roomba 614 is still a worthwhile option. It may not have scheduled cleanings or a barrier but it can get the job done and you don't have to dig deep into your pockets to buy one.
Last update on 2020-01-28 / Affiliate links / Images from Amazon Product Advertising API