Video gaming today is a serious undertaking that is a billion-dollar business. Equally serious are the gamers themselves, who are quite a picky bunch when it comes to their gaming gear. This is why we are going to take a closer look at Sony's PS5 Pulse 3D Headset and the Turtle Beach Stealth 700 Gen 2.
These pro-grade gaming headsets are quite popular amongst casual and professional gamers alike. To find out why, we are going to put these two premium gaming and wireless headsets on a head-to-head comparison. We dive deep and go over the features that will help you decide which of these headsets can give you that gaming edge!
The PS5 Pulse 3D Headset and Turtle Beach Stealth 700 Comparison Chart
| | | |
| --- | --- | --- |
| Model | PS5 Pulse 3D | Turtle Beach Stealth 700 |
| | | |
| Price | | |
| Enclosure | Closed-back | Closed-back |
| App support iOS/Android | No | Yes |
| Mic control | No | Yes |
| Weight | 295 grams | 381 grams |
| Bluetooth | No | Yes V 5.0 |
| Wired option | Yes | None |
| Battery | 12 hours | 20 hours |
| Drivers | 40mm | 50mm |
| Earcups | Memory Foam | Cooling Gel-Infused Foam |
| PS4/PS5 Compatibility | Yes | No |
| Xbox one Compatibility | No | Yes, Non-BT Wireless |
| Noise Cancellation | None | None |
| Talk-through function | Yes | None |
Design and Build
Both headsets were designed for long gaming hours.
While both headsets are designed for gaming, they are quite the contrast in the way they look. While the Sony reflects the design language of the graceful curves of the PS5, the Turtle Beach is more angular, the kind of gear you see on the battlefield. The Stealth 700 has a bigger ear cup diameter on account of having a larger 50mm driver, while the Pulse 3D sports 40mm drivers. However, by any standard, both are large headsets and are not designed for mobile use.
The foam surrounding the drivers in each headset is both comfortable and the clamping force is just right even for those with larger heads (for both headsets). However, the Stealth 700 raises the bar up several notches with cooling gel-infused memory foam on its ear cups. This foam tech is relatively new to headsets, and while the Sony cans are comfortable, the Turtle beach comes out as a clear winner in this area. Not to be beaten easily, the Pulse 3D makes up for this with its overall weight of 295 grams compared to the Stealth's hefty 381 grams.
Ease-of-Use and Performance
Both are designed for the latest generation consoles.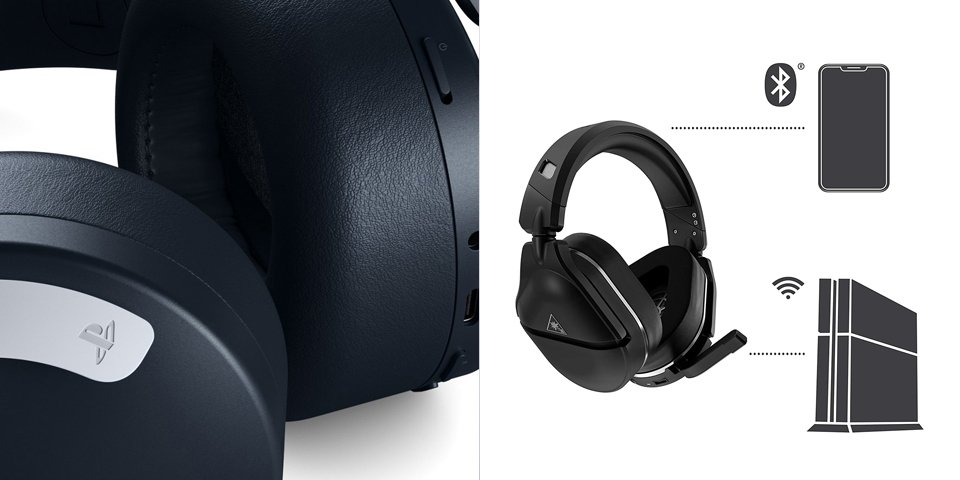 These two headsets are next-generation iterations of previous models and they drew on those experiences to make better cans across all parameters. This means better audio, connectivity, and most importantly – spatial awareness. Because they are primarily designed for the PlayStation 5, they do not have any native virtual surround processor. PS5's proprietary audio spatial standard will be taking over when it comes to digital surround sound. This translates to both headsets having the same performance when it comes to directional sound. In the gaming world, this means you can hear whether your enemy is on your left, right, or above you and thus react accordingly.
Equipped with USB dongles for connectivity, both are a breeze to connect to consoles and PC. The pinhole microphone of the Pulse 3D is outmatched by a collapsible boom mic configuration on the Turtle Beach version. A clear advantage of the Stealth 700 though is its companion app that's available for both iOS and Android, which gives a world of flexibility and control for the device, including button mapping. Sony does not have a companion app for the Pulse 3D which gives it a relative limitation when it comes to customization.
See the PS5 Pulse 3D go up against the popular ASTRO A50 in this article.
Battery and Connectivity
With these headsets, multiple gaming sessions on a single charge is not a problem.
The Stealth 700 packs a powerful battery that allows it to have well over 30 hours of battery life on a single charge. Turtle Beach has to compromise adding almost a hundred grams of weight to the headset because of this. Sony's Pulse 3D is a hundred grams lighter but has a significantly lowered battery life that can only last for 12 hours. It is relative though as one can still enjoy even a full day of gaming on Sony's cans.
Sony's Pulse 3D makes no other claims except for use with the PS5 and therefore has limited connectivity to other devices. For one, the Pulse 3D only has non-Bluetooth wireless and can only connect via a 3.5mm stereo jack to other devices.  The Turtle Beach Stealth 700, on the other hand, has Bluetooth 5.0 as well as a non-Bluetooth wireless dongle to connect wireless to enabled devices. On the flip side, Turtle Beach has completely removed the wired option, so when your battery dies, you will be left hanging.
Verdict
The Sony Pulse 3D and Turtle Beach Stealth 700 prove that gaming console audio has gone a long way forward.
While it would seem that the Turtle Beach Stealth 700 has a lot more features than its Sony counterpart, bear in mind that it does come with a heftier price tag. The Sony Pulse 3D is priced almost $50 less than the Stealth 700. Both come with a delicate balance of price-to-performance and we think that they just pulled it off with the customer as the clear winner.
Both headsets do what they are designed to do perfectly, which is to deliver spatial awareness to gamers. They are no audiophile-grade gear, but the drivers are dynamic enough to deliver good quality audio in terms of music. The fact of the matter is that you, the consumer, wins whichever of these two headsets you choose.
FAQs
📌 Which headset is better for gaming?
In terms of spatial awareness via sound, both headsets deliver fantastic performance. They will not improve your aim, but they will help point your gun in the right direction.
📌 Is the Turtle Beach Stealth 700 worth the extra cash?
If you consider that you will be pretty much getting an all-around performer of a headset that you can use for multiple devices, you will be getting great value for your money.
📌 Can you listen to music with gaming headsets?
Gaming audio has significantly improved since they were a thing, and even the cheapest gaming headset will be good enough for listening to a variety of music preferences.
📌 Which headset is cheaper?
The PS5 Pulse 3D is the cheaper headset between the two. The Turtle Beach Stealth 700 is on the more premium side and comes with a premium price tag.
Last update on 2022-05-23 / Affiliate links / Images from Amazon Product Advertising API