When it comes to console gaming headsets, Sony and TurtleBeach products are among the first to come to mind. Sony's PlayStation gaming console is now several generations old, and with each new one, a new headset comes along with it. New releases of gaming consoles are always followed by third-party headphone makers, and among the best of them is Turtle Beach.
With the release of Sony's PS5, the Sony Pulse 3D Wireless Headset is introduced. In response, Turtle Beach released the next-generation Stealth 600 Gen 2 console gaming headset made specifically for the PS4 and PS5. We are going to do a side-by-side comparison between Sony's companion headset for the PS5 and see if Turtle Beach's version meets expectations.
PS5 Pulse 3D Headset and Turtle Beach Stealth 600 Comparison Chart
| | | |
| --- | --- | --- |
| Model | PS5 Pulse 3D | Turtle Beach Stealth 600 |
| | Amazon product | Amazon product |
| Price | Amazon product | Amazon product |
| Type | Over-the-ear | Over-the-ear |
| Enclosure | Closed-back | Closed-back |
| App support iOS/Android | No | Yes |
| Mic control | No | Yes |
| Bluetooth | No | Yes BT 4.0 |
| Non-BT range | 195ft | 107ft |
| Non-BT Latency | 63 ms | 106ms |
| Battery | 12 hours | 21 hours |
| Drivers | 40mm | 50mm |
| Earcups | PU Leather memory foam | Grooved mesh fabric + Memory foam |
| Analog 3.5mm | Yes | None |
| Power Charge | USB | USB |
| Weight | 0.65 lbs | 0.64 lbs |
| Clamping force | 0.9 lbs | 1.3 lbs |
| Noise Cancellation | None | None |
| Additional Controls | None | Multi-function |
Build Quality
Both are balanced between durability and lightweight design.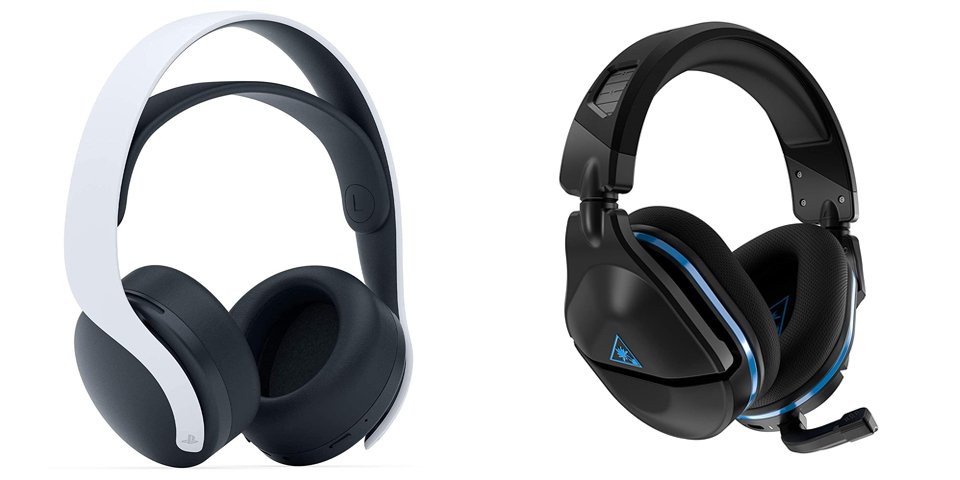 The two headsets are primarily made of plastic, but neither of them feels plasticky or cheaply made at all. There are no uncomfortable creaking sounds while putting them on or taking them off. All the lines and edges are aligned and perfectly machined with no plastic excess trims being present.
In terms of driver size, the TurtleBeach has a massive 50mm driver while Sony opted for the smaller 40mm driver. This does not mean the larger one sounds better than the smaller ones, but they do matter when it comes to encompassing your ear. The larger diameter drivers tend to have larger ear cups and in the case of these two, the Stealth 600 comfortably cocoons the ear, without pinching or squeezing the ear lobes.
Another detail that differs between these two is their microphone form factors. Sony opted to have a pinhole microphone while the TurtleBeach has a mic boom that you can flip up or down. In this regard, being closer to the sound source makes the Stealth 600's microphone score additional points on microphone accuracy.
How does the Turtle Beach Stealth 600 Gen 2 compare to the Stealth 700 Gen 2? Find out in this article.
Aesthetics
These headsets look great in all angles.
Being a companion gear to the PlayStation 5, the Pulse 3D takes its color and design cues from the PS5 itself. The black and white for the Pulse 3D, along with its graceful curves makes this headphone easy on the eyes. In contrast, the Stealth 600 is all angles, albeit softened with curves on the edges. Black with blue edges gives the Stealth a meaner and more aggressive appearance, and the extended mic boom emphasizes its gaming heritage.
Between the two, the Sony is more at home in a subway and for city walkabouts as Turtle Beach's 50mm drivers make them too large to ever be worn outside the living room. The Pulse 3D also has a pinhole microphone, and without a boom, it looks more like regular headphones used for listening to media.
Performance
Putting them through gaming paces.
The Turtle Beach Stealth 600 weighs practically the same as the Pulse 3D, but they do have a huge gap in terms of clamping force. Sony's clamping force clocks in at just 0.9 lbs, while the Stealth has a considerably tighter fit of 1.3 lbs. In terms of ear fatigue, the Pulse 3D wins, as the Turtle Beach starts to be uncomfortable after about a couple of hours of an intense gaming session.
It was not a clear win for Sony though, because wireless headsets need a stronger-than-usual clamping force to stay in your head. Being free from wires, gamers tend to move around more than usual, so keeping that grip on your head is crucial. Having too weak a grip may prove to be a liability when the gaming becomes intense.
Connectivity and Battery Life
These headsets can easily last a full day's gaming session.
In terms of compatibility, Sony gets the upper hand by including a 3.5mm stereo port that makes it compatible with any device that supports it. The Stealth 300 is fully a wireless device with just a USB port for charging purposes. Turtle Beach makes up for this by putting in Bluetooth 4.0 and an app to tweak around settings for their headsets. Both headsets do come with a non-BT wireless dongle for the respective consoles they are built for.
Both headsets easily surpass 10 hours on a single charge, with the Sony rated at 12 hours and the TurtleBeach at 15 hours. Testers however found that both headsets last considerably longer than what they are rated for.  Both have great, but not exceptional battery life.
Verdict
You cannot go wrong with either headset.
Amazon product
Priced at almost identical amounts, the Sony Pulse 3D Wireless Headset and Turtle Beach's Stealth 600 Gen 2 compensates well for whatever advantage the other has. This effectively cancels out any deal-breaker cons for both. What this means is that whatever one you pick, you get tremendous value for your money.
Wireless capability and spatial audio delivery are the features that matter here and these headsets both kill it. Sony's Pulse 3D is optimized for its proprietary Tempest 3D audio technology, while Turtle Beach has its Superhuman Hearing' equivalent up its sleeve. Both focus on delivering ambient sounds from the direction they are coming from, like the rustle of leaves and footsteps on gravel. If you are looking for that gaming edge, but do not want to break the bank, any of these two bang-for-the-buck gaming console headsets will deliver.
FAQs
📌 Is it always better to get a companion gadget than to source from a third party?
That is not always the case, while it is true that an official accessory will be the safer route, they may not always give you the best performance. What you should do instead is be on the lookout for third-party manufacturers that often augment whatever is lacking on the official gear.
📌 Are Turtle Beach headsets overpriced?
This is definitely not true, this brand's headsets are often reasonably priced and deliver way more than is expected at their range.
📌 Can I use gaming headsets for mobile?
Compatibility is something that all gaming headsets strive to deliver. Most gaming headsets can be used on mobile devices, either via Bluetooth or a wired connection.
📌 Is the Pulse 3D headphone worth buying?
The Pulse 3D is definitely well worth it, especially if you are keen on preserving a gaming theme. As the PS5's official accessory, it has the same color combination as the console.  However, keep your options open because this price point is chock full of other gaming console headsets that may offer more in terms of features.