Plantronics, also known as Poly, is one of the most well known headphones manufacturers in the business. They have a wide line of audio products, from headsets specialized for mobile use, office use, to even aviation-grade headsets. One of their product lines, the BackBeat sport headphones, is also gaining a lot of traction lately for their high quality. In this comparison, we'll take a look at the BackBeat FIT 3150 and the BackBeat FIT 3200, and see exactly how they differ in terms of design, sound quality, and more.
Plantronics 3150 vs 3200 Comparison Chart
Design
The earbud design is practically the only difference between the two.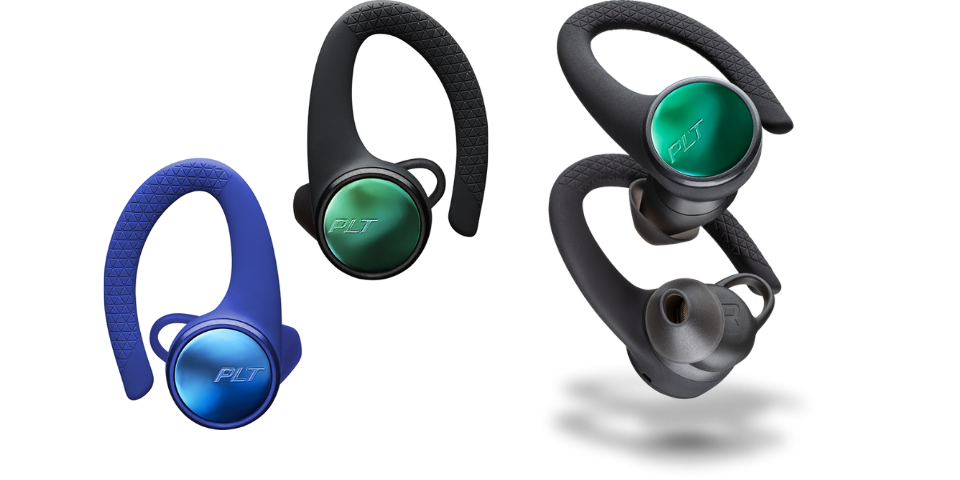 The two options being compared are both designed specifically for athletic use. It's obvious in how similar the design is for the 3150 and 3200: you can see the ear hooks that keep the buds firmly in place. This makes it a great choice for any kind of sport or physical activity, from more stationary ones like lifting weights to ones that involve huge distances like running or biking. You won't have to worry about dropping your headphones (like you would with non-sporting wireless headphones), and tangled wires also won't be a problem (unlike with wired earphone options).
The only difference between the two, in any aspect, is the way their buds and ear tips are designed. The 3150 has an "Always Aware" design: the tip doesn't completely block your ear canal, meaning that ambient noises (like approaching cars, for example) are still audible. This doesn't detract from sound quality at all, as we'll see later, so it's especially useful for runners, bikers, hikers, or practically anyone whose field involves a lot of interaction with the open outside world. In contrast, the 3200 seems to be better suited to more closed environments. Plantronics has focused on giving 3200 users the most comfortable fit, with three bud options for you to choose from for optimal noise cancellation.
Sound Quality
The two sport earbuds provide pretty standard service.
Design is where the differences end for these two: they're practically identical when it comes to sound quality and other aspects. Both options have a frequency range from ultra-low 20Hz to super high 20,000Hz. This is a pretty standard range for mid- to high-end headphones. Lower lows give users a more booming, authoritative bass sound, while higher high frequencies produce clearer, crisper treble sounds. Having a wide range is ideal for these headphones, since either option will probably find use the most in listening to music. With the wide array of genres available for listening, it's important that you're well-equipped to enjoy any of them at any time.
The driver unit, which is the part of the bud that actually produces the sound, is a respectable 13.5mm wide. Once again, this is a common size for in-ear earphone-type audio devices. If ever you're looking for bigger drivers, you might have a hard time picking one within this category; you might be better off looking for on-ear headphones instead of in-ear models.
Features
Both models have mics, which can come in handy when a sudden call comes in.
Features for the two models are also identical. Both are designed to be resistant to dust, sweat, and water (it's IP57 waterproof, so it's good in meter-deep water), which is indispensable for anything related to athletic activity. Regardless of what activity you prefer, it's almost inevitable that you'll be exposed to these substances, so you'll want to make sure that your earphones of choice can work even after some exposure. Tapping the buds can also be programmed to do certain actions, making skipping songs as easy as possible.
Both models also have microphones attached, which can come in handy whenever a call comes in in the middle of exercising. The microphones that both the 3150 and the 3200 have are called microelectromechanical system mics, or MEMS mics. MEMS mics are great for compact sized devices, making sure that they can produce good quality sound without taking up too much space. It also has a built-in digital signal processing (DSP) capability, meaning that it will filter much of the ambient noise around you whenever you aren't speaking. Whether you're running on the road or the track, or working out in a noisy gym, you won't have to worry about being misunderstood over the phone.
Power and Connectivity
Both can last for a respectable length of time.
Both the 3150 and the 3200 have respectable battery life lengths: they can run for up to 8 hours straight when fully charged. You can also get an additional 16 hours of use with your charger. Plantronics also says that a quick 15 minute charge can get you through one and a half hours of use, so that could be useful if you're ever in a pinch when it comes to power.
The two models are both Bluetooth 5 enabled, so they work with any device that can handle the said Bluetooth version. They're exclusively wireless, so don't expect any 3.5 male connectors with either model. They do work within a radius of 30 meters, though, so there's not much need for you to worry about getting disconnected out of nowhere.
Verdict
Pick the 3150 if you work with a lot of outside spaces.
Amazon product
The Plantronics BackBeat FIT 3150 is the better choice between the two if your activity of choice involves a lot of interaction with the wider open world instead of a closed system, like an arena or a gym. The slight adjustment that it makes is invaluable, and could keep you safe from any accidents.
If you're working out safely indoors, though, the Plantronics BackBeat FIT 3200 is a better fit for you. It fits snugly inside your ear, delivering sound to you directly. Its noise-cancelling capabilities make you focused on working out, filtering out anything that would distract you from your grind.
FAQs
📌 Are Plantronics headphones good?
With a respectable battery life and wide operating range, Plantronics products like the BackBeat FIT 3150 are a good choice for anyone who's physically active.
📌 How do I pair my Plantronics BackBeat 3200?
To pair your BackBeat FIT 3200 with your phone, simply turn on the headphones, open your Bluetooth settings, and pick "PLT_BBT" (or any other name you've renamed it to) to pair with.
📌 Which is better, Jabra or Plantronics?
Both have their pros and cons: Jabra products generally have a wider operating radius, but Plantronics products usually have better noise cancellation.
📌 What is the most comfortable Bluetooth earpiece?
Owing to their similar designs, both the 3150 or 3200 fit quite well with the attached ear hook, giving its user a snug but comfortable experience.