Research has proven that electric toothbrushes help prevent gum disease and tooth decay. But not everyone can afford to buy the top-of-the-line models that cost a hundred dollars or more – that's why Oral-B made their entry-level Advanced Clean and Vitality Floss Action electric toothbrush.
These two models offer no-frills cleaning for your teeth. Oral-B created these variants so that more people can get access to electric toothbrushes. We're going to compare the specifications and features of the two models below and see which one offers the best value for money.
Oral-B Advanced Clean vs Vitality Floss Action Comparison Chart
Performance
The Advanced Clean and Vitality Floss Action are the most basic electric toothbrush models that you can buy from Oral-B.
The Oral-B Vitality Floss Action is the most affordable model that they make. It is a basic electric toothbrush – you turn it on, you brush your teeth for two minutes, then it switches off. It has two brushing actions: oscillation and rotation. The battery for this device is built-in and will last for 5 days, or about a total of 20 minutes of use before needing a recharge. Take note that it cannot be replaced so you will have to buy a new base when it wears out.
The Advanced Clean model offers an additional pulsating action when cleaning your teeth. The pulses from your toothbrush give it the extra oomph that will help remove plaque along the gum line. For both models, battery life is almost the same with an estimated 8 to 10 days of use before requiring charging.
Although they do not have many bells and whistle at this price range, I cannot complain – it does the job of cleaning my teeth better over manual brushes.
Features
These models give you just what you need – nothing more, nothing less.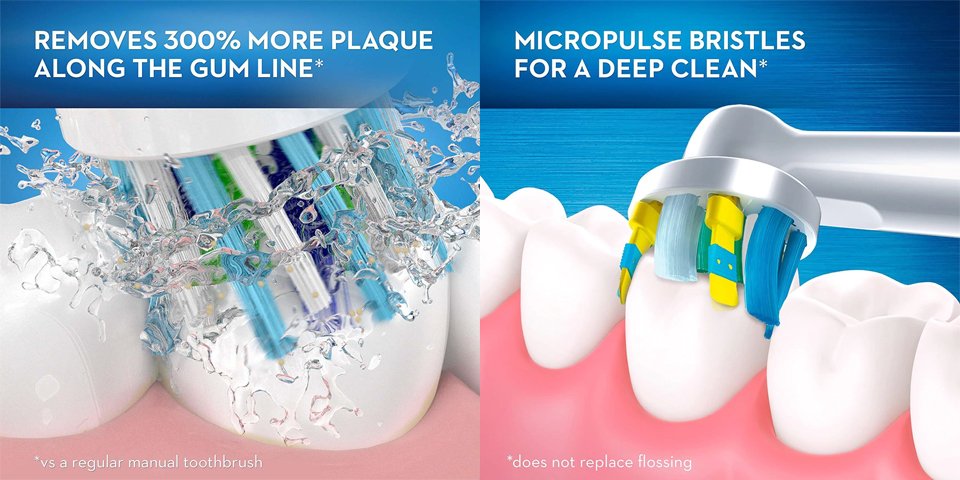 Since we're reviewing basic toothbrush models, we cannot expect a lot of features. Both devices only offer a single cleaning mode with no smart connectivity. After the two-minute recommended teeth cleaning time, each device will have slight pauses in their cleaning motions to remind you that it's time to stop.
Furthermore, the Oral-B Advanced Clean has a very minor interruption every thirty seconds of use to prompt you to move on to the next section of the cleaning process. An additional pulsating action in the higher model does provide a bit better cleaning and it has a pressure sensor to prevent you from brushing too hard and damaging the surface of your teeth.
On the other hand, the Vitality model does come with a better brush – the Floss Action Brush Head. It does a better job of deep cleaning than the CrossAction brush that comes with the Advanced Clean toothbrush.
Design
Simple design that is pretty easy to use – nothing fancy here though.
The Oral-B Vitality Floss Action handle, although made mostly from plastic, has a reasonably solid build. The thick base tapers slightly towards the bottom and has a rubber pad at the rear giving your good grip when you brush your teeth. It is available in different colors, like black, gray, blue, or pink to suit your taste.
The Oral-B Advanced Clean does have a slimmer handle than the Oral-B Vitality Floss Action, with rubber grips both above and below the power button. At the back of the handle, there are more grips molded into the handle itself. There's a power and charging status indicator near the bottom so that you could see if you need to plug it in soon.
If your teeth have specific needs, choosing a toothbrush head will not be a problem – both devices accept all designs made by Oral-B.
Verdict
The Oral-B Vitality Floss Action is the best bang-for-your-buck electric toothbrush.
Amazon product
The Oral-B Advanced Clean and Vitality Floss Action are both great basic models if you want to acquire your first electric toothbrush. While it is tempting to go for the higher-end model, it costs almost double the Vitality model. The basic features of the more affordable unit is what 99% of the population needs. It is more important to invest in brush heads, which have different models for specific needs.
However, if you're willing to spend more, then you should skip the Advanced Clean and opt for the higher Oral-B Pro 3000 model.
FAQs
📌 Which Oral-B electric toothbrush is more affordable?
The Vitality Floss Action is the cheapest electric toothbrush available from Oral-B.
📌 What is the difference between Oral-B Advanced Clean and Vitality Floss Action?
The Advanced Clean electric toothbrush comes with a pressure sensor, a 30-second reminder, and an additional pulsating action during brushing.
📌 Is the Oral-B Vitality a good toothbrush?
Yes, it is. For its low cost, it provides a good brushing experience and is perfect for first time users.
📌 Will the Oral-B Vitality Floss Action replace actual flossing?
No. While the toothbrush provides deeper cleaning action than other brush heads, flossing is still important to maintain your teeth and gum health.