Early adopters of the original HTC Vive experienced the best of what virtual reality had to offer at the time, but with new models like the Oculus Quest 2 around, is it time for an upgrade? We compare the two on a few but important points to help you make a decision.
Oculus Quest 2 vs HTC Vive Comparison Chart
| | | |
| --- | --- | --- |
| Model | Oculus Quest 2 | HTC Vive |
| | | |
| Price | | |
| Display | LCD, 1832 x 1920 per eye | AMOLED, 1080 x 1200 per eye |
| Refresh Rate | 60 to 120 Hz (72 Hz base default) | 90 Hz |
| Field-of-View | About 90 degrees (estimated) | 110 degrees |
| Processor | Qualcomm Snapdragon XR2 Platform | PC |
| Storage | 64 or 256 GB | PC |
| Weight | 1.1 lbs | 1 lb |
Build
It goes without saying that the Oculus Quest 2 has a more modern design than the HTC Vive.
To start things off, the Oculus Quest 2 has a sharper 1832 x 1920 display than the HTC Vive's 1080 x 1200 counterpart, where pixels are strikingly noticeable in comparison. However, the latter has the upper hand in screen technology, using AMOLED as opposed to LCD. As a result, it produces deeper blacks, making for a wider range of contrast.
In the Oculus Quest 2's defense, it's capable of handling a refresh rate of up to 120 Hz, which was made possible by the v28 update. For the record, the Vive can go up to 90 Hz. As for their fields of view, Oculus never officially stated the Quest 2's, but it's estimated to be about 90 degrees. On the other hand, the Vive has 110 degrees.
When it comes to appearances, the Oculus Quest 2 looks sleeker and more modern, needless to say. To no one's surprise, the Vive looks outdated now, still as front-heavy as ever.
Content
The Oculus Quest 2 can also play VR games on the PC.
Both the Oculus Quest 2 and HTC Vive can run PC VR games. In the former's case, it can be connected to the PC via an Oculus Link Cable or wirelessly by using Oculus Air Link.
The Oculus Quest 2 has built-in storage to install apps and games, and on that note, it's worth mentioning that the Oculus Quest 2 has a couple of free and noteworthy titles. For one thing, there's Elixir that puts you in the shoes of a wizard apprentice, mixing magical stuff and whatnot and getting interesting results. 
There are also immersive films available from the store, including Traveling While Black from the Emmy Award-winning Felix & Paul Studios and directed by Academy Award winner Roger Ross Williams.
Click here to see our comparison between the Oculus Quest 2 and PSVR.
Usage
The Oculus Quest 2 is easier to use than the HTC Vive.
The Oculus Quest 2 is a standalone VR headset, and by that, it means it can work on its own without a PC or something along those lines. On top of that, it can already be used right out of the box. It's also super simple to set up, but there's a caveat: it requires you to log in to your Facebook account, which could be a huge privacy issue. But then again, a burner account might just do the trick.
In contrast, the HTC Vive needs you to be tethered to a PC powered by at least an NVIDIA GeForce GTX 1060 or AMD Radeon RX 480, Intel Core i5-4590 or AMD FX 8350, and 4 GB of RAM. You also have to set up and position base stations, each of which has to be plugged into a power outlet, in a 15-square-meter space.
The takeaway here is the Oculus Quest 2 is more beginner-friendly, while the Vive is more complicated to get to work, but hey, at least it doesn't need your Facebook account.
Price
The Oculus Quest 2 has a lower price tag than the HTC Vive.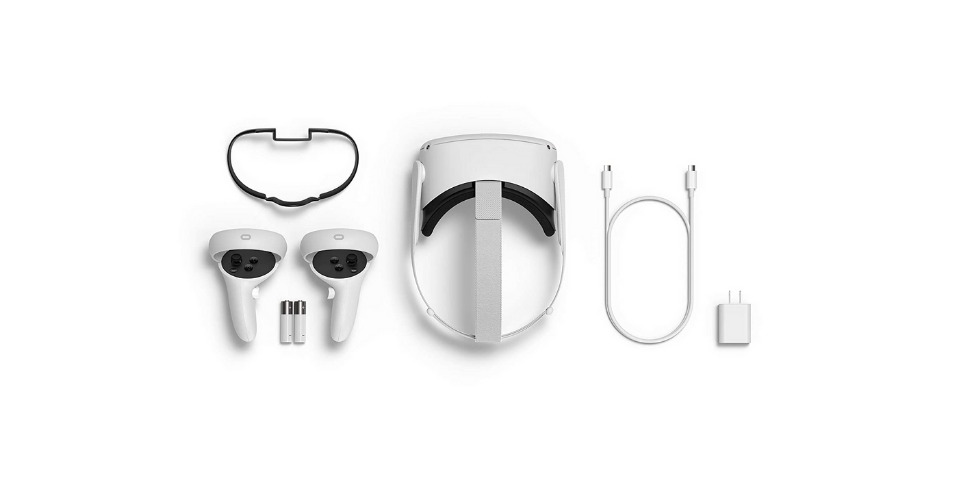 Without a doubt, the Oculus Quest 2 is more affordable by a mile, and that's even if you get the 256 GB variant and a few accessories here and there.
When it comes to the HTC Vive, you'll have to get your hands on a PC that meets the minimum requirements. And even if you already have a rig that can handle VR gaming, the headset itself still costs a pretty penny compared to the Oculus Quest 2.
Verdict
Coming from the HTC Vive, the Oculus Quest 2 is worth the upgrade.
VR has come a long way since the original HTC Vive, and the Oculus Quest 2 is living proof of that. That said, there's really no reason to get the Vive anymore since there are other newer models in the company's lineup, like the Cosmos and Pro series.
But the question here is whether or not the Oculus Quest 2 is a worthwhile upgrade from the Vive, and the answer is yes. After all, it has a modern design, sharp display with a high refresh rate, and plenty of content. Moreover, it's easy to use and doesn't break the bank, and the only downside to it is you're forced to sign in to a Facebook account before you can use it.
FAQs
📌 Do you need Facebook to use the Oculus Quest 2?
Yes, you need to log in with a Facebook account before you can start using the Oculus Quest 2.
📌 Is the 64 GB Oculus Quest 2 enough?
Yes, if you're planning on using it connected to the PC most of the time. However, if you're going to install multiple games and apps on the headset, it's recommended to opt for the 256 GB Oculus Quest.
📌 Which is better, the Oculus Quest 2 or HTC Vive?
Between the two, the age of the original HTC Vive really shows. At that, the Oculus Quest 2 is better in that it has a sharper display and modern features.
📌 Can I play Steam games on the Oculus Quest 2?
While the Oculus Quest 2 is a standalone headset, it can also play PC VR games via Oculus Link or Oculus Air Link, including titles on Steam.
Last update on 2022-05-22 / Affiliate links / Images from Amazon Product Advertising API