The Ninja Creami ice cream maker is generally considered as one of the best around, and in the same vein, Vitamix blenders are among the top-rated of their kind. In the context of frozen desserts, both can do a pretty good job, but needless to say, how they're used is different. An ice cream maker is more of a specialized kitchen gadget than anything, though contrary to its name, it can also do gelato, sorbet, milkshakes and other similar treats. Meanwhile, the advantage of a blender is it's more versatile, as it can also make hummus, a variety of sauces, dips and more.
To get a clearer idea of what they offer, we compare the Creami to the similarly priced Vitamix One. That way, we can hopefully help you figure out which one to get—or rather, which one is better, an ice cream maker or a blender.
Ninja Creami vs Vitamix Comparison Chart
| | | |
| --- | --- | --- |
| Model | Ninja Creami | Vitamix One |
| | | |
| Price | Check Price at NinjaKitchen.com | Check Price at Vitamix.com |
| Presets | Ice Cream, Sorbet, Milkshake, Lite Ice Cream, Mix-in, Gelato, Smoothie Bowl | No |
| Speed | Depends on preset | Variable |
| Capacity | 3 x 1-pint tubs | 32-ounce container |
| Dishwasher Safe | Yes (tubs, lids, paddle, outer bowl) | No |
| Dimensions (W x H x D) | 12.07″ x 15.95″ x 6.52″ | 7″ x 16″ x 8.125″ |
| Colors | Silver, Blue, Red, Rose Gold, White | Black |
Usage
The Vitamix One is more capable since it isn't limited to frozen desserts, but the Ninja Creami is more convenient to use and wash overall.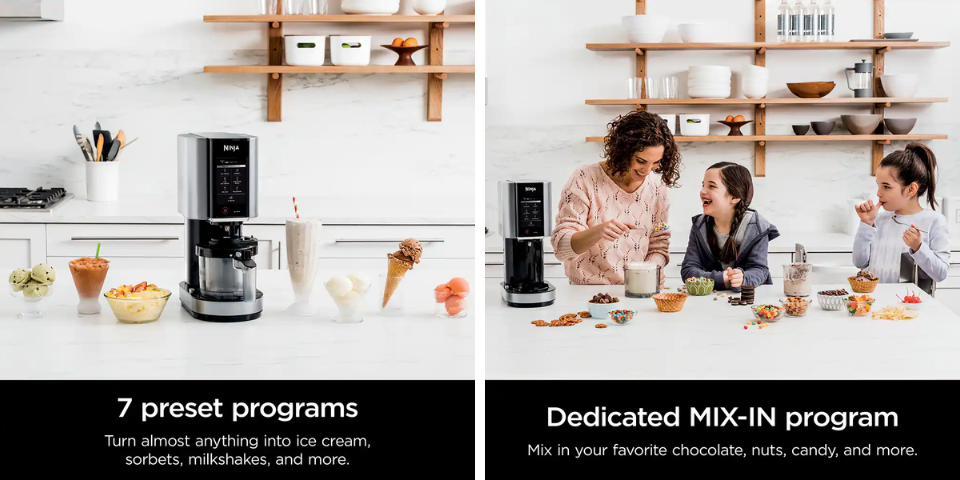 Right off the bat, the Ninja Creami can do all sorts of desserts, coming with presets for six kinds in total: Ice Cream, Sorbet, Milkshake, Lite Ice Cream, Gelato and Smoothie Bowl. There's also a Mix-in preset if you plan on adding things like chocolate chips or almonds, as well as a Re-spin function if the consistency of your blend isn't to your liking. 
Now one of the factors that makes the Creami stand out from its counterparts is it doesn't require any of its parts to be frozen before it can make ice cream. However, it's in the same playing field as the Vitamix One in this regard, which also doesn't need its container to be frozen first. But both do need their mixture to be frozen for several hours (Ninja recommends at least 24 hours) prior to being processed.
It's easier to use the Creami because all it takes is tapping a button. On the other hand, you have to turn a dial to control the One's variable speed. Sure, it's technically simpler in a sense, but you do have to keep an eye on it. Also, it comes with a tamper to move around thick blends as needed. 
When it comes to cleaning up, the Creami has the upper hand because most of its parts are dishwasher safe, namely its tubs, lids, paddle and outer bowl. The One should only be washed by hand.
Click here for our Ninja Creami 5 vs 7.
Performance
More often than not, the Vitamix One makes ice cream with less ice crystals than the Ninja Creami, but the difference is really negligible.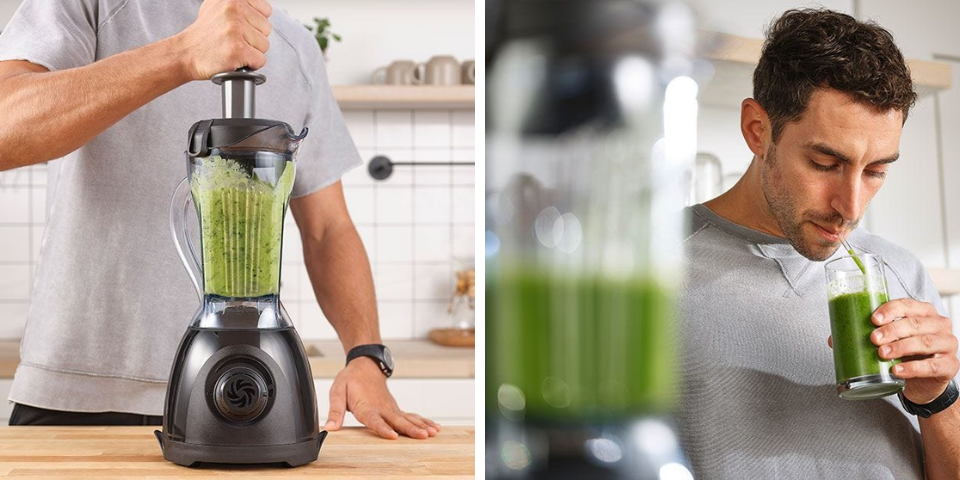 How long it takes the Ninja Creami to make a frozen dessert depends on what kind you're making, but in general, it takes about 90 seconds or up to three minutes. Usually, the result is a crumbly base, but it's nothing that the aforementioned Re-spin function can't fix. It's worth noting that Mix-in works too, but only use it if you're going to throw in some toppings.
As for the Vitamix One, the finished product is almost always creamy with less ice crystals in comparison. However, the consistency is closer to a soft serve, so if you're after a texture akin to ice cream, you have to store it in the freezer for a bit.
Price
Regardless of which you pick, you'll spend a pretty penny for the Ninja Creami or the Vitamix One.
Neither the Ninja Creami nor the Vitamix One—or Vitamix blenders, for that matter—is cheap, but that doesn't necessarily mean they aren't worth the investment. Considering what they bring to the table, they have an excellent price-to-performance ratio, particularly the Ninja Creami for its simplicity, and the Vitamix One for its versatility.
If these are out of your budget range, though, there are relatively cheaper ice cream makers available from brands like Cuisinart.
Click here to see our Ninja Creami vs Cuisinart comparison.
Verdict
Choosing between the Ninja Creami and the Vitamix One also boils down to deciding between a specialized kitchen appliance and a more traditional but versatile one.
All in all, the Ninja Creami is better for frozen desserts because of how easy it makes the entire process, from starting it with just a tap of a button to cleaning up, thanks to its dishwasher-safe parts. However, having an appliance solely for ice cream, gelato and such taking up valuable space might not be the best idea in a cramped kitchen. 
Now it goes without saying the Vitamix One is more flexible because it can make other kinds of food, and for that reason alone, it has more bang for the buck. But if you're using it for ice cream, it's not as convenient in comparison, though it does the trick.
FAQs
📌 How long does the Ninja Creami need to make ice cream?
Depending on the preset, the Ninja Creami can take anywhere between 90 seconds and three minutes to finish.
📌 Is the Ninja Creami worth getting?
Yes, the Ninja Creami is different from typical ice cream makers in that it doesn't need any parts such as its containers to be frozen before it can be used. That allows you to make several varieties at a time, assuming that you have multiple mixtures frozen for at least 24 hours on hand.
📌 Can Vitamix blenders make ice cream?
Yes, the Vitamix One can be used to make ice cream and other similar desserts. It even comes with a tamper to make sure that even thick concoctions, which is usually the case with ice cream, can be blended properly.
📌 Why is my Ninja Creami ice cream crumbly?
If your mixture is powdery or crumbly, you can always use the Ninja Creami's Re-spin function to give it another round of churning to get the consistency you want.