Arguably, Cuisinart is the go-to pick for most folks when it comes to ice cream makers, as models such as the Pure Indulgence ICE-30BC give a lot of bang for the buck. But then there's the relatively newer Ninja Creami that offers a different and simpler experience, and it's been making a name for itself in the scene.
Ninja may not have as solid a foothold as Cuisinart in the kitchen appliance space, but it does keep up with top-rated brands. However, can the same be said about the Creami? We take a closer look to see how it holds up in the hopes of helping you make a more informed buying decision.
Ninja Creami vs Cuisinart Comparison Chart
| | | |
| --- | --- | --- |
| Model | Ninja Creami | Cuisinart ICE-30BC |
|   | | |
| Price | Check Price at NinjaKitchen.com | Check Price at Cuisinart.com |
| Presets | Ice Cream, Sorbet, Milkshake, Lite Ice Cream, Mix-in, Gelato, Smoothie Bowl | No |
| Capacity | 3 x 1-pint tubs | 2 quarts |
| Dishwasher-Safe Parts | Yes (tubs, lids, paddle, outer bowl) | No |
| BPA-Free Plastic | Yes | Yes |
| Dimensions | 12.07″ x 15.95″ x 6.52″ | 8.00″ x 11.25″ x 8.25″ |
Models
Cuisinart offers a wider variety of ice cream makers.
Usually, the Ninja Creami is replaced by its successor. That means there's only one machine that's readily available at a time, though it's not uncommon to see previous versions in other retailers' shelves. On that note, the current model at the time of this writing is the Ninja Creami 7-in-1, which is otherwise referred to as Creami 7.
Meanwhile, Cuisinart keeps multiple ice cream makers in the market, catering to a wider audience. At the top end of the range is the ICE-100, and somewhere in the middle are the Cool Creations ICE-70 and ICE-60W, Mix It In ICE-45 and the Pure Indulgence ICE-30BC. The cheapest one is the ICE-21.
The takeaway here is you get more choices if you go with Cuisinart, and you can choose according to your budget and needs.
Click here for our Ninja Creami 5 vs 7 comparison.
Performance
The Ninja Creami is more feature-packed than most Cuisinart models.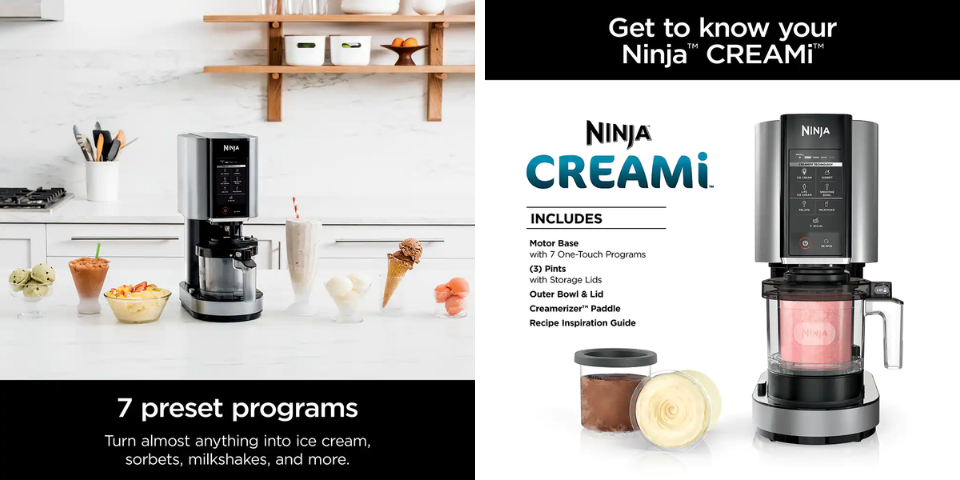 In terms of functionality, the Ninja Creami has seven presets in total: Ice Cream, Sorbet, Milkshake, Lite Ice Cream, Mix-in, Gelato and Smoothie Bowl. Then there's a Re-spin option for another round of churning if needed, as its name suggests. 
As for Cuisinart machines, their controls depend on the model. Take the ICE-21 and ICE-30BC, for instance—they only have one default setting, so you'll pretty much leave them on until you're satisfied with the consistency. But the Cool Creations ICE-70 and ICE-60W have Ice Cream, Gelato and Sorbet. How fast they'll spin the mixture and how long they'll take to finish will vary from program to program, which could last up to 30 minutes if you pick Gelato, for example. In comparison, the Creami prepares a frozen dessert anywhere between a minute and a half and three minutes.
Now the Creami tends to produce crumbly ice cream, sorbet and gelato most of the time, but that's where the Re-spin function comes in. It can be used as many times as needed until you get the consistency you want, though Ninja does warn against doing so since it might overprocess the ingredients. For the record, the Mix-in program can do the trick too, so you don't have to use Re-spin if you're, well, going to mix some chocolate chips, granola, almonds or anything along those lines.
Again, the end result with Cuisinart machines depends on which model you're using, but in general, the texture is something akin to a soft serve more often than not. In other words, after processing your mixture, it has to be kept in the refrigerator for several hours for it to be a bit harder and more ice cream-like.
Click here to see our comparison between the Cuisinart ICE-30 and ICE-70.
Ease of Use
The Ninja Creami is easier to clean and use than Cuisinart machines.
The best part about the Ninja Creami is it doesn't require you to freeze any of its parts before you can make ice cream. However, you do have to freeze your mixture for at least 24 hours first, according to Ninja. At any rate, you can prepare multiple batches beforehand and make numerous frozen desserts at a time because of that.
On the other hand, Cuisinart ice cream makers typically need to have their bowls frozen before they can be used. The company says to keep it in the freezer from six to 22 hours. You can check whether or not it's good to go by shaking it to see if the cooling liquid is frozen. Put simply, if you hear it sloshing around inside, then it needs more time.
As for cleanup, the Creami has dishwasher-safe parts, particularly its pint-sized tubs, lids, paddle and outer bowl. Cuisinart machines usually don't come with components that can be put into the dishwasher, but at the very least, they're easy to clean by hand.
Pricing
Most Cuisinart ice cream machines have a more reasonable price than the Ninja Creami.
Probably the only thing that's keeping the Ninja Creami from becoming the best ice cream maker is its price. Long story short, it isn't cheap. It's more expensive than the majority of Cuisinart's models, and in fact, only the ICE-100 has a higher price point.
As noted, Cuisinart has budget models in its lineup, and considering their cost and the fact they can deliver results on par with their premium counterparts means they have an excellent price-to-performance ratio. In this case, forking over more money only means you're getting additional features like a larger capacity or different programs (i.e., Gelato, Ice Cream and Sorbet), which aren't exactly necessary for some people.
Verdict
The Ninja Creami is expensive, but it does pay for itself. However, that also applies to Cuisinart ice cream makers, most of which have a lower price tag.
If you have the budget to splurge a little, our recommendation is the Ninja Creami. That's simply because it makes preparing frozen treats easy since you don't have to freeze a bowl or any other parts of the machine for it to work. On top of that, it's a breeze to clean with its dishwasher-safe parts.
In contrast, Cuisinart ice cream makers don't break the bank, unless you're planning on getting the top-of-the-line model. If we had to choose which machine we'd get in its range, we'd go for the Pure Indulgence ICE-30BC, as it strikes the perfect balance between price and performance.
FAQs
📌 How long does the Ninja Creami take to make ice cream?
The Ninja Creami only needs about 90 seconds or up to three minutes to finish making a frozen dessert.
📌 Is the Ninja Creami worth it?
Yes, the Ninja Creami is different from most ice cream makers because it doesn't need to have its bowl or any of its parts frozen before it can be used. Moreover, it has plenty of functions and features to make sure you get the frozen dessert you want with the right consistency and texture.
📌 Why is the ice cream made with my Ninja Creami crumbly?
If the ice cream, sorbet or gelato you made with the Ninja Creami is crumbly, you can use the Re-spin function to process your blend again and make it creamier and smoother.
📌 Are Cuisinart ice cream makers good?
Yes, Cuisinart ice cream makers like the Pure Indulgence ICE-30BC are hard to beat for its price and performance. There's also a wide selection available, making sure that there's a model for every user.