The Nespresso Vertuo system proved to be a popular brand of coffee makers thanks to its convenience and rich coffee blends. Joining its line is the Nespresso Vertuo Next, a more compact machine compared to the previous Nespress VertuoPlus. We compare these two coffee makers using De'Longhi versions to help you decide which to get for your essential cup of coffee in the morning (or at any time really). 
Deal Finder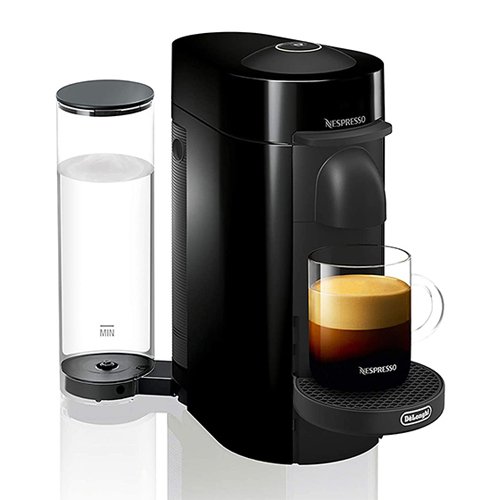 Nespresso Vertuo Next vs Plus Coffee Maker Comparison Chart
Model
Nespresso Vertuo Next (by De'Longhi)
Nespresso VertuoPlus (by De'Longhi)
Price
Check Price

at Amazon

Check Price

at Amazon

Dimensions
14.2 x 5.5 x 12 inches
5.6 x 16.2 x 12.8 inches
Weight
8.8 lb
9.72 lb
Water Tank Capacity
37 oz
40 oz
Container Capacity
6-10
10
Auto Shut-off
Yes
Yes
Pump Pressure
Centrifusion
Centrifusion
Removable Drip Tray
Yes
Yes
Flow Stop
Yes
Yes
Memory Function
Yes
Yes
Bluetooth & Wi-Fi
Yes
No
Design
The Nespresso Vertuo Next is more compact than the VertuoPlus.
The Vertuo Next and VertuoPlus machines have distinctive designs. Sporting a much larger brewing chamber, the Vertuo Next is wider at the top and slimmer below, with a smaller 1.1-liter water tank placed behind it. In contrast, the VertuoPlus has a uniform and sleek shape, with its spout sticking out a bit. Its 1.2-liter water tank can swivel from back to side to allow it to fit counter space better. Still, the Nespresso Vertuo Next is the more compact coffee maker overall and should fit into tighter spaces easier.
Another key difference between the two is that the Vertuo Next has a spring-loaded lid that pops open when you slide its clip to the unlocked position. It requires a tad more effort than the motorized lid of the VertuoPlus, which you simply press down on so you can load a capsule in.
The removable drip tray on the VertuoPlus is larger than the one on the Vertuo Next. While both can support the largest Alto pod size, you might feel more comfortable with the VertuoPlus. The Vertuo Next's tray should fit most coffee mugs without a problem. Of course, you can simply remove the tray, too. 
Features
The Nespresso Vertuo Next has connectivity options unlike the VertuoPlus.
If you're not familiar with the Nespresso VertuoLine series, they're designed to be single-button coffee makers. You can get hot brewed coffee almost instantly at just a press of a button. All you need to do is pop a coffee pod or capsule in, wait for it to heat up (takes around 30 seconds or so), place your mug onto the tray, and then watch as it slowly fills with delicious coffee.
Both the Vertuo Next and VertuoPlus use the same Centrifusion technology that spins capsules up to 7,000 rotations per minute, which blends ground coffee with hot water to produce perfectly brewed results. There are a lot of blend-specific capsules that come in 5 different cup sizes. Each capsule has a barcode printed at the rim that tells the Vertuo machine the exact brewing parameters for it, so there's no need for guesswork.
Used coffee pods are automatically stored inside the machines. The VertuoPlus has a slightly larger container that can lets it keep up to 10 capsules before it needs to be emptied. The only real difference between the Nespresso Vertuo Next and VertuoPlus is connectivity. The Vertuo Next has Bluetooth and Wi-Fi, allowing it to get instant updates for capsule and brewing settings. 
Deal Finder
Coffee Quality
The Nespresso VertuoPlus produces better crema and hotter coffee than the Vertuo Next.
Now, for perhaps the most pressing issue: is there any difference in taste? Since they use similar technologies as well as coffee pods, we should expect that the coffee they produce would taste the same. For the most part, this assumption is correct. The difference is actually very minimal and most will hardly notice at all. Using the same pod flavor, the Vertuo Next has a bit more bitter bite while the VertuoPlus tastes slightly sweeter, especially if you add milk in them.
However, the crema produced by the VertuoPlus looks creamier and more consistent, while the Vertuo Next is a lot bubblier. Moreover, if you like your coffee hot, the VertuoPlus delivers hotter coffee, too. All in all, we favored the results of the Nespresso VertuoPlus more than the Vertuo Next. Nespresso and its machine manufacturers can release firmware updates that can adjust these in the future though, so its connectivity can come in handy.
You'll receive a complimentary welcome gift with both Nespresso coffee machines, and they contain 12 different capsules so you can try the unique aromatic profiles they offer and find your favorites.
Verdict
The Nespresso VertuoPlus is our pick over the Vertuo Next.
Deal Finder
Deal Finder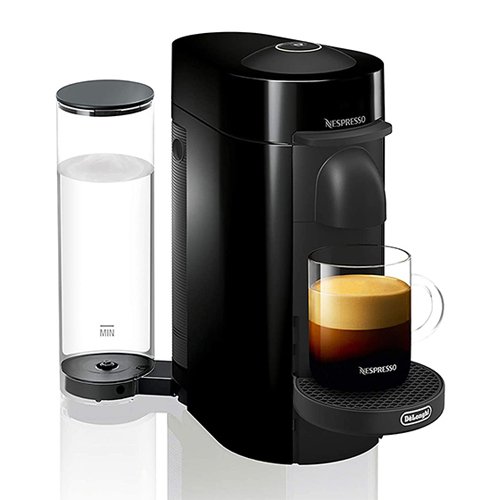 The Nespresso VertuoPlus remains an impressive coffee machine even many years after its release. It produces hotter, creamier coffee that tastes great on its own. The motorized lid feels fancy and easy to use, while its larger water tank and tray makes it prime for those who simply need lots of coffee to get through the day. 
You can save a bit by going for the Nespresso Vertuo Next, as it does produce similar-tasting coffee. It can consume less space on your counter or table, and the fixed tank is nice if you want it out of the way. The addition of online connectivity makes it ready for updates that can improve coffee blends or pave the way for new pods.
Note that this comparison only looked at Nespresso by De'Longhi coffee and espresso machines and there are other manufacturers of both Vertuo coffee makers.
FAQs
📌 Should I buy Nespresso Original or Vertuo?
Get a Nespresso OriginalLine machine if you like more variety in your coffee flavors and want a more authentic espresso taste. There are also more third-party coffee pods for the OriginalLine compared to the VertuoLine. However, the VertuoLine capsules create more crema and there are more size options available. You can get longer drinks with the VertuoLine as a result.
📌 Is Vertuo and VertuoLine the same?
The Nespresso Vertuo is a specific coffee machine under the Nespresso VertuoLine series. VertuoLine refers to this new type of Nespresso machines that use Centrifusion to extract coffee from pods. Almost all VertuoLine coffee machines have Vertuo in their name: Vertuo, Vertuo Next, VertuoPlus, and VertuoPlus Deluxe.
📌 Is Nespresso Vertuo any good?
Yes. Vertuo capsules make for excellent coffee with a generous layer of crema on top. You can enjoy longer drinks with larger capsule sizes. All Vertuo machines, such as the Nespresso VertuoPlus and Vertuo Next deliver great-tasting coffee and espresso with every pod.
📌 What pods fit Nespresso VertuoPlus and Vertuo Next?
You can use all Nespresso Vertuo capsules with either VertuoPlus or Vertuo Next. They're designed to be compatible with all Nespresso VertuoLine coffee and espresso machines.