Home office setups are incomplete without keyboard and mouse peripherals. Even if you're using a laptop, you'll get a better typing and navigating experience with separate peripherals. For those on a budget, entry-level mouse and keyboard combos like the Logitech Wireless Combo MK270 and Logitech MK320 Wireless Keyboard and Mouse Combo are recommended. They combine wireless connectivity, productivity features and long-lasting battery life. Check out which keyboard-mouse set ultimately comes out on top in this comparison.
Logitech MK270 vs MK320 Keyboard & Mouse Combo Comparison Chart
Model
Logitech Wireless Combo MK270
Logitech MK320 Wireless Keyboard and Mouse Combo
Price
Size
Full-size
Full-size
Connectivity
Wireless
Wireless
Mouse Buttons
3
3
Media Controls
Yes
Yes
Batteries
2x AAA, 1x AA
2x AAA, 1x AA
Battery Life
24 – 36 months
12 – 24 months
Dimensions
Keyboard: 17.4 x 5.9 x 0.7 inches
Mouse: 1.6 x 4.7 x 2.6 inches
Keyboard: 17.6 x 7.2 x 0.8 inches
Mouse: 1.5 x 3.9 x 2.4 inches
Weight
Keyboard: 737 g
Mouse: 51 g
Keyboard: 570 g
Mouse: 75.2 g
Compatibility
Windows, ChromeOS
Windows, ChromeOS
Design
The Logitech MK270 has a heavier keyboard and lighter mouse than the Logitech MK320.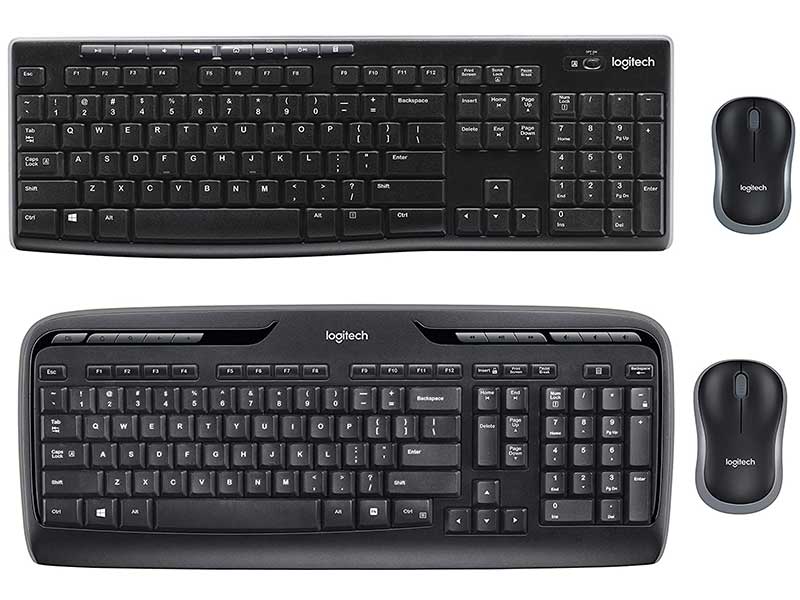 Right away you'll notice that the Logitech MK270 keyboard is more economical with its available space compared to the broader MK320 keyboard. Located along their top sections are additional keys for media controls and more hotkeys. While the MK270's function keys are already smaller than its standard character keys, the ones on the MK320 are even tinier. It has a wider bottom portion that can works as a half palm rest. Despite their size difference, the MK270 keyboard is much heavier.
It's the opposite with their mice though. The Logitech MK270 mouse is a lot lighter than that of the MK320. They're quite identical in designs though, featuring a contoured shape that follows your hand's natural curve. The ambidextrous design lets both left and right-handed people use them without issue. The mouse wheels scroll line by line and there's a bottom compartment to store the USB receiver for when you're on the go.
A big difference between the build quality of the Logitech MK270 and MK320 keyboards is the latter's spill-resistant design. It can withstand up to 60 ml of spilled liquid without damaging the keyboard. You can simply wipe away water or coffee spills and continue working on the MK320 keyboard.
Features
The Logitech MK270 and MK320 have similar features.
As wireless peripherals, the Logitech MK270 and MK320 connect to your PC or laptop via an included nano-receiver that facilitates plug-and-play use. You simply plug it into any USB port and the mouse and keyboard will work right away without needing any software. However, note that these receivers are not the Unifying kind that's included in newer Logitech wireless devices, so they will only recognize the keyboard and mouse pair they came with. They will still provide a reliable connection up to 10 meters, which should be more than sufficient for any home office setup.
While they work without software, downloading the Logitech SetPoint application will allow you to customize the hotkeys and function keys of either keyboard. These hotkeys can open frequently used apps such as email, Internet, and volume controls, but can be personalized as you like. The media controls on the MK320 are more extensive, letting you start, pause and skip to the next or previous track. However, the MK270 has an on/off button that can help conserve battery if you're not using the keyboard.
Both mice included in these keyboard-mouse combos from Logitech are pretty standard three-button devices. The mouse wheels scroll line by line for easy document navigation and reading. Underneath they have compartments for the USB receiver, so it doesn't get lost if you take the devices outside, and space for the single AA battery they require.
Performance
The Logitech MK270 has a better mouse and longer battery life than the Logitech MK320.
Both keyboards of the MK270 and MK320 provide adequate snappy typing, with decent travel and a nice rebound after a solid mid-key bump. Neither set can be called quiet, though they're average for membrane keyboards. The sculpted concave keys are easy to find for your fingertips and are nice to the touch. The extra bottom length of the MK320 gives it a pseudo palm rest though it shouldn't impact your typing comfort as much.
The bigger difference between these Logitech mouse-keyboard combos is their mice. The MK270's mouse is a tad bigger but a lot lighter than the MK320. Unless you're used to clicking with a lot of force, you'll find the MK270 to be easier to click while the MK320 requires extra pressure to push. The MK320's heavier weight can become tiring as well if you do a lot of point-and-clicking, though it should be fine once your hand and wrist gets used to its heft.
Battery life on both sets are fantastic, but the MK270 wins in this category as well. The include AAA batteries for the MK270 keyboard can last it up to 36 months while those for the MK320 keyboard are rated to last at only 24 months. The power efficiency difference is the same with their mice, with the MK270 mouse getting 24 months max out of a single AA battery when the MK320 can get 12 months at most. Still, this longevity makes these wireless keyboard-mouse combos excellent choices for work-from-home productivity.
Verdict
The Logitech MK270 is our recommendation over the Logitech MK320.
In the end, the Logitech Wireless Combo MK270 comes out ahead as the better wireless keyboard and mouse combo. It has a more efficient power consumption and a more lightweight mouse that's easy on the hand. If you prefer a heavier mouse, the Logitech MK320 Wireless Keyboard and Mouse Combo is a decent alternative, having similar programmable features and one touch hot keys.
FAQs
📌 Is the Logitech MK320 Unifying compatible?
No, the Logitech MK320 keyboard and mouse combo does not include a Unifying receiver and is not compatible with such receivers from other Logitech devices.
📌 Is the Logitech MK320 compatible with Windows 10?
Yes, the Logitech MK320 is fully compatible with Windows 10, 8, 7, Vista and XP.
📌 How do I pair my Logitech keyboard MK320?
You simply need to plug the Logitech MK320's included receiver directly into a USB port in your computer. Note that you shouldn't connect it via a USB hub, extender or switch to ensure that it works perfectly.
📌 Is the Logitech MK270 good for gaming?
While it's primarily intended for office and multimedia use, the Logitech MK270 keyboard and mouse combo performs well for gaming. It's a lot more affordable than gaming keyboards and mice while offering comparable wireless performance.
Last update on 2022-07-06 / Affiliate links / Images from Amazon Product Advertising API