Logitech's high-end universal remotes comprise the Harmony Elite and Harmony 950, but even though they have different names, they're basically the same in terms of functionality and hardware.
The most obvious distinction between them is that the Harmony Elite comes with a Harmony Hub as standard, while the Harmony 950 is only the remote. A few of the features that make the Harmony Elite appealing is thanks to said hub, including closed cabinet control and automation of smart home devices, among other things.
Logitech Harmony Elite vs 950 Comparison Chart
| | | |
| --- | --- | --- |
| Model | Logitech Harmony Elite | Logitech Harmony 950 |
| | Amazon product | Amazon product |
| Price | Amazon product | Amazon product |
| Touchscreen | Yes | Yes |
| Controlled Devices | 15 | 15 |
| Closed Cabinet Control | Yes | No, needs Harmony Hub |
| Home Automation | Yes | No, needs Harmony Hub |
| Virtual Assistant | Amazon Alexa, Google Assistant | No, needs Harmony Hub |
| Battery | Rechargeable | Rechargeable |
| Weight | 0.36 lbs | 0.36 lbs |
Design and Layout
Both have the same button layout and LCD touchscreen.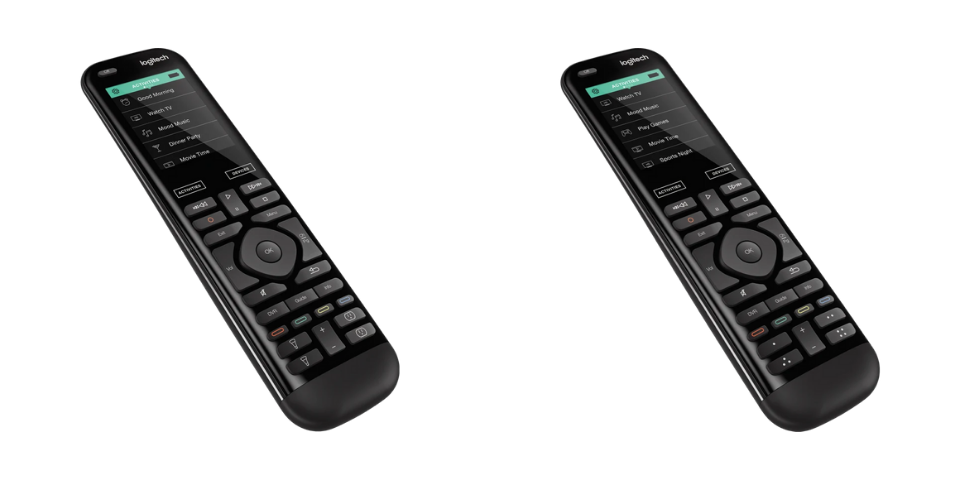 The two remotes sport the same ergonomic design and rectangular form factor with rounded corners. In the same vein, they weigh 0.36 pounds and share the same dimensions, from height and width to depth. Essentially, what we're getting at here is it's hard to tell what makes them different from each other.
But if you take a closer look, you'll notice that the Logitech Harmony Elite has two buttons with plug icons and another two with bulbs, which are for Philips Hue switches and lights, respectively. In contrast, the Harmony 950 has one button with one dot, another button with two dots, and so on up to four.
Needless to say, everything else is in the same place on both remotes, including the color LCD touchscreen at the top, channel and volume controls, and directional pad.
The Harmony Hub
The Logitech Harmony 950 plus the Harmony Hub is practically the Harmony Elite.
Right off the bat, the Logitech Harmony Hub adds a lot to the overall experience you can get from these remotes. For starters, you get closed cabinet control (more on that later) and smart home automation. In other words, you can't control smart home devices with the Harmony 950 by default, which explains why it doesn't have buttons for Philips Hue lights and switches.
Additionally, you can get voice controls via Amazon Alexa or Google Assistant. Without the hub, you can't do this since the virtual assistants need it to communicate. Last but not least, you'll also have access to the Harmony mobile app, which can convert your Android smartphone and tablet or iPhone into a remote.
Again, the Harmony 950 doesn't ship with the Harmony Hub. Speaking of, the Harmony Elite is also bundled with two IR mini-blasters to expand coverage.
Usage and Considerations
The Logitech Harmony Elite can do more.
Now the best way to illustrate their difference here is to give an example. With the Logitech Harmony Elite, you can run an Activity called "Watch Netflix," for instance. Along with the Harmony Hub, it'll turn on your Samsung smart TV, open the Netflix app, fire up your Bose sound system, and dim the lights. With the Harmony 950, running a similar Activity would only power on your smart TV and open Netflix.
What's more, you can't control devices behind cabinets using the Harmony 950 without the Harmony Hub, as noted. That means you'll have to keep your components in plain view so there's nothing getting in the way between them and the remote.
Of course, you can always "upgrade" your Harmony 950 by purchasing the Harmony Hub and IR blasters separately.
Other Features
Both remotes have rechargeable batteries that are also replaceable.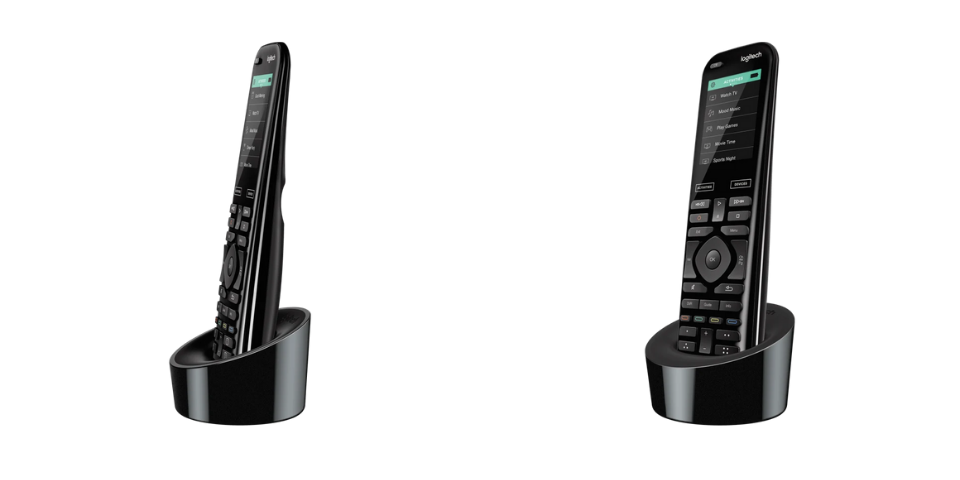 Both remotes have a rechargeable lithium-ion battery that can last about two days on a single charge, and they come with a cradle for hassle-free charging. The battery is even replaceable to boot, so you won't end up with a dead remote once it can't hold a charge anymore.
The two can also control up to 15 devices, and each one plays nicely with more than 270,000 home entertainment devices, according to Logitech.
Verdict
Same universal remote, same potential.
Amazon product
There isn't exactly a winner here since the two are pretty much the same remote. Choosing between them is simple as well: get the Logitech Harmony Elite if you want the full-blown experience with the Harmony Hub from the get-go, or get the Harmony 950 if you already have a hub, if you need to replace your remote, or if you only need IR for your devices.
FAQs
📌 What's the difference between the Logitech Harmony Elite and 950?
Of the two, only the Logitech Harmony Elite comes with a Harmony Hub and two IR mini-blasters out of the box. Elsewhere, they're more or less the same remote.
📌 Which is better, the Logitech Harmony Elite or 950?
Neither one is necessarily better than the other since the remotes are functionally the same, but if you're new to the smart universal remote scene, the Logitech Harmony Elite is the better pick because of its included Harmony Hub.
📌 Will the Logitech Harmony 950 work with my Harmony Hub?
Yes, you can use your Logitech Harmony 950 with your Harmony Hub, even though they're purchased separately.
📌 Can I use two Logitech Harmony remotes on one Harmony Hub?
Yes, you can use one Logitech Harmony remote with a touchscreen such as the Harmony Elite and 950 and another without a display such as the Harmony Companion and Smart Control.