The Logitech C922 Pro Stream and C930c Business Webcam are two of Logitech's most popular webcams. Both sit at the same price point and offer different features tailored to the needs of different users. If you find yourself intoning "eeny, meeny, miney, moe" between both webcams, then keep reading as we unpack the Logitech C922 and C930c and figure out which one comes out on top.
Logitech C922 vs C930c Comparison Chart
Model
C922 Pro Stream
C930c Business Webcam
Price
Color
Black
Black/Silver
Dimensions
29 mm x 94 mm x 24 mm
29 mm x 95 mm x 24 mm
Weight
162g
162g
Resolution
1080p at 30fps
720p at 60fps
1080p at 30fps
720p at 30fps
Onboard Encoder
No
Yes
Digital Zoom
No
4x
Field of View
78-degrees
90-degrees
Microphone
2 omnidirectional and noise-canceling microphones
2 omnidirectional and noise-canceling microphones
Accessories
Tripod
External privacy shade
Other Features
3-month XSplit license
Skype®, Microsoft®, Lync®, Cisco®, and WebEx® certified
Release Date
1Q 2016
1Q 2013
Design
Save for face color, the Logitech C922 and C930c have similar designs.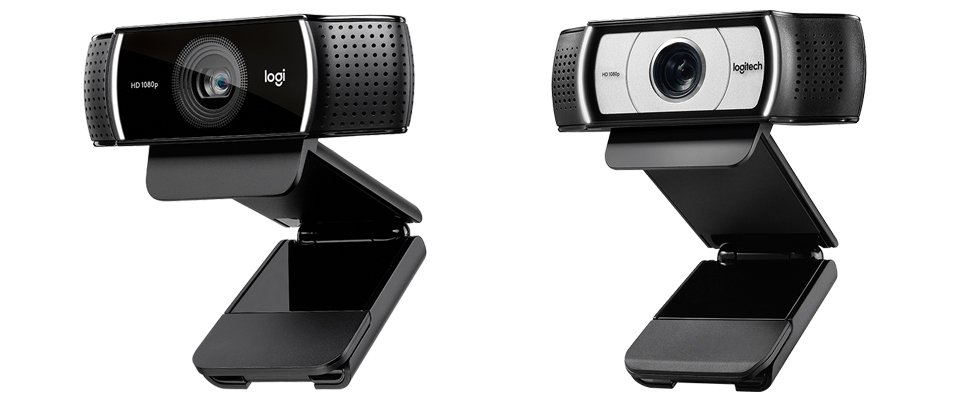 When it comes to design, the only striking difference between the Logitech C922 and C930c is the color at the front of the webcam. The C922 has a deep black face while the C930c has a silver face. Both look and feel like premium, well-built webcams. Arguably, however, the C922 with its deep black face has a sleeker and more modern look. 
Measuring only 1.1-inches high, 3.7-inches wide, 0.9-inch deep, and 5.7 ounces in weight, these two webcams are both compact and lightweight. The Logitech C922 and C930c have the same layout, with the lens dead center flanked by two microphone grilles. At the bottom of both webcams is a standard 1/4-20 UNC tripod mount fitted with a universal clip that can be attached to most laptops and flat-screen monitors.
Video
The C930c is packed with several more video features but the C922 has an improved camera sensor, faster autofocus, and a faster frame rate in 720p.
When it comes to video, both webcams support 1080p Full HD and 720p. If we talk frame rate, the C922's 60fps in 720p takes the lead over the C930c's 30fps in the same resolution. This means that motion captured with the C922 will appear more fluid than with the C930c, especially when you have fast-moving objects in the frame. At 1080p, however, there won't be a difference in motion fluidity. 
The Logitech C930c has an onboard encoder that supports MJPEG and H.264 SVC compression, which reduces video file size while retaining image quality. This makes the Logitech C930c perfect for what it was made for—video conference calls. The C922 lacks an onboard video encoder and relies on your computer to do the work. Most computers today are powerful enough to process 1080p video with ease so you're likely not going to run into any issues with the C922. If you have an older, less powerful, computer, however, it might be a different story. 
The Logitech C930c has several other video features that are lacking on the C922. These include a 4x digital zoom, digital pan & tilt, and Logitech's RightLight 2 light correction processor. The C930c also has a 90-degree field of view, which is much wider than the C922's 78-degrees. With a wider field of view, you can include more people in your shot for group video calls. 
On paper, the C930c seems to be the winner with its many more video features that are lacking on the C922. However, when put to the test, the C922 actually delivers a more crisp image and faster autofocus. This could very well be because the C922 is a newer webcam and uses an improved image sensor, better optics, and a newer autofocus system. 
Audio
The C922 has a more natural sound while the C930c does a better job with noise-cancellation.

Logitech doesn't give us much information about their built-in webcam microphones. We only know that the C922 and C930c both have a noise-canceling stereo microphone setup with an omnidirectional microphone on each side of these webcams. Information about the microphones' frequency response, noise floor, and noise-canceling technology is missing, most likely because they are not that impressive. But with a webcam microphone, you really can't expect much. 
When put to the test, these microphones actually perform quite well for what they were intended for. Noise cancellation works much better on the C930c but the C922 delivers a more natural sound. For Skype or Zoom calls and conferences, these microphones work great. But if you're doing live streams or podcasts, you'll be better off getting a dedicated microphone.
Accessories and Other Features
Both the Logitech C922 and C930c offer a handful of accessories and features catering to different needs.
One thing that the C922 is known for that is missing on the C930c is its chromakey feature. This feature allows you to remove or replace your background with a click of a button. You don't need a green screen or a solid color background. The camera recognizes your body shape and tracks it while actively blocking off everything behind you. A three-month XSplit Premium license that comes with the C922 will allow you to make full use of the chromakey feature as well as other recording and broadcasting features. The C922 also comes with a desk tripod that you can use instead of its universal laptop/monitor clip. It attaches to the bottom of your webcam on its 1/4-20 mount. Having a desk tripod gives you more freedom to play around with different camera angles.
The C930c, on the other hand, boasts in its handful of certifications. The webcam is Skype®, Microsoft®, Lync®, Cisco®, and WebEx® certified. It also has a three-year hardware warranty that beats the C922's one-year warranty. One handy little accessory that comes with the C930c is its external privacy shutter that clips on to the front of the webcam and can be folded down to cover the lens. It gives us a little extra peace of mind during these paranoid times. For businesses, it also offers an extra layer of protection from having confidential business information leaked.
Verdict
Features aside, the Logitech C922 comes out on top with a more crisp image and faster autofocus.
The Logitech C922 Pro Stream and C930c Business Webcam deliver really high-quality video and are packed with useful features. Both webcams clearly cater to different users. The C922 with its sleek color, 60fps, chromakeying, tripod, and three-month XSplit license are perfect for gamers and live streamers. The C930c's wide field of view, digital framing controls, onboard encoder, better noise-canceling, external privacy shutter, many certifications, and a three-year warranty might be more appealing to the corporate user.
Although we recommend that you get the webcam with the features you need, if there has to be one winner, it will have to be the Logitech C922. In our opinion, having a newer camera sensor that produces a more crisp image and improved autofocus technology beats having a handful of useful features on a webcam that delivers slightly lower image quality and performance.
FAQs
📌 Does the Logitech C922 require batteries?
No batteries are required for the C922. The webcam draws power from your computer through the supplied USB cable.
📌 Does the Logitech C930c have speakers?
No, the C930c does not have speakers. The microphone grilles on the webcam are often confused to be speakers.
📌 Is the Logitech C922 compatible with Mac?
Yes, the Logitech C922 is macOS compatible.
📌 Can I change the FoV of the Logitech C930c?
The field of view of the Logitech C930c is locked at 90-degrees. Some computer software, however, can crop your video to give you a narrower FoV.
Last update on 2022-08-08 / Affiliate links / Images from Amazon Product Advertising API