If you're looking for a webcam, whether for streaming or for video calls, you're probably looking at logitech models. After all, Logitech is one of the most popular brands when it comes to PC periperals, including webcams. Two webcams that stand out in the budget category are the Logitech C920 and the Logitech C922x. Both are budget friendly and both offer great value for their price.
Which one should you buy? Look no further as we've compared those two models to help you decide which one is better for you.
Logitech C920 vs C922x Comparison Chart
Model
Logitech C920
Logitech C922x
 
Amazon product

Deal Finder

Price
Amazon product

Deal Finder

Dimensions
1.70″ x 3.70″ x 2.80″
1.73″ x 3.74″ x 2.80″
Cable Length
5 ft (1.5 m)
5 ft (1.5 m)
Lens
Glass
Glass
Max Resolution
1080p/30fps
720p/30fps
1080p/30fps
720p/60fps
Field of View
78°
78°
Encoding
H.264
H.264
Focus Type
Autofocus
Autofocus
Built-in Mic
Stereo
Stereo
Background Replacement
No
Yes
XSplit Subscription
No
6 months premium
Design
At a glance, the Logitech C920 and the C922x look very similar.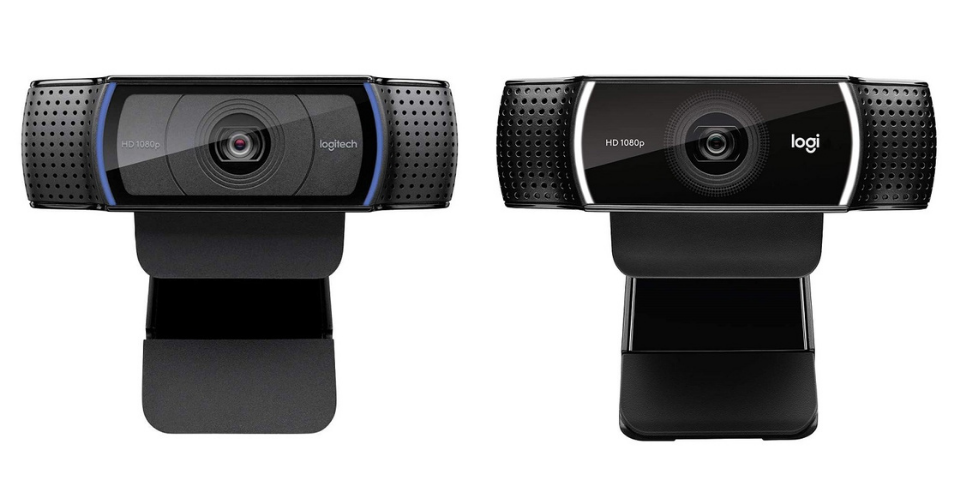 Looking at both the Logitech C920 and the C922x, there's not much difference. The biggest difference is the blue trim on the side of the C920's lens that's replaced with white on the C922x. They both have built-in mics and stereo speakers on the side and they both come in black casing. Dimensions and weight are almost identical as well.
Both webcams have an adjustable clip for mounting on top of your monitor or laptop screen. They also come with a threaded base for easy tripod mounting. Appearance-wise, they are pretty much identical with very subtle differences.
Do take note, the Logitech C922x is basically the same as the Logitech C922. The C922x model is exclusive to Amazon. The difference is that it comes with a 6-month XSplit subscription instead of three months and it doesn't have a free tripod. You're basically trading in a tripod for three more months of XSplit subscription.
Picture Quality
Picture quality for the C920 and the C922x is almost the same, with the C922x having a slight advantage in low-lit settings.
As with their design, picture quality is also very similar. Both webcams feature autofocus as well as low light compensation. However, the C922x has a slight advantage in low-light conditions due to having an upgraded firmware. In well-lit rooms, both webcams produce good looking videos and images. Both webcams also have an FOV of 78º so you can fit two people in the frame comfortably.
For video calling, the Logitech C922x has the advantage due to its ability to record and stream at 720p at 60fps. Both webcams are capable of 1080p at 30fps but if you use 720p, the C920 is limited to 30fps while the C922x is capable of delivering 60fps. For video calls using apps such as Skype, 1080p at 30fps is more than enough and both webcams will do just fine. The faster framerate is better suited for streaming.
Software Compatibility
The Logitech C922x is compatible with ChromaCam, a background removal software.
Both the Logitech C920 and C922x are compatible with Windows 7, Windows 8, Windows 10, Android v5 and above, Chrome OS, MacOS 10.6 and above for C920 and MacOS 10.10 and above for C922x. They will work on most of the popular video calling apps such as Skype, Facetime and Google Hangouts.
These webcams also work with the Logitech Capture App. It allows you to record, broadcast and share your videos. It has a lot of customization options when making your videos.
The Logitech C922x is compatible with ChromaCam, a software that allows you to remove or replace your background by simulating a green screen effect. This is great for streamers on a budget or those that are still starting out and don't have the budget or space for a real green screen. The Logitech C920 does not have this feature.
Verdict
For streamers, the C922x is the better choice, while for regular webcam use, the C920 is more than enough.
Amazon product
The Logitech C922x, at its price point, offers great value for the money. It has a slightly improved picture quality over the C920 and the ability to remove your background is great for streamers on a budget or those that don't have the space for a green screen. The background removal software has other uses aside from streaming so it is a very good addition. It also has the ability to stream at 60fps, although limited to 720p. The C922x is an Amazon exclusive model of the Logitech C922.
For people with a tight budget or those that don't really need the 60fps and background removal capability of the C922x, the Logitech C920 is the best webcam that they can buy. There's a reason why it is still very popular to this day even though it was released back in 2012. The picture quality that you get with this camera is very good and at its price point, it's really hard to recommend other webcams.
FAQs
📌 Which is better: Logitech c920 or c922x?
If you don't care about 60fps and background removal, the C920 is the better choice because it is cheaper. The C922x is the better choice if you plan on streaming and you want the ability to remove/replace the background as well as 60fps. Both have very good image quality.
📌 What is the difference between Logitech C922 and C922x?
They are basically the same. There are two differences. One is that the C922x includes a 6-month XSplit premium subscription instead of the three months that come with the C922. The second is that the C922 comes with a table top tripod while the C922x does not.
📌 Is the Logitech C920 good for streaming?
Yes, it is still one of the most used webcams in Twitch. It has very good image quality and if you are not concerned with 60fps and background removal, it is still one of the best webcams in its price point.
📌 Can Logitech C920 do 60fps?
There was a workaround that allowed 60fps on the C920. However, Windows updates disabled those and the C920 can no longer do 60fps.