Webcams have quickly become an essential accessory in the age of video conferencing. It's now a fixture both at work and at home, and you'll be hard pressed to find a PC user who doesn't have a dedicated webcam nowadays. Since it's such a popular product, there are tons of choices on the market.
However, sometimes you just want a good quality webcam that won't break your bank. If you're looking for budget webcams, Logitech has got you covered. In this review, we'll take a look at the Logitech C270 and the Logitech C615, two of the Swiss company's most affordable webcam options. Keep reading to see how they compare in terms of image and audio quality, design, and more.
Logitech C270 vs C615 Comparison Chart
Model
Logitech C270
Logitech C615

Deal Finder

Logitech C270 HD Webcam

Get 720p HD video calling on instant messaging apps with the Logitech C270 HD Webcam. Features a universal clip, noise-reducing mic, auto light correction and 3 MP snapshots.

Check Price on Amazon Check Price on Walmart

We are reader supported. When you buy through our links we may earn an affiliate commission.

Amazon product
Price

Deal Finder

Logitech C270 HD Webcam

Get 720p HD video calling on instant messaging apps with the Logitech C270 HD Webcam. Features a universal clip, noise-reducing mic, auto light correction and 3 MP snapshots.

Check Price on Amazon Check Price on Walmart

We are reader supported. When you buy through our links we may earn an affiliate commission.

Amazon product
Lens
Standard plastic
Glass
Resolution
720p 30fps
1080p 30fps or 720p 30fps
Focus
Fixed
Auto
Field of View
60°
78°
Microphone
Mono
Mono
Tripod-ready
No
Yes
OS Compatibility
Windows 7 and newer
Windows 7 and newer
Video Conferencing Platforms
Skype, Google Hangouts, FaceTime for Mac
Skype, Google Hangouts, FaceTime for Mac
Warranty
2 years
2 years
Image Quality
Only the C615 can deliver video in Full HD.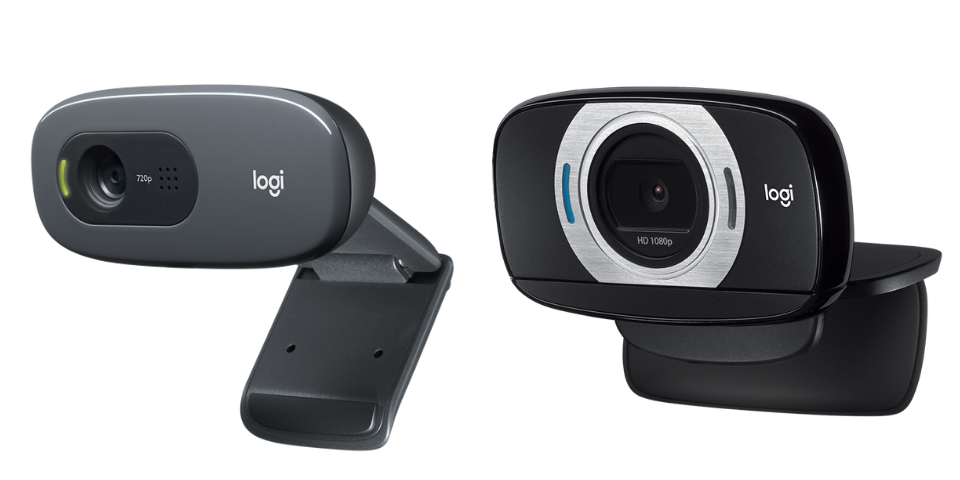 Between the two budget webcams, the C615 wins when it comes to image quality. Still images are clearer when taken with the C615, since it takes photos at 8 megapixels. In comparison, the C270's still photos are of significantly lower quality at only 3 megapixels. However, that might not be that big a deal, since these webcams will mostly be used for video anyway. With that in mind, how do the two compare when it comes to video?
The C615 is still on top when considering video output. For one, it can deliver full HD 1080p video. That's a feature that's exclusive to the C615, since its competitor can only capture video at 720p at 30 frames per second. It's also the only webcam between the two that has autofocus capabilities. This means that wherever you are, as long as its within the webcam's frame, it'll focus on you and blurry video won't be a problem. Lastly, the C615 also has a wider field of view at 78 degrees. This is wide enough to fit even two people in the same frame. In comparison, the C270 only has a 60 degree FOV, which is significantly narrower.
Audio Quality
The two have similar audio quality.
When it comes to audio quality, though, the two are identical. While some more premium webcams are equipped with multiple stereo mics, or even omnidirectional mics, both models here only have one mono mic each. This means that the audio it picks up won't be as crisp nor will it be as natural-sounding when compared to a webcam with integrated stereo mics. However, mono mics are known to be still capable of delivering good quality audio that sounds direct and clear, so your voice will still be audible.
It makes sense that these two would only have mono mics, given their price point. That doesn't necessarily mean that the audio quality is bad, just that Logitech has better offerings. User reviews online actually note that it's working great for them on different operating systems and video conferencing apps. It's helpful that both of the cameras also have noise reduction tech, making your voice even clearer. Overall, the audio quality is respectable. However, if you think you'll need a better mic for whatever purpose, you should look into buying a dedicated headset and/or microphone.
Design
The C615 is also tripod-enabled.
Both the C270 and C615 are equipped with a universal clip. With this clip, you can securely mount your webcam of choice either on your screen or a shelf, or any other convenient surface. The C615 does have a slight advantage when it comes to placement, though, since you can use a tripod with it. If ever you prefer different angles that you just can't get with conventional screen mounting, the C615 would be a better choice for you (as long as you have a tripod).
Another advantage that the C615 has is that it's fully rotatable. This means that if ever you want to get other people on screen, you just need to twist the webcam around to get them in frame. That doesn't mean that the C270 is entirely rigid, though: its vertical angles can still be adjusted. It just can't rotate a full 360 degrees like the C615 does. That makes the C615 a better choice if you think that that particular design feature will come in handy sometime in the future.
Ease of Use
Both webcams are plug and play for Windows PCs.
Both the C615 and C270 are extremely easy to use if you own a Windows PC: if your PC is running Windows 7, 8, 10 and later, just plug it in and it's ready for use. They also work with non-Windows computers, though they explicitly have to be in USB Video Device Class (UVC) mode. Specifically, these webcams work with macOS computers (v. 10.10 or later), Android devices running v. 5.0 or newer, and Chrome OS PCs. They're also both covered by Logitech's 2 year limited warranty, guaranteeing you good support within that time period.
One feature that the C615 exclusively has is connected to its ability to fully rotate. If ever you find yourself needing a webcam while on the go, the C615 is a great travel companion. Since it can rotate 360 degrees, it can be twisted and folded inwards, making it compact. It can fit within your bag or even your pocket, for easy access whenever you need to go on call wherever you might be.
Verdict
The C615 is better in everything but audio.
Amazon product
The Logitech C270 is a true budget camera. It can only deliver 720p video, has fixed focus instead of autofocus, and has a plastic lens instead of a glass one. The quality you'll get with it is by no means bad; it's just that it might be better to save up instead of buying a C270 then upgrading within a short span of time. However, if its specs are a perfect fit for you, you'll be getting a good bargain as most vendors sell the C270 at below 50 bucks.
The Logitech C615 is undoubtedly the better choice between the two. Its glass lens is of higher quality, and you can use it to record and stream 1080p video right off the bat. It also has autofocus, meaning that blurry videos are less of a problem than they would be if the focus were fixed and rigid. Though it offers no improvements over audio, its better video quality and emphasis on portability makes it the clear winner.
FAQs
📌 Is the Logitech C270 good?
You get what you pay for with the Logitech C270: 720p video at 30fps, mono audio, and fixed focus. If you're looking for an affordable camera for calling and not much else, then it's a great choice.
📌 Is the Logitech C615 good for streaming?
It's definitely not main webcam material, but if you're a streamer who's always on the go, get a Logitech C615. Its fold-and-go design will be a boon for your channel if ever you travel for a long period of time.
📌 Does Logitech C615 have a microphone?
Yes. The Logitech C615 is equipped with one mono microphone, with noise reduction tech helping make the audio sound clearer.
📌 Does Logitech C270 work with Windows 10?
Logitech C270 works with Windows PCs running Windows 7, 8, 10, and later. It also works with certain versions of macOS, Chrome OS, and Android.