Le Creuset is renowned worldwide for their enameled cast-iron Dutch ovens, and generations of its most loyal followers collect different sizes and colors of the iconic cookware. If you're keen on getting a hand on your first piece, choosing the right size can be tricky. A good start would be the most popular variants of their round Dutch ovens: the Le Creuset 5.5 and the Le Creuset 7.25. Here, we look at how these two beautifully-crafted cookware items compare, and see if there's something more than a size difference.
Le Creuset 5.5 vs 7.25 Comparison Chart
| | | |
| --- | --- | --- |
| Model | Le Creuset 5 1/2-Qt. Round Dutch Oven | Le Creuset 7 1/4-Qt. Round Dutch Oven |
|   | Amazon product | Amazon product |
| Price | Amazon product | Amazon product |
| Knob | Plastic or stainless steel | Plastic or stainless steel |
| Colors | Multiple colors and hues | Multiple colors and hues |
| Dimensions | 10.00 x 10.75 x 4.00 inches | 13 x 13.5 x 6.3 inches |
| Weight | 12.7 lbs | 15.2 lbs |
| Coating | Enamel | Enamel |
| Capacity in Liters | 5.3 | 6.7 |
| Serving Size | Serves 6 | Serves 6 to 8 |
Key Difference
Because of their size difference, you'll find the Le Creuset 7.25 more versatile than the smaller Le Creuset 5.5.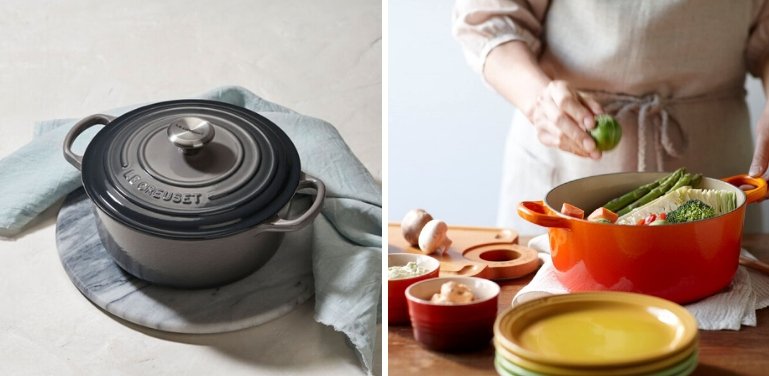 The main difference between the Le Creuset 5.5 and the 7.25 is in their size and capacity. The 5.5 is more compact and lightweight compared to the 7.25 Dutch oven. Nonetheless, there's a heft to both cookware which evokes strength and durability. 
Le Creuset shares that the smaller version can serve up to 6 people while the larger, 7.25 Dutch oven is ideal when preparing meals for 6 to 8. So if you're single or a couple, then the Le Creuset 5.5 will be more in your lane. It's should also help you whip up meals for the occasional guests at home. Of course, it's also easier to store. But if you're a family of four, or simply like to entertain a lot of guests, the 7.25 should be the cornerstone of your kitchen. 
Design
Le Creuset's round Dutch ovens feature an elegant enamel casing, sand-colored interiors, and wide handles.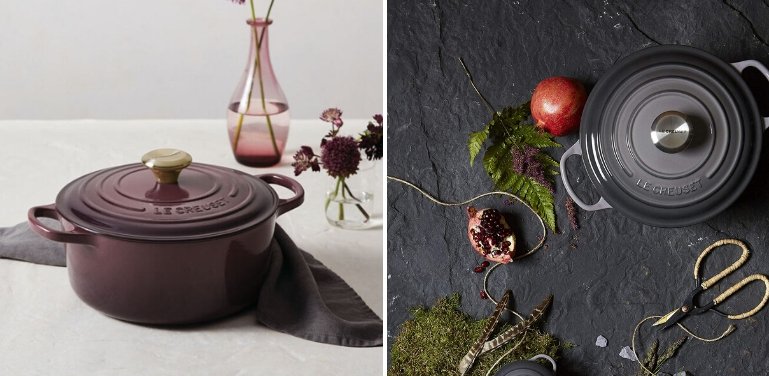 Le Creuset's enameled cast iron Dutch oven is steeped in history. Since production of the cookware started in 1925, the manufacturing process has remained in the same foundry in France. Moreover, skilled artisans continue to hand-inspect the production of each item to ensure its quality. This makes it a premium investment over other Dutch oven manufacturers. 
In both the Le Creuset 5.5 and 7.25 variants, you get the same design aesthetic that defines the brand. These round Dutch ovens brandish colorful enamel exteriors that's largely behind the appeal of the cookware. From its best-selling Flame to the calming Marine, you have a range of colors to choose from. The 5.5-qt and the 7.25-qt also come with a sand-colored interior enamel. Over the years, the quality of the interior has also been refined, making it more resistant to wear. However, it's still delicate and can be prone to light scratches and food stains. 
Like in all its Dutch ovens, you get roomy wide loop handles from Le Creuset, making their cookware not only pleasing to look at but also easy to grip and transport. On the other hand, the lid knobs do vary, from the plastic variant to the more sturdy, stainless steel. The latter is oven safe at any temperature while the plastic knob is heat resistant up to 500°F. 
Cooking Performance
The Le Creuset 5.5 and 7.25 are designed for slow-cooking on low to medium-heat—perfect for braising and roasting, stews and soup.
Aside from the Le Creuset 5.5 and 7.25, the company also offers oval Dutch ovens. Nonetheless, if you're canvassing for your first piece, a round shape will be more versatile in the kitchen. This is especially true given how the enameled cast iron material used by Le Creuset makes it compatible on all heat sources—whether it's a gas stove or an outdoor grill, an oven or an induction cooktop. So, expect your round Dutch oven to help you in your stews and soups, roasting and braising. 
Similarly, the cast iron means your Le Creuset 5.5 and 7.25 will have superb heat distribution and retention. These Dutch ovens are definitely great for slow-cooking on low to medium heat. But which size should you get for your cooking needs? For stews and casseroles, the smaller 5.5-qt. pot will be better. On the other hand, if you're mostly preparing stocks and soups, the 7.25-qt model is recommended. Do you want to roast a whole chicken? You'll find that the Le Creuset's 7.25 variant will be more up to this task than the 5.5. 
Verdict
Given the similar design and build, the Le Creuset 7.25 is definitely more versatile than its 5.5 counterpart.
Amazon product
Since both the Le Creuset 5.5 and 7.25 feature the same design and construction, your choice of size depends on what you'll use it for. The 5.5 round Dutch oven is definitely ideal for smaller batches of food, and recipes such as stews and casseroles. Plus, it's easier to carry. With the 7.25 variant, on the other hand, you can braise meat, roast a chicken, and prepare larger meal servings. It will take some extra effort though in moving around, especially when it's full. 
But if it's a choice for either one, and household size isn't a factor, opt for the 7.25. It's not too small nor too large. It will prove to be more versatile, too. After all, you can always cook smaller meals on larger pots, but you can't prepare larger meals on a smaller Dutch oven.
FAQs
📌 What is the most popular color for Le Creuset's Dutch ovens?
Out of the multitude of colors, Flame remains the most popular variant of Le Creuset. This bright red Dutch oven is a classic that should be a welcome addition to any kitchen. 
📌 Can I replace the knobs on Le Creuset Dutch ovens?
Yes, you can. Apart from the plastic knobs, you can also opt for stainless steel, with copper and gold color options. Do take note of the sizes for compatibility. For Dutch ovens like the Le Creuset 5.5 and 7.25, get the large-sized knobs. 
📌 What is the most popular size of Le Creuset?
The Le Creuset 5.5 quarts is its best-selling size, simply because of its compact form and durability. 
📌 Is the round Le Creuset Dutch oven better than the oval variant?
Yes, it is. Not only is the round Dutch oven from Le Creuset more popular than the oval variant, the shape also fits most burners and ovens better.