The 11th generation of the Kindle Paperwhite is a great addition to Amazon's lineup of Kindle e-readers. It now has a larger display with more front LEDs to lessen eye strain and improve the overall reading experience of its users. But is it the best e-reader to get? Should you consider other tablets instead, such as Apple's iPad with its Retina display? Below, we compare the Kindle Paperwhite and the Apple iPad to find out.
Kindle Paperwhite vs iPad Comparison Chart
Model
Kindle Paperwhite
iPad
Price
Check price at Amazon
Check price at Amazon
Dimensions
6.9 × 4.9 × 0.32 inches
9.87 x 6.85 x 0.30 inches
Weight
7.34 oz
17.18 oz WiFi
17.57 oz LTE
Display
6.8 inches
Glare-free E-Ink Display
300ppi
10.2 inches
Retina IPS LCD
265ppi
Waterproof
IPX8
N/A
Functions
E-reader
Audiobooks
Multi-function
Storage
8GB
non-expandable
64GB
256GB
non-expandable
Connectivity
WiFi
Bluetooth (audio only)
Cellular
WiFi
Bluetooth
Audio
Bluetooth headphones or speakers
Loudspeakers
3.5mm audio jack
Bluetooth audio
Camera
N/A
Rear: 8MP
Front: 12MP
Battery
10 weeks
10 hours (multimedia use)
What's Included
Kindle Paperwhite
USB-C charging cable
Quick start guide
iPad
USB-C to Lightning cable
20W USB-C power adapter
Warranty
1 year
1 year
Design
The Kindle Paperwhite is smaller and lighter than the iPad.
When it comes to portability, the Kindle Paperwhite is definitely the winner. Measuring only 6.9 × 4.9 × 0.32 inches, it is a very compact tablet that you can carry with you anywhere. Weighing only 7.34 ounces, it is also lightweight, so you can use it for extended periods without feeling any discomfort.
On the other hand, the Apple iPad is a much bigger device, with measurements of 9.87 x 6.85 x 0.30 inches. It's still portable since it has a thin profile, but it will take up more space inside your bag. It weighs a little over 17 ounces, so it's more than double the weight of Kindle Paperwhite. A lot of people will have difficulty using it with just one hand, unless you're one of the lucky few with gigantic hands.
In terms of build quality, the iPad has the Paperwhite beat. Sporting an aluminum frame, aluminum back and a glass front, the iPad has a more premium build quality than the Kindle Paperwhite, which has a lot of plastic parts. The only advantage of the Kindle Paperwhite in this area is that it has an IPX8 rating.
Display
The Kindle Paperwhite has a 6.8-inch screen whereas the iPad has a 10.2-inch display.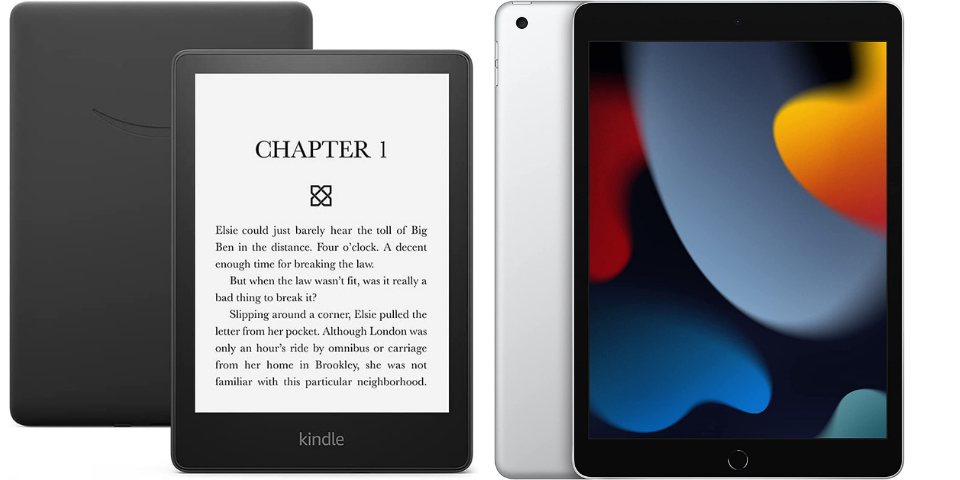 The screen size of the Kindle Paperwhite is considerably smaller than the iPad. At just 6.8 inches, some may find it too small since we are used to having devices with large screens. However, since it is just an e-reader and not a tablet, the 6.8-inch screen is perfectly fine. It also has a high pixel density of 300ppi, so text is clear and sharp.
The e-ink display of the Kindle Paperwhite allows the reader to have a similar experience to reading an actual book. It adjusts to various light sources to eliminate glare, even under direct sunlight.
Meanwhile, the iPad has a massive 10.2-inch Retina IPS LCD screen that's great for pretty much any type of media. It has a 1620 x 2160 resolution for a pixel density of 265ppi. The lower PPI and larger screen means that it won't display text as clear and sharp as the Paperwhite, but it is still perfectly readable.
For reading text, the Kindle Paperwhite's screen is superior since you can see everything even when under sunlight. Also, it puts less strain on your eyes, which is great for extended reading. However, for everything else, the iPad's screen is better, such as reading graphic novels, comic books and more.
Features
Amazon's Kindle Paperwhite is limited in features while the iPad lets you do almost anything.
As it is designed primarily for reading, and not for consuming other types of media, the Kindle Paperwhite is understandably lacking in features when compared to a multi-function tablet such as the iPad. However, this can be seen as a positive if all you want in a device is to allow you to read in peace. There are no pop-up notifications, no app switching and no other distractions that can interrupt your reading.
Aside from reading eBooks, the Kindle Paperwhite also allows you to stream audiobooks from Audible and browse the web. However, its browser, and its interface, as a whole, is very limited and straightforward, which can be seen as both a pro and a con.
Meanwhile, the Apple iPad is a tablet designed for different types of users. It allows you to watch movies, play games, read eBooks, listen or stream to music and pretty much any form of media consumption. You can also use it for productivity in place of a laptop or a PC.
When it comes to the number of things that you can do with a device, the iPad is the clear winner. However, for reading eBooks, the Kindle Paperwhite is superior.
Battery and Storage
The Kindle Paperwhite has a longer battery life than the iPad.
Battery life for both devices is excellent when you consider that they have very different use cases. Amazon states that the Kindle Paperwhite can last up to 10 weeks on a single charge, which is phenomenal. The Apple iPad, on the other hand, has a battery life of up to 10 hours, which is considerably less, but still very good since it is a multi-purpose tablet.
When it comes to storage, the Kindle Paperwhite comes with 8GB while the iPad comes with either 64GB or 256GB. Both of them do not have a microSD slot for storage expansion though. The 8GB storage of the Kindle Paperwhite can hold thousands of eBooks so even though it may seem small, it's still perfectly acceptable.
However, the 64GB iPad may not have enough space for many users. This is true if you take a lot of pictures, record videos, etc. If you are going to buy an iPad, you should strongly consider the 256GB variant since these models do not have a microSD slot.
Verdict
For reading eBooks, the Kindle Paperwhite is the better option, however, if you want a device that also allows you to consume other forms of content, you're better off with the iPad or other tablets.
Best for reading
Better all-rounder
The Kindle Paperwhite is absolutely worth buying but only if you are looking for a device that's strictly for reading. It's limited in functions, but for what it is designed for, it performs exceptionally well. You'll be able to read under any lighting conditions—whether it's dark or brightly lit, and you will not have a problem with eye strain.
That said, if you are not a hardcore reader and you also want to use your tablet for other things such as watching movies, reading graphics rich novels, reading comic books and more, you are better off getting an iPad.
FAQs
📌 What's the difference between the Kindle Paperwhite 10 vs 11?
The 11th generation Kindle Paperwhite comes with a few upgrades that make the reading experience better. First, it has a larger screen (6.8-inch vs 6-inch), and second, it has more front LED lights.
📌 Is the iPad or Kindle better for reading?
For reading text-only eBooks, the Kindle is better, however, for reading comic books or graphic rich books, the iPad is better.
📌 What's the difference between the Kindle Paperwhite vs regular Kindle?
First is the quality and size of the screen. The Kindle Paperwhite has a larger 6.8-inch screen with a pixel density of 300ppi. Meanwhile, the regular Kindle only has a 6-inch screen with a lower pixel density of 167ppi. The Kindle Paperwhite also has waterproofing, more front LED lights and an adjustable warm light.
📌 Is the Kindle Paperwhite worth it if I already have an iPad?
It could be worth it if you like to read for extended periods. The screen of the Kindle Paperwhite is easier on the eyes, so it doesn't cause as much eye strain, which can only be good for your vision. However, if you are a lite reader, an iPad may be all that you need.