It took more than two years before Apple finally decided to offer a successor to their well-loved iPhone 5s. Sporting brand new technology in the same premium shell, the iPhone SE did not disappoint, and it capped the 4-inch iPhone era in spectacular fashion. Exactly how much better is the SE over the 5s? We compare their specs and discuss key differences below.
iPhone 5s vs SE Comparison Chart
| | | |
| --- | --- | --- |
| Model | iPhone 5s 32GB (GSM Unlocked) | iPhone SE 64GB (GSM Unlocked) |
| |   | |
| Price |   | |
| Rating |   | |
| Display | 4″ Retina | 4″ Retina |
| Resolution | 640 x 1136 pixels | 640 x 1136 pixels |
| Pixel Density | 326 ppi | 326 ppi |
| Screen-to-Body Ratio | 60.66% | 60.66% |
| Height | 4.87 inches | 4.87 inches |
| Width | 2.31 inches | 2.31 inches |
| Thickness | 0.30 inches | 0.30 inches |
| Weight | 3.95 oz | 3.99 oz |
| System Chip | Apple A7 | Apple A9 |
| Processor | Dual-core 1.3 GHz | Dual-core 1.84 GHz |
| RAM | 2GB | 2GB |
| Internal Storage | 16GB, 32GB, 64GB | 16GB, 32GB, 64GB, 128GB |
| Front Camera | 1.2MP | 1.2MP |
| Rear Camera | 8MP | 12MP |
| Video | 1080p at 30 fps, 720p at 120 fps | 4K at 30 fps, 1080p at 30/60/120 fps, 720p at 240 fps |
| Colors | Space Gray, Gold, Silver | Space Gray, Gold, Rose Gold, Silver |
| Battery Capacity | 1560 mAh | 1642 mAh |
| Talk Time | Up to 10 hours on 3G | Up to 14 hours on 3G |
| Internet Use | Up to 8 hours on 3G | Up to 12 hours on 3G |
| Apple Pay | No | Yes |
| Released | September 2013 | March 2016 |
Design
Both phones have identical designs.
Apple created an iconic design when they released the iPhone 5 back in 2012. It was easily the best-looking phone of its time, and it influenced succeeding generations of smartphones. Fans of its all-metal finish rejoiced when the iPhone SE was announced, since the new iPhone 6 and 6s was a significant departure from the iPhone 5s.
As such, the iPhone 5s and SE look like identical twins and you'd be hard-pressed to tell them apart when looked at up front. They have the same exact dimensions with only a minute weight difference. Even the locations of buttons and cameras are the same. The only significant change is that the shiny chamfered edges of the 5s is now matte on the SE. Oh, and if you see a Rose Gold version then that's an iPhone SE as that color is not available for the iPhone 5s.
Display
Both phones have identical displays.
Once again, there are no appreciable differences between the Retina displays of the iPhone 5s and SE. They're the same 4-inch screen with 1136 x 640 pixels. Even though Apple improved the ones on the iPhone 6 and 6s, they opted to stick to the plan in keeping the SE look exactly like the 5s. This also allowed them to offer the iPhone SE at the lowest starting price ever for an iPhone.
Performance
The iPhone SE is twice as fast as the iPhone 5s.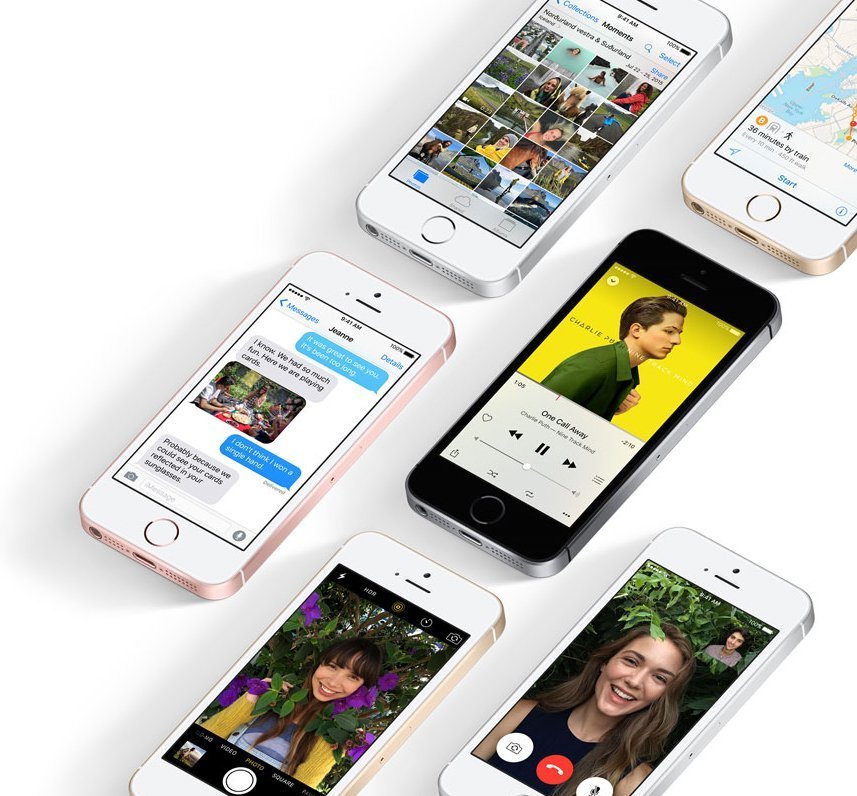 Finally we come to the most important discussion. There's a massive jump in computing power from the iPhone 5s to the iPhone SE. In fact, the SE is superior to the iPhone 6 in terms of overall performance, and is more on par with the iPhone 6s and 6s Plus.
Inside the iPhone SE is an Apple A9 chip with M9 motion coprocessor, 2GB RAM, and a six-core GPU, whereas the iPhone 5s has an A7 chip, M7 coprocessor, 1GB RAM, and a quad-core GPU. You shouldn't need more than that to be able to tell that the SE will be faster than the 5s, but here are benchmark scores anyway.
On Geekbench 4, the iPhone 5s has single and multi-core scores of 1265 and 2147, but the iPhone SE received double that, with 2409 and 4169, respectively. Opening documents and starting apps will be faster on the newer phone, and you'll feel the speed difference especially on graphics-intensive games.
Cameras
The iPhone SE has better cameras.
Just like its upgraded processor, the iPhone SE's cameras are also the same as those of the iPhone 6s. This gives its rear main camera the edge over the iPhone 5s, since you can take 4K videos with the SE. Megapixel count was also bumped up from 8 to 12 MP, while pixel size has been reduced from 1.5 µm to 1.22 µm, resulting in greater image quality and sharper detail when you zoom in on the SE's photos.
Not much has changed for the front-facing camera, as they still use a 1.2 MP sensor. There are new features on the iPhone SE though, such as Live Photos, which lets you view the moments before and after a photo was taken, and Retina Flash, which flares up the Retina display's brightness to give your selfies better illumination.
Battery and Other Features
The iPhone SE has a bigger battery as well as Apple Pay capability.
Despite their virtually identical measurements, Apple was able to cram a bigger battery on the iPhone SE. As a result, you can use the iPhone SE for a few more hours on average than the iPhone 5s. Talk time via 3G on the 5s is rated at up to 10 hours, while it's up to 14 hours on the SE. Internet use via 3G, LTE, or Wi-Fi also have similar discrepancies, so the iPhone SE definitely has better endurance than the older model.
Wireless mobile payments are also possible on the iPhone SE through Apple Pay. Combined with Touch ID, you can simply pull out your iPhone and place your finger on the Home button to pay in stores or within apps.
Verdict
The iPhone SE is the best 4-inch iPhone ever.
It's fitting that the last ever 4-inch iPhone is also the best. The iPhone SE features substantial internal upgrades over its predecessor while keeping its beautiful exterior. If you're in the market for a compact iPhone, or you're experiencing some nostalgia for the iconic design of the iPhone 5, you'll definitely get your money's worth on the SE. It's a lot faster, lasts a lot longer, and takes better photos and videos, too.
Last update on 2021-07-19 / Affiliate links / Images from Amazon Product Advertising API