With all the new Roku TVs coming out, it's getting harder and harder to boil your decision down to one. However, there are two brands that stand out from the pack: Hisense and TCL, both of which have a selection that ranges from affordable to top-of-the-line models.
Hisense vs TCL Roku TV Comparison Chart
| | | |
| --- | --- | --- |
| Top-Rated Models | Hisense H4 Series Roku TV | TCL 4-Series Roku TV |
| | | |
| Price | Check Price | Check Price |
| Panel | LED | LED |
| Resolution | 1080p | 4K |
| HDR | n/a | HDR10, HLG |
| Audio | DTS TruSurround | Dolby Digital Plus |
| Sizes | 32, 40, 43 inches | 43, 50, 55, 65, 75, 85 inches |
Are Hisense TVs good?
Hisense has some big yet cheap Roku TVs.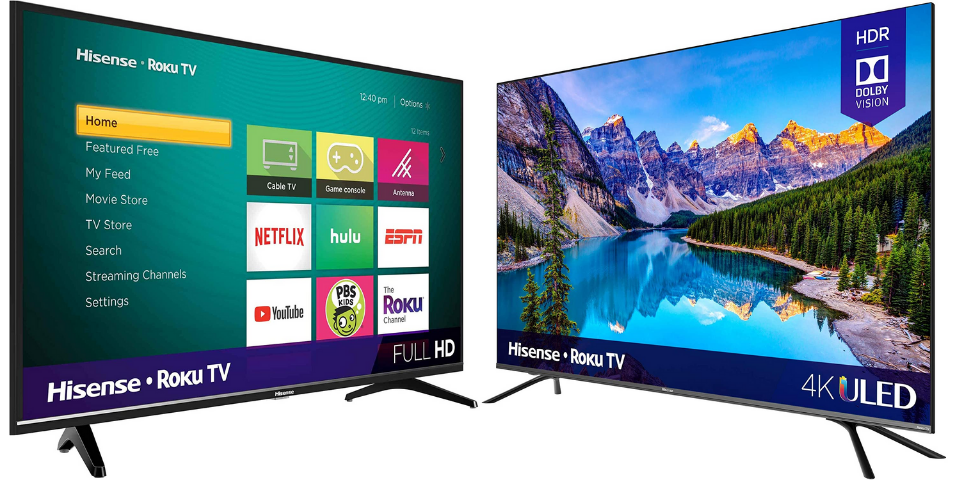 To start things off, Hisense makes some quality Roku TVs that give a lot of bang for your buck. The Hisense R8 Series is proof of that. Besides the benefits of what the Roku platform has to offer, it packs a ton of features. For starters, it's a 4K Roku TV with Dolby Vision HDR and HDR10 and Dolby Atmos audio. It uses ULED screen technology, allowing it to cover 90 percent of the DCI-P3 gamut and offer decent blacks and minimal motion blur. Couple that with a peak brightness of 700 nits and you've got yourself a vibrant display that's visible even in bright environments. It's available in 55 or 65 inches, and to sum it up, it's a big TV with a relatively small price tag.
Made for the budget-oriented, one of the best-selling Roku TVs in Hisense's lineup is the Hisense H4 Series. It may not be the most souped-up TV out there, but it has a price that's hard to beat. The trade-off is, it's only a 1080p LED TV that comes in 32, 40, or 43 inches, and it doesn't have things like Dolby Vision HDR or Dolby Atmos, having only DTS TruSurround instead. That said, it's fairly simple, but it does what it sets out to do well: deliver easy-to-use streaming in an affordable package.
Are TCL TVs good?
TCL sets a new standard for cheap smart TVs.
For good reason, TCL is the go-to brand for Roku TVs for many users. For one thing, it doesn't skimp on quality, where some of its budget variants even have 4K HDR. In a word, it gives "cheap smart TV" a whole new meaning.
For example, the TCL 4-Series is a 4K LED Roku TV that measures 43, 50, 55, 65, 75, or 85 inches. While it's not loaded with features, it does have staples like HDR10 and HLG, as well as Dolby Digital Plus audio. As for its price, it's comparable to its 1080p counterparts in the competition. In other words, you're basically paying about the same price as a 1080p Roku TV from other brands for it.
One model from TCL's roster that shows how far its TVs' quality can go without breaking the bank is the TCL 6-Series. It sports a 4K QLED panel made up with mini-LEDs, giving it deep levels of black on par with OLEDs. In addition, it has rich, striking colors, thanks to its Contrast Control Zone technology. Moreover, it has Dolby Vision HDR and HDR10, Dolby Atmos, and Natural Motion 480 refresh rate for little to no motion blur—all the good stuff for an excellent viewing experience. Also, it's available in 55, 65, and 75 inches, which are all big enough to give you a good look at all the visual happenings on the screen.
TCL vs Hisense, which is better?
The main difference is Hisense uses ULED, while TCL uses QLED.
Generally, both TCL and Hisense Roku TVs have excellent price-to-performance ratios, but each brand has its unique strong points.
As mentioned earlier, Hisense uses its proprietary ULED screen technology, while TCL uses QLED. However, these are pretty similar, and it's hard to notice any huge differences between them. Case in point, some ULED TVs even use the same Quantum Dot technology that other QLED TVs use. But compared to OLED, these panels typically have higher max brightness, bigger screen sizes, and longer lifespans on average.
One advantage of ULED is it's cheaper than QLED. For instance, the QLED TCL Series-6 is pricier than the ULED Hisense R8 Series. While Hisense wins in terms of price for models on the higher end of the spectrum, TCL comes out on top in the affordable segment. As noted, the TCL 4-Series won't even leave a dent in your budget, and yet it's a 4K HDR Roku TV.
On that note, TCL also has a wider selection. Considering how big it is, it's safe to say that there's a TCL for every kind of buyer.
Click here to see our comparison between Android TV and Roku TV.
Verdict
While Hisense has big, relatively low-priced Roku TVs, TCL doesn't cut corners in its TVs, be it budget or top-of-the-line models.
All things considered, we'd have to pick TCL over Hisense here. The TCL 4-Series is among the best and cheapest Roku TVs available, after all. And if money's no object, then the TCL 6-Series and 8-Series can go a long way, offering deep blacks that give OLED TVs a run for their money.
FAQs
📌 Is Hisense better than TCL?
In some ways, Hisense beats TCL, particularly in the price points of their higher-end models. However, TCL arguably provides better value, especially when it comes to its budget variants.
📌 Is TCL Roku TV a good brand?
Yes, TCL manufactures affordable Roku TVs, but just because they have a low price tag doesn't mean they're cheap in features. As an example, the TCL 4-Series Roku TV is just a few hundred bucks, but even so, it's a 4K HDR TV.
📌 Is a Roku TV worth it?
Yes, Roku TVs typically don't cost too much. They also make streaming content accessible in an easy-to-use interface.
📌 Are Roku TVs good quality?
While that depends on the TV's manufacturer itself, most Roku TVs have decent quality. One example is the TCL 6-Series, a 4K Roku TV with HDR10 and Dolby Vision HDR, Dolby Atmos, a refresh rate of up to 120Hz, and black levels comparable to OLEDs, which is made possible with its mini-LEDs.
Last update on 2021-07-19 / Affiliate links / Images from Amazon Product Advertising API