Graco and its line of dependable, innovative baby products have earned the trust of many households over the years. One of its most popular products is the Graco DuoGlider Swing (previously called the DreamGlider Swing), a baby rocker that doubles as a bassinet. It is designed for busy, exhausted parents who need a moment to rest from carrying and rocking their baby in their arms. We review the DuoGlider's design, comfort, and features below to find out whether the DuoGlider is a worthy addition to your home. 
Deal Finder
Graco DuoGlider Swing (DreamGlider Swing) Specifications
Model
Graco DuoGlider Swing
Price
Check Price

at Walmart.com

Special Feature/s
2-in-1 Glider Swing/Sleeper
Modes
Sleeper, Seat
Weight Range
From 5.5 lbs to 3o lbs
Dimensions (Upright, LWH)
28″ x 25″ x 26.5″
Weight
22.2 lbs
Vibration Speed Settings
2
Swing Speed Settings
6
Music
10 Melodies, 5 nature sounds
Timer
Yes
Battery Life
8 hours
Color Options
Percy, Rascal, Hattie
Design and Build Quality
The Graco DuoGlider swing is lined with a plush, washable seat pad and comes in three colors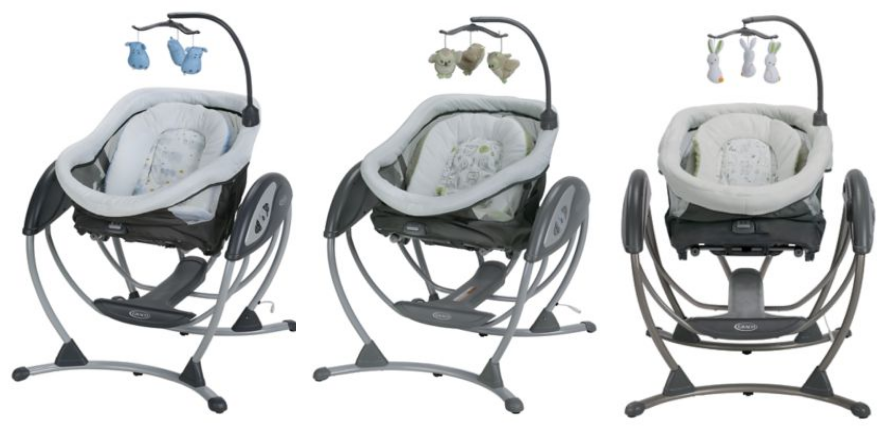 Comfort, function, and safety are among the factors one must take into consideration when choosing an infant swing, and the Graco DuoGlider ticks all these boxes. Its seat pad is lined with a soft, breathable fabric, thus lining the DuoGlider with separate bedding is no longer needed. This seat can be adjusted to a reclining or flat position or for when your little one nods off. The DuoGlider further comes with a three-point harness to ensure that the baby is secure when sitting upright.
Out of the box, the included parts are quick and easy to assemble. Weighing 22.2 lbs, the Graco DuoGlider swing is heavy and sturdy enough to support your child until they weigh 30 lbs. Its controls are all on one side so you can easily adjust speed, vibration, or seat angle with one hand. The Graco DuoGlider is available in three colors–Hattie, Rascal, and Percy–and each comes with a different set of cuddly stuffed animals for the overhead mobile.
Features
The Graco DuoGlider swing boasts two swing modes, six speed settings, and three reclining positions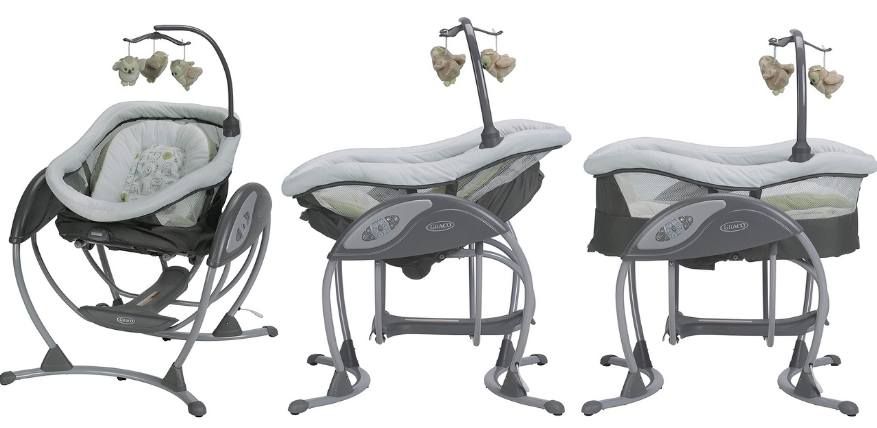 As the Graco DuoGlider swing can be adjusted to lay completely flat to become a sleeper, parents won't need to move the baby out of the infant swing to their bassinet when they fall asleep. Parents whose babies take a while to sleep but get woken up easily will understand how crucial this feature is. Meanwhile, the slightly reclined position (middle photo) can help soothe the stomachache of babies who are prone to acid reflux. 
Deal Finder
The Graco DuoGlider swing lets you choose from two vibration speeds and six swing speed settings. Most parents find the calming motion of the first and second swinging settings more than enough to lull your little one to sleep. However, as they get heavier, the faster speed and vibration settings will come in handy. 
Battery Life and Additional Features
The Graco DuoGlider swing can be battery-operated or plug-powered and features an array of sounds for auditory stimulation
Visual and auditory sense stimulation can still take place even when parents are busy, thanks to the overhead mobile and built-in sounds in the Graco DuoGlider swing. You can choose from 5 nature sounds and 10 melodies to either stimulate or relax your baby. The Graco DuoGlider swing can be powered by a battery (sold separately) or through a power source. This makes it easier to use the glider even when there's no wall socket close by. Its battery can last for up to 8 hours, and even longer if you use its timer. 
Summary of Features
The 2-in-1 Graco DuoGlider swing and sleeper is a worthwhile addition to your home 
Deal Finder
The highlight of the Graco DuoGlider swing is how it can be adjusted from a swing to a sleeper, and this feature alone makes it an excellent purchase. Some parents argue that babies can quickly outgrow the Graco DuoGlider swing. While this may be true, it is still worth every cent if you consider the months of comfort and convenience the DuoGlider provides for the parents and the baby alike. Its three recline positions, calming motion, plush seat pad, overhead mobile, and built-in melodies and nature sounds all work together to ensure your little one's utmost comfort.