Google launched its first mesh router, Google Wifi, in 2016 to great success due to its easy setup and whole-house coverage. Three years later, they released its successor, calling it the Nest Wifi as part of its smart home product rebranding. Though they share lots of similar capabilities, there are several important differences between Google Wifi and Nest Wifi that can make one or the other the ideal mesh router solution for you. Here's how to decide which to get.
Google Wifi vs Nest Wifi Mesh Router Comparison Chart
| | | |
| --- | --- | --- |
| Model | Google Wifi (2-Pack) | Google Nest Wifi (2-Pack) |
| | | |
| Price | | |
| Dimensions | 4.1 x 4.1 x 2.7 inches | 4.3 x 4.3 x 3.56 inches |
| Weight | 340 g per router | 380 g per router |
| Area Coverage | 1,500 sq. ft. per router | 2,200 sq. ft per router |
| Wi-Fi Standard | Wi-Fi 5 | Wi-Fi 5 |
| Wi-Fi Type | AC1200 | AC2200 |
| Bands | Dual-band | Dual-band |
| Security | WPA2 | WPA3 |
| Ethernet Ports | 4 total | 4 total |
| Speaker & Mic | No | Yes |
| Mobile App | Yes | Yes |
| Web Browser | Yes | Yes |
| Parental Controls | Yes | Yes |
| Guest Network | Yes | Yes |
| Colors | White | Snow, Sand, Mist |
Design
Google Wifi is lighter and smaller than Nest Wifi.
The first generation Google Wifi already turned heads with its aesthetic cylindrical design with slim blue accent, but Google went further with the new Nest Wifi. They softened all edges for an even softer look, almost like a marshmallow. It has a tiny LED indicator in the middle instead of a lightstrip. This should make it easier for Nest Wifi to blend with any type of decor it's surrounded in.
In addition, Nest Wifi comes in larger router units and smaller points, whereas each Google Wifi device is identical even if you bought a 2- or 3-pack. All Nest Wifi devices are heavier and taller, though their diameters are pretty similar. Also, while the Nest Wifi router only comes in white, its range extending points are available in three colors, Snow, Mist, and Sand.
Connectivity
Nest Wifi has a wider coverage than Google Wifi.
Google boosted the signal strength of the new Nest Wifi router to give it a wider range of up to 2,200 sq. ft. compared to the 1,500 sq. ft. coverage of Google Wifi routers. Nest Wifi points have a shorter range of 1,600 sq. ft., though this still makes them more powerful than the first-gen devices. The Nest Wifi router's added range is thanks to its 4×4 radio for the 5 GHz band, which is more capable than the 2×2 antennae of Google Wifi.
Note that your home's size, layout, and materials can and will affect Wi-Fi coverage in your home. Thicker walls and narrow hallways will hinder Wi-Fi signals and may require additional points. That said, you can upgrade your Google Wifi system to the new Nest Wifi and still be able to use the older pucks as points, resulting in even stronger coverage.
Both Google Wifi and Nest Wifi have two Gigabit Ethernet ports on their router units. Each can be configured for either LAN or WAN connectivity. Larger homes can get more wired connections through router-only Nest Wifi packs, such as the one featured in this post, instead of router+point combos.
Performance
Nest Wifi has higher max speeds than Google Wifi.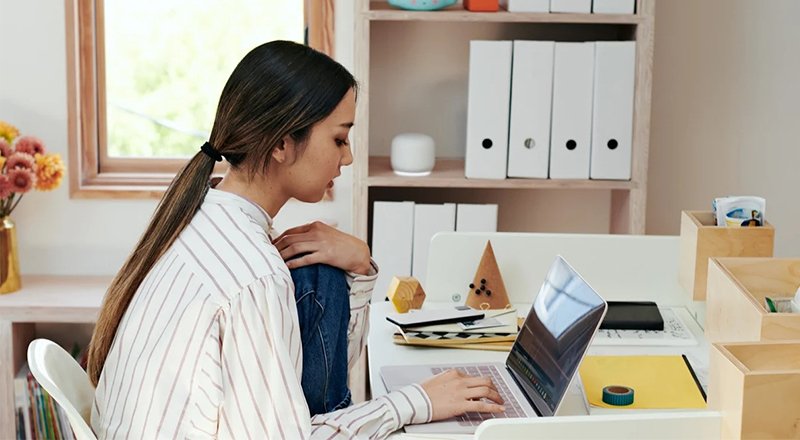 As an AC1200 mesh router, Google Wifi has a combined top speed of 1.2 Gbps for its 5 GHz and 2.4 GHz bands. In comparison, Nest Wifi routers are AC2200 while its points remain AC1200. As a result, mesh networks created using Nest Wifi are stronger and offer faster connections, though it's still of course dependent on your ISP plan.
Additionally, Nest Wifi supports MU-MIMO transmissions, allowing more simultaneous connections than Google Wifi. Each Nest Wifi router and point can handle up to 100 devices as well as multiple concurrent 4K video streams. Both support Bluetooth Smart Ready technology, so connecting via Bluetooth is a breeze.
Google further improved the security for its new Nest Wifi, using the latest WP3 encryption standard while Google Wifi is still on WP2. While Wi-Fi 6 is already available on other routers, Google chose to stick with Wi-Fi 5 for their updated mesh router.
Software and Other Features
Nest Wifi has voice assistant features not available on Google Wifi.
Google Wifi routers can be managed and controlled via its dedicated app, which makes set up fast and easy. It's one of the most cited reasons for Google Wifi's stellar reviews. For Nest Wifi, Google moved its controls to the Google Home app, giving users a universal mobile app for its new smart home products. You can create guest networks and set parental controls through the app, as well as group devices and control connection speeds.
Not content with just improving overall performance and security, Google also added a new functionality to Nest Wifi: each point has a built-in mic and speaker along with voice assistant capabilities. With Google Assistant, you can control connected devices, manage your network, play music, etc., using voice controls. Nest Wifi points also have touch controls at the top for volume and playback, and there's a physical privacy switch to turn the mic off.
Verdict
Nest Wifi is superior to Google Wifi.
Google successfully updated its next-gen mesh router system, as Nest Wifi is clearly an upgrade in nearly every way. It offers greater coverage, higher top speeds, and improved security compared to the original Google Wifi system. Moreover, you can get smart speaker functionality by adding a Nest Wifi point to your network. It's also a winner price-wise, since you can find it being listed at the same price range as the older routers.
Considering it's been improved on significantly by Nest Wifi, it's tough to recommend getting Google Wifi instead, but perhaps if it's available at huge savings. A single Google Wifi router is also much more affordable than one Nest Wifi router, so smaller homes can experience mesh Wi-Fi coverage at the cheap by opting for Google Wifi.
FAQs
📌 Is Google Nest Wifi better than Google Wifi?
Yes, Google Nest Wifi, or simply Nest Wifi, is a worthy upgrade over the original Google Wifi mesh router system. It sports stronger radio signals resulting in wider coverage and faster speeds while offering an additional smart speaker option.
📌 Can Nest Wifi work with Google Wifi?
Yes, Nest Wifi is essentially backwards compatible with Google Wifi. If you already have a Google Wifi network, you can upgrade to a Nest Wifi system by using a Nest Wifi router as your primary (since it's faster) and making your older Google Wifi devices as Wi-Fi points.
📌 How many Google Nest Wifi do I need?
It depends heavily on the size of your home. A Nest Wifi router provides enough coverage for homes up to 2,200 square feet, so you can consider adding more routers or points if your home is larger, has multiple floors, or has a complex layout.
📌 Does Google Nest Wifi have Ethernet ports?
Nest Wifi routers have two Gigabit Ethernet ports while Nest Wifi points have none.
Last update on 2022-05-23 / Affiliate links / Images from Amazon Product Advertising API