Tablets are not just for those with deep pockets. Budget options from top brands like Samsung and Amazon have made these mobile devices accessible to a broader demographic. The Galaxy Tab A7, for instance, is a solid entry-level offering with capable processing and impressive battery life. The Fire HD 10, on the other hand, is Amazon's largest and fastest tablet, marketed at a price point that's even more affordable than Samsung's. While they have a lot of things in common, there are enough differences to make you buy one over the other. Read on to see which budget tablet you should get.
Galaxy Tab A7 vs Fire HD 10 Comparison Chart
Model
Samsung Galaxy Tab A7
Amazon Fire HD 10
Price
Check Price
Display
10.4″ IPS LCD, 2000 x 1200 (224 ppi)
10.1" 1080p Full HD display
Operating System
Android
Fire OS
Processor
Qualcomm Snapdragon 662
Mediatek Helio P60T Octa-Core Processor
Storage Options
32 or 64GB (expandable via microSD card)
32 or 64GB (expandable via microSD card)
RAM
3GB
3GB
Camera
Rear: 8 MP
Front: 5 MP
Rear: 5 MP
Front: 2 MP
Audio
Stereo, 4 speakers, 3.5mm headphone jack
3.5 mm stereo jack and dual integrated speakers; external volume controls.
Ports
USB-C, microSD
USB-C, microSD
Connectivity
WiFi, Bluetooth
WiFi, Bluetooth
Battery Life
Up to 13 hours
Up to 12 hours
Dimensions (W x H x D)
6.2″ x 9.75″ x 0.28″
6.53" x 9.73" x 0.36"
Weight
476 g
465 g
Colors
Dark gray, silver, gold
Black, Denim, Olive, Lavender
Design
Samsung's Galaxy Tab A7 has a more premium build compared to the Amazon Fire HD 10.
Compared to its top-of-the-line siblings, the Galaxy Tab A7 holds its own in terms of design. For a budget tablet, it's slim, stylish, and sturdy. The 10.4-inch screen is surprisingly bright and colorful, too. Made from aluminum, the Tab A7 has enough heft to it while still being lightweight. You can also get it in three color options — silver, gold, and a rather bland dark gray. If you want a more eye-catching variant, go for the silver or gold model.
Next to Amazon's Fire HD 10, the Galaxy Tab A7 looks and feels more premium — and it should, considering their price difference. The Tab's bezels are much smaller, too, compared to the Fire HD 10. While Amazon's best tablet has improved its design over the years, it still comes across like an early generation iPad or even Galaxy Tab. Its plastic matte back doesn't do it any favors here.
The Fire HD 10, however, makes up for it with its glossy, 10.1-inch full HD display. Amazon shares it's 10% brighter than previous generations, too. Like the Tab A7, the Fire HD 10 is lightweight and comfortable to hold. Both tablets are also designed primarily to be used in landscape mode, considering the location of their front-facing cameras.
Along the sides, you'll find a few physical buttons for power and volume control. Headphone jack loyalists will also appreciate that both the Galaxy Tab A7 and Fire HD 10 retain theirs. The only other thing left is the USB-C port for charging and file transfers.
Camera and Audio
The Galaxy Tab A7 has a better camera and a more immersive audio system compared to the Fire HD 10.
Whether it's for taking selfies or making video calls, cameras are a staple in any mobile device. Like most budget options, you get two on Samsung and Amazon's budget tablets. The Galaxy Tab A7 boasts an 8 MP rear-facing and 5 MP front-facing camera, while the Fire HD 10 comes with a 5 MP rear-facing and 2 MP front-facing camera.
As mentioned in the design section, the front-facing lenses are placed intuitively on the side. Designed to work best with cover stands, the camera placement makes video calling in landscape mode a pleasure. It's a different story, however, when it comes to fine photography. The cameras on the Galaxy Tab A7 and Fire HD 10 aren't exactly pro-grade. At best, you're getting a reasonably color-accurate image but one lacking in detail.
In terms of audio, the Galaxy Tab A7 has the edge. Although both tablets come with Dolby Atmos, the Tab features a quad-speaker array that makes the sound quality more immersive. The Fire HD 10's dual integrated speakers aren't bad either but you have a case here where more is better.
Click here to read more Galaxy Tab A7 reviews.
Software and Performance
The Galaxy Tab A7 feels more intuitive with its Android OS compared to the rather limited Fire OS on Amazon's Fire HD 10.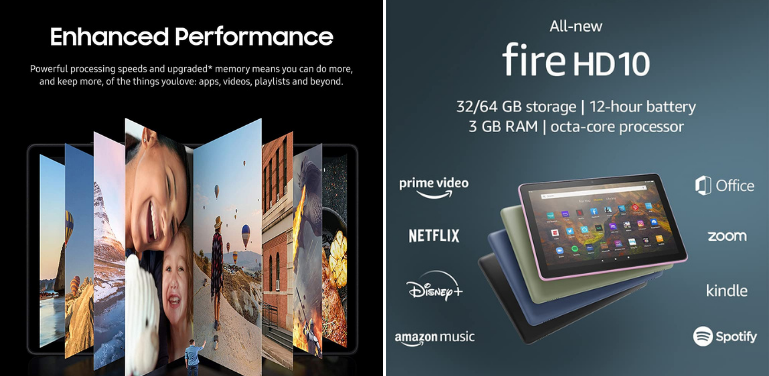 As expected from a Samsung device, the Galaxy Tab A7 runs on Android. New OS updates for the tablet, however, include the latest One UI build. Amazon's Fire HD 10, on the other hand, runs on Fire OS, which is a custom version of Android. Unlike the Tab A7, the Fire HD 10 doesn't come with Play Store installed.
Google's office apps also don't work on the Fire tablets. While things work seamlessly for Amazon-centric content like Kindle e-books or Prime Video, staple apps like a decent browser or even a real YouTube app are missing. It doesn't help that the Amazon app store offers few alternatives. Perhaps the only consolation is you do get a 1-year subscription to Microsoft365.
Still, if you plan to use the tablet for work, it's hard to argue against Google's suite of productivity apps. And it's access to these on the Galaxy Tab A7 that makes it a more compelling work device, even though it's marketed for multimedia use. Of course, you'll get better performance from the more premium Galaxy tablets. That includes support for the S Pen, like in the case of the Galaxy Tab S7.
Nonetheless, the Tab A7 does its job well for its price. While the interface isn't as snappy or fast considering its 3GB RAM, you can carry out some office tasks with ease. Like the Fire HD 10, however, these tablets are geared more towards media consumption. Given their displays and audio systems, it's hard to disagree.
Battery Life and Accessories
The Galaxy Tab A7 and Fire HD 10 have comparable battery life performance and are compatible with standard tablet accessories like covers and keyboards.
Samsung shares that on a single charge you get up to 13 hours of battery life from the Galaxy Tab A7. That's an hour more than Amazon's Fire 10 HD. At the end of the day, however, battery life will depend on actual usage patterns and settings. Both tablets come with their respective power-saving modes, too, which allow them to work longer even when battery levels are low.
In terms of storage, the Galaxy Tab A7 and Fire HD 10 come in two options. You can go for a 32GB base model or a 64GB model. Both support microSD card expansion anyway, so storage is the last thing you'll probably worry about.
Like any mobile device, you get plenty of accessories for Samsung and Amazon's budget tablets. While these are sold separately, they're also available as part of bundles. For the Fire HD 10, the most popular is the Productivity Bundle, as it includes a detachable Bluetooth keyboard and a 12-month Microsoft365 subscription. If you just need a case, however, there's enough variety around. MoKo is one of the best brands for these thanks to their wide range of stylish Amazon Fire HD 10 covers.
The Galaxy Tab A7 book cover, on the other hand, is the staple companion of Samsung's tablet. Made from plastic, the sleek-looking cover doubles as a stand with two viewing angles. If you're not a fan of the material, you can opt for other styles. Third-party suppliers offer different kinds of Galaxy Tab A7 cases, including formal leather-based styles and rugged, shockproof protective covers.
Price and Value
For basic multimedia consumption and the occasional productivity tasks, the Galaxy Tab A7 and Fire HD 10 offer great value.
Whether you're getting the Galaxy Tab A7 64GB or 32GB, you'll be spending more on Samsung's tablet than the Fire HD 10. Although both are entry-level devices, the Tab feels more like a mid-range model. Unlike other Galaxy Tablets, however, you do trade off a couple of features. The Tab A7, for instance, doesn't come with a stylus. Its RAM and built-in memory leave a lot to be desired, but that's expected given the price point.
The same can be said for the Fire HD 10. Amazon's tablet is even more affordable than the Galaxy Tab A7, but you're spending it on a device that runs on Fire OS. It's a dealbreaker for most people who prefer the extensive apps and programs available on Android. But if you're planning to use this for simple media consumption and a few productivity tasks, its value is hard to deny.
Verdict
If you're willing to spend a bit more on an entry-level tablet, then Samsung's Galaxy Tab A7 is a better option over the Fire HD 10 tablet.
With the Galaxy Tab A7 and Fire HD 10, you get what you pay for. Both are solid entry-level tablets with enough features to keep you busy or productive, whichever way it goes. There are some trade-offs with budget-friendly devices, however. In the case of the Tab and Fire, you're missing out on better RAM, built-in storage, and productivity features. As multimedia devices, they're compelling purchases. But as work companions, you're better off investing in tablet computers that offer upgraded performance.
Now Amazon's Fire HD 10 tablet is more affordable than the Tab A7. What keeps it from getting ahead of Samsung's offering, however, is software. The Fire OS is great if you're happy with Amazon-centric content and Microsoft's office suite. But if you want cross-platform apps like what Google offers, it doesn't quite cut it. Given its price, the Fire HD 10 is better for teenagers or even tech-phobic parents who want a tablet but don't necessarily need an iPad or Galaxy Tab.
FAQs
📌 Does Amazon's Fire HD 10 come in different variants?
Amazon's largest tablet is available in two models — the Fire HD 10 and the Fire HD 10 Plus. You can read more about how they're different in our complete Fire HD 10 Tablet Review.
📌 Is the Galaxy Tab A7 cover included in the box?
No, it isn't. The Galaxy Tab A7 book cover is sold separately. Inside the Tab A7's box, users get the tablet itself, a charging brick, and a USB A to USB C cable.
📌 Does the Fire HD 10 tablet support wireless charging?
The Fire HD 10 does not support wireless charging. This feature is only available on the Fire HD 10 Plus model.
📌 Is the Galaxy Tab A7 32GB worth buying?
While the Galaxy Tab A7 32GB is a solid device, the 64GB is a better option over the base model. Given today's selfie culture and broad range of apps, 32GB of storage may not be enough.
Last update on 2022-08-14 / Affiliate links / Images from Amazon Product Advertising API