We're in a wearables boom, with a ton of fitness trackers and smartwatches available on the market. Any customer has a wide variety of models and brands to choose from, so it can get quite confusing when the time comes to pick which wearable is for you. It helps if you stick to more well-known manufacturers, though.
Two other famous brands, Fitbit and Garmin, have a lot of fitness trackers that you can look up and pick from. In this comparison, we'll look at the Fitbit Inspire 2 and the Garmin vívofit 4, see how they differ, and help you figure out which product is more suited for you.
Fitbit Inspire 2 vs Garmin vívofit 4 Comparison Chart
| | | |
| --- | --- | --- |
| Model | Fitbit Inspire 2 | Garmin vívofit 4 |
| | | |
| Price | | |
| Bluetooth Version | 4 | 4 |
| Wireless Sync | Yes | No |
| Calorie Intake | Yes | No |
| Heart Rate Monitor | Yes | No |
| GPS | No | No |
| OLED/AMOLED Display | Yes | No |
| Sizes Available | No | Yes (regular, large) |
| Thickness | 12.7mm / 0.5in | 9.4mm / 0.37in |
| Width | 16.8mm / 0.66in | 19mm / 0.75in |
| Weight | 1.06oz | 0.96oz |
Design
Both have compact screens, though the Inspire 2's is noticeably larger.
Before we get into details, it should be clarified that these two are activity trackers and not smartwatches (read about the difference here). They tend to have less capabilities and smaller screens, but are much more affordable. With that in mind, we can compare the two models in question. The Fitbit Inspire 2 is much closer to being a hybrid of a smartwatch and a pure activity tracker, thanks to its larger screen. With this bigger display, you can receive more detailed notifications than the vívofit 4 can give you. Its screen is also separate from the band, giving you more options for customization.
In comparison, the vívofit 4 is slightly harder to change up since its screen is embedded into the band (though the band is still replaceable). You do have quite a few choices for color though: black, speckled black, white, and others. The screen isn't touch-enabled; instead, users interact using the small button below it. Both trackers have dustproof and water-resistant displays, making them both suitable for swimmers. Garmin doesn't specify the maximum depth the vívofit 4 can reach, but Fitbit does so for the Inspire 2 (it can go as deep as 50 meters).
Activity Tracking & Sensors
The two trackers are quite basic compared to other options on the market.
The vívofit 4 and the Inspire 2 have some similarities when it comes to activity tracking: both can keep records on how long you sleep, provide reports on the sleep and activity data they collect, and track distance, steps taken, and calories that you've burned. Both models also allow you to set your own goals, from a certain threshold of steps to burned calories, depending on your needs. Of course, the two trackers also have an accelerometer, which will tell you just how fast you're going at your current pace.
However, the Inspire 2 does have more than a few advantages in the sensors and trackers category. For one, it can track changes in elevation. This can be super useful depending on the activities you engage in. For example, a mountaineer or hiker would find this feature a must-have. The Inspire 2 can also help you track your calorie intake, since diet is just as important as exercise when it comes to any form of training. It also has a heart rate monitor, which can come in handy when you're focusing on your cardio.
It's worth emphasizing that neither of the two trackers come with a built-in GPS. This won't hurt your exercise, unless you're planning on leaving your phone at home. If that's the case, these trackers aren't for you.
Features
Both can connect to your phone with its manufacturer's free app.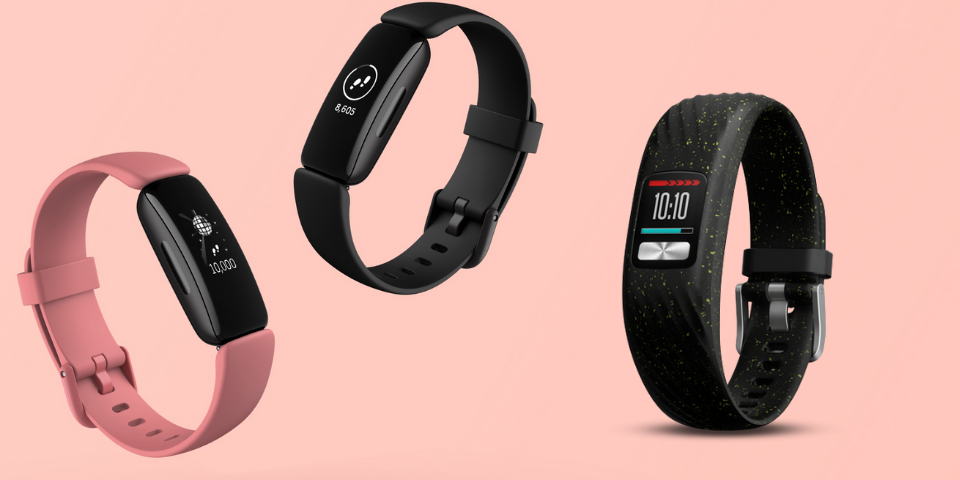 Once again, both trackers can provide you with the basics you'd expect from them. These include receiving notifications, a stopwatch function, inactivity alerts, and the ability to sync up and compare with friends who are using the same smartphone companion app. One slight edge that the vívofit 4 can offer you is the ability to track your phone. This means that you can use it to look for your phone (provided that you've installed Garmin Connect) if you ever lose it.
The Inspire 2 still offers more features, though, even if it can't track your phone. The Inspire 2 is particularly useful because of its period notifications and ability to predict when your next cycle might start. It's also compatible with Fitbit's smart scale, the Aria, which adds to its accuracy when tracking your health. You can also use your Inspire 2 to control answering calls.
Battery and Connectivity
The two models have hugely different battery schemes.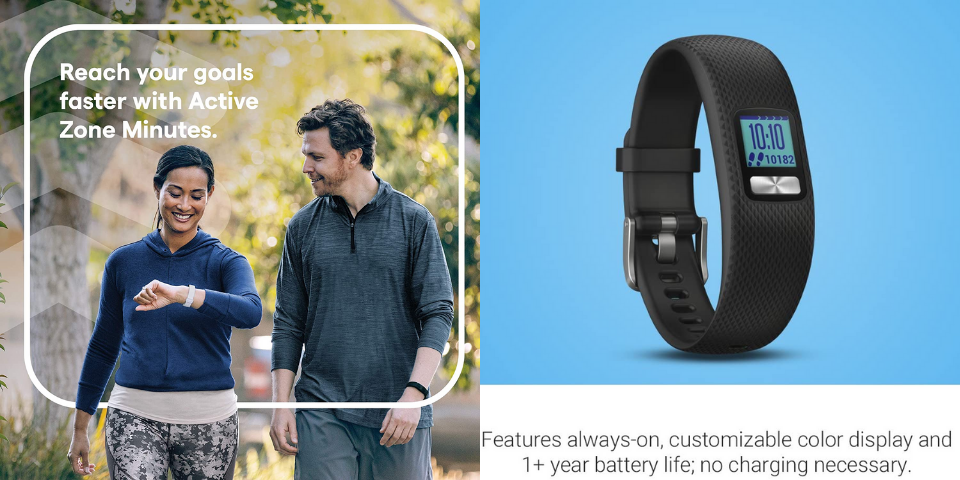 The two models can't really be compared in terms of battery life, since you'd end up with a distorted comparison if you do. The Inspire 2 can last for 10 days, while the vívofit 4 lasts up to a full 365 days. That's because they use different kinds of batteries. The Inspire 2 runs on the usual rechargeable batteries you'd see in a wearable, while the vívofit 4 has a non-rechargeable SR43 battery. If continuous use is your main concern, then that means that the vívofit 4 may be a better fit for you.
Connectivity capabilities are similar for the two. Both run on Bluetooth 4, and are compatible with both Android and iOS phones. Neither of the trackers have WiFi or NFC capabilities, so their functions really are restricted to health tracking and athletic activity.
Verdict
The vívofit 4 is a great fit for those who want to wear it and work right away.
The Fitbit Inspire 2 simply can do more. It works great with Fitbit's app, and it's a particularly great deal if you're buying into Fitbit's ecosystem (for example, if you own their smart scale). It also helps you track elevation changes, calorie intake, period dates, and a lot of other data that the vívofit 4 just can't offer. The catch, of course, is that it's more expensive. The price difference isn't left unjustified as you can see in the comparisons we've made above.
The Garmin vívofit 4, on the other hand, is the best fit for those who want to wear it and forget about it. It doesn't require any charging, and it works perfectly with the Garmin Connect smartphone app. It's quite barebones even compared to the Inspire 2, but if you're really just looking for a good, affordable health tracker, this is the product for you. It's around twenty bucks cheaper (depending on the store), so you can be sure that the price difference isn't insignificant in any way.
FAQs
Last update on 2022-05-22 / Affiliate links / Images from Amazon Product Advertising API