Apple fans who love getting fit probably rejoiced when the company decided to enter the fitness tracker market, as they now have an alternative to the popular Fitbit devices. Below we compare the Fitbit Charge 2 with the Apple Watch Series 3, and recommend the better choice depending on your needs.
Fitbit Charge 2 vs Apple Watch Comparison Chart
| | | |
| --- | --- | --- |
| Model | Fitbit Charge 2 | Apple Watch Series 3 |
| | | |
| Price | | |
| Rating | | |
| Design | Slim and lightweight | Smooth and rounded |
| AMOLED Display | No | Yes |
| Touchscreen | No | Yes |
| Water Resistance | Up to 1 ATM | Up to 5 ATM |
| Heart Rate Monitor | Yes | Yes |
| Pedometer | Yes | Yes |
| Calorie Burn Tracker | Yes | Yes |
| Sleep Reports | Yes | No |
| Stroke Counter | No | Yes |
| Built-in GPS | No | Yes |
| Wi-Fi and NFC | No | Yes |
| Compatibility | iOS, Android, Windows | iOS |
| Battery Life | Up to 5 days | Up to 1 day |
Design
Both have distinctive designs appropriate for their intended usage.
As a dedicated fitness tracker, the Fitbit Charge 2's narrow width, slim display, and minimalist interface works very well in letting you focus on your workouts while it keeps track of your progress. However, the simplified design makes it a bit more difficult to control. Without a true touchscreen, you'll need to press the display a bit harder than you're used to with your phone. It won't be too much of an issue though, since the Charge 2 works best collecting your health and fitness data and syncing this automatically.
In comparison, the Apple Watch Series 3 is more of a proper smartwatch. Its wider, more vibrant AMOLED display provides crisper details, and its rounded curves give it that classy look. Its powerful dual-core processor and responsive touchscreen makes it feel smooth and easy to interact with. All of these combined makes it clear why Apple continues to dominate the top-end markets, as the Apple Watch's design proves with its premium look and feel.
One clear advantage the Apple Watch has over the Fitbit Charge 2 is that it's waterproof up to 50 meters, so you can actually go swimming with it.
Activity Tracking
Both have very similar activity tracking functionalities.
Both wearables can reliably measure and record your health and fitness information. They can track your heart rate and measure your calorie burn throughout your various activities. You'll also be able to see how many steps you've taken and the distance you've traveled during runs, and compare your progress over time. For this you'll need GPS though, and it's where the Apple Watch has an advantage over the Charge 2.
The Apple Watch's built-in GPS means you can track your route without connecting to your phone, which the Fitbit Charge 2 requires. It makes up for it with auto fitness tracking, which detects what exercise you're doing and starts recording the relevant fitness data, and auto sleep tracking, which the Series 3 doesn't have yet. Needless to say, you can only track swimming activity with the Apple Watch though since the Charge 2 is not water-resistant.
Smart Features
The Apple Watch has cellular capability, Wi-Fi connectivity, and more third-party apps.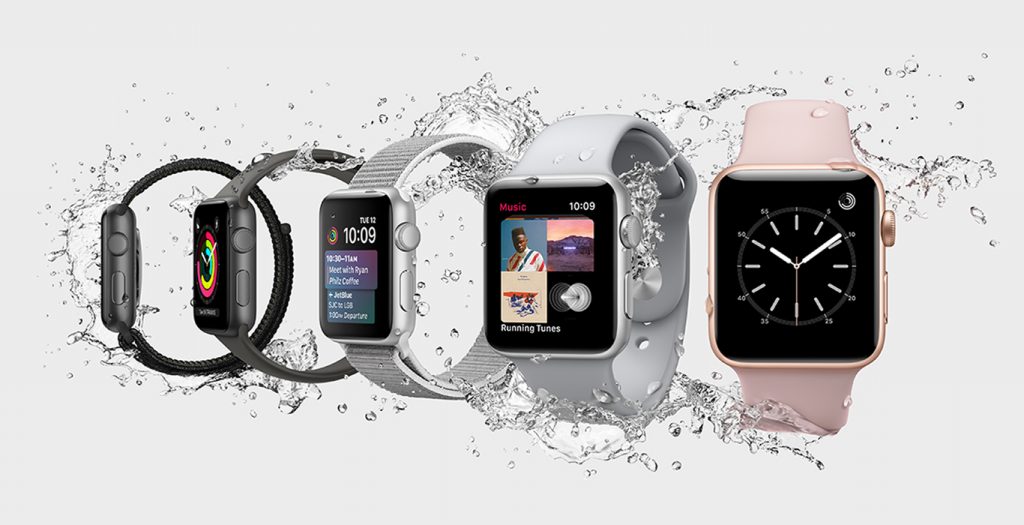 There's no contest in this area since the Fitbit Charge 2 is a dedicated fitness tracker. It can, at most, display notifications and alerts from your smartphone. If you want more in a wearable, the Apple Watch has a cellular option that lets you leave your iPhone at home and still be able to answer calls or speak with Siri. It also has Wi-Fi and NFC connectivity, and you can further customize it with any number of third-party apps.
Compatibility and Battery Life
The Fitbit Charge 2 works with non-iOS devices and lasts longer.
Fitbit made sure that their fitness trackers can be used with any smartphone, so the Charge 2 has a wider appeal. As you'd imagine, the Apple Watch will only work with iPhones and iPads, making it more attractive if you're already invested in Apple's ecosystem.
Because of the Fitbit Charge 2's focused feature set, it has an impressive runtime of 5 days, allowing you to use it heavily without worrying too much about it running out of juice. The Apple Watch is almost the opposite — its more powerful capabilities also mean it needs more power. The Apple Watch can last a day, but that's if you don't use LTE all the time.
Verdict
Choose the Fitbit Charge 2 if you only want a fitness tracker; the Apple Watch if you want more.
As mentioned, the Charge 2 is solely intended to help you track your fitness and health, and it's an excellent device for that. It has a lightweight design, a simple interface, and a long-lasting battery, perfect for everyday use. It's a lot cheaper than the Apple Watch too, so it makes the better choice if you're really just after a fitness tracker.
If you want a wearable that can do a lot more, and you already have an iPhone, the Apple Watch is well worth the difference in price. You'll enjoy its sleek finish and smooth controls, and you'll be able to do more things with it with tons of apps to customize your smartwatch experience.
Last update on 2022-08-14 / Affiliate links / Images from Amazon Product Advertising API